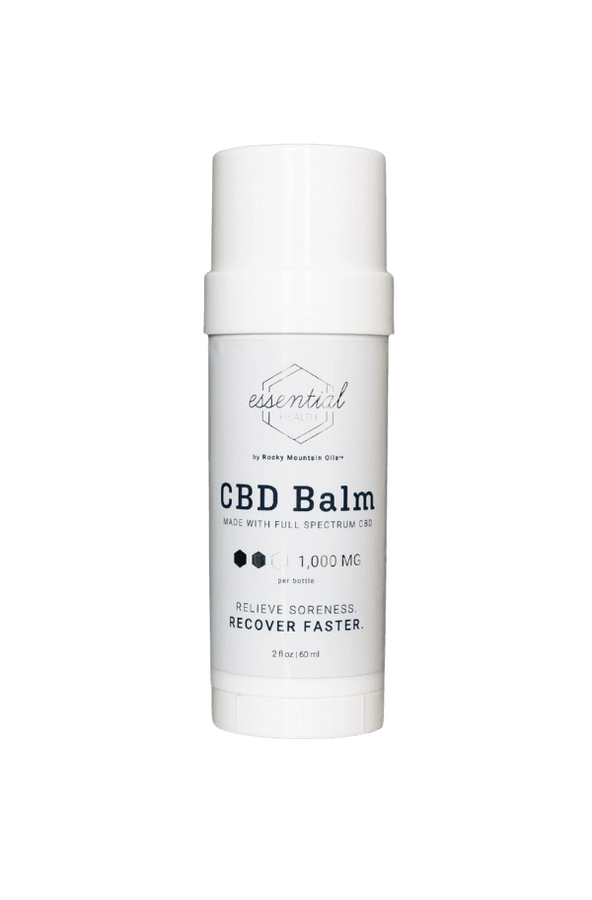 CBD Balm
GC/MS
TESTING
90 DAY
RETURNS
100% RECYCLED
PACKAGING
S.A.A.F.E
PROMISE
Relieve soreness and recover faster with our CBD Balm. Made from all-natural ingredients without chemicals or solvents, this soothing CBD balm for pain relief helps treat inflammation and releases aches, tension, and stiffness held in the body. 
Also known as Cannabidiol, CBD is derived from Hemp plants and offers many benefits for topical pain relief. It's also completely natural, yet treats pain and soreness as effectively as most over-the-counter liniments and muscle rubs made with artificial chemical ingredients. 
To enhance the healing power of CBD, we've added Colloidal Gold as well as analgesic essential oils including Wintergreen, Peppermint, Clove Bud, and Frankincense. These ingredients are blended into a nourishing base of coconut oil and hemp oil that also leaves your skin feeling silky smooth and hydrated. 
Simply dab this soothing balm onto the affected area, then massage it into the skin with gentle but firm pressure. For an extra relaxation effect, warm the balm between your hands first. You can also use this CBD balm in the evening to relieve stress and anxiety as part of your bedtime routine.
Apply a thin layer to the affected area and gently massage in, reapplying as often as needed for relief from aches and pains, inflammation, swelling, cramps, or other discomfort.
Use on the shoulders and upper back, lower back, arms and legs, feet, or anywhere you experience pain, stiffness, or discomfort.
Hemp Oil, Beeswax, Coconut Oil, Vitamin E, Wintergreen Essential Oil, Copaiba Essential Oil, Camphor Essential Oil, Peppermint Essential Oil, Clove Bud Essential Oil, Frankincense Essential Oil, White Fir Essential Oil, Colloidal Gold, 1000mg Hemp Derived CBD.
Made from all-natural ingredients without chemicals or solvents.
*This product contains less than 0.3% of THC
For external use only. Do not ingest. Avoid contact with the eyes, nose, mouth, and mucus membranes.
Not recommended for children, or pregnant or nursing women. Keep out of reach of children and pets. If you are taking any medications, consult your physician before use.
If your injuries worsen or persist while using this product, discontinue use and consult your physician.
This product has been tested for heavy metals, pesticides, microbials, and solvents.
At Rocky Mountain Oils, your trust and confidence matter to us. As part of our S.A.A.F.E. Promise™, we offer third-party verified GC/MS (Gas Chromatography/Mass Spectrometry) test results from an independent lab for every essential oil and blend in our line.
GC/MS tests verify the purity and quality of our essential oils, so you can be sure you're using the safest, highest-quality essential oils available today.
For batch-specific GC/MS tests, click here.
CBD Balm FAQ
What is CBD?

CBD stands for Cannabidiol, which is a natural plant compound found in Hemp plants that offers a wide range of healing benefits. It is anti-inflammatory and helps treat pain. According to numerous studies, CBD provides effective relief from arthritis, rheumatism, muscle injury, spasms, seizures, and other physical ailments. It also helps reduce anxiety, depression, and insomnia.

Does CBD get you high?

No. Although CBD is present in cannabis (marijuana), the CBD used in Rocky Mountain Oils products is derived from the Hemp plant. It contains less than 0.3% THC and does not produce the psychoactive or euphoric effects associated with a "cannabis high." Using our topical CBD oil balm does not cause mental impairment. However, when used in large quantities, it may make you feel more relaxed or slightly sleepy.

Does a CBD balm for pain relief actually work?

Yes. Research shows that using a CBD balm for pain relief results in a significant reduction in intense, sharp pain as well as joint stiffness, migraines, headaches, cramps, and other discomforts. Anecdotally, many people report success using a CBD oil balm to treat pain that could not be treated with over-the-counter pain relievers like NSAIDs.

What is Colloidal Gold?

Rocky Mountain Oils' CBD balm for pain relief includes Colloidal Gold, a natural solution made by suspending gold nanoparticles in de-ionized water. There are approximately 0.01-0.2 mg of gold per every 1 ml of water. Although research into the efficacy of Colloidal Gold is ongoing, it has been used for many decades in holistic healing. Colloidal Gold is said to relieve inflammation, treat and prevent damage caused by oxidative stress (free radicals), and promote faster healing times for injuries.