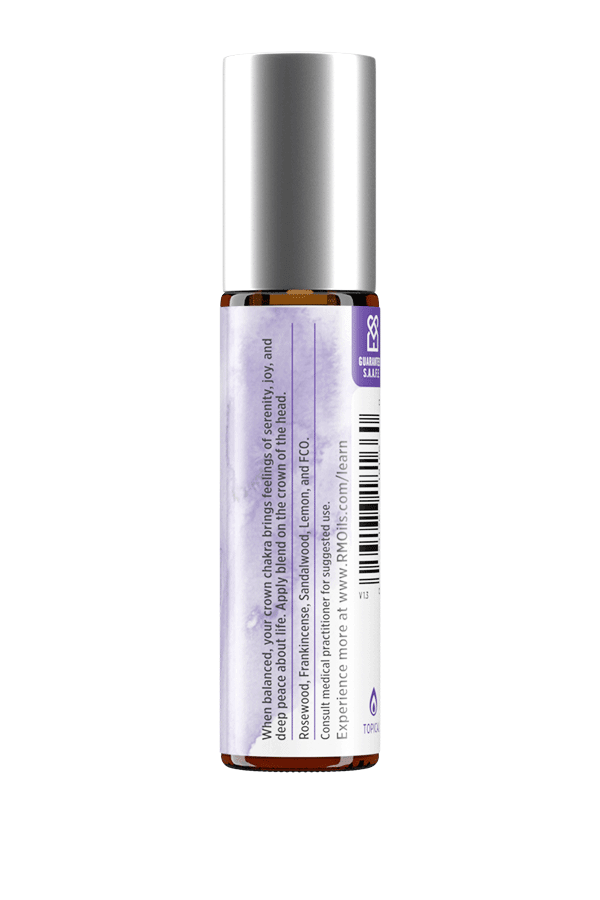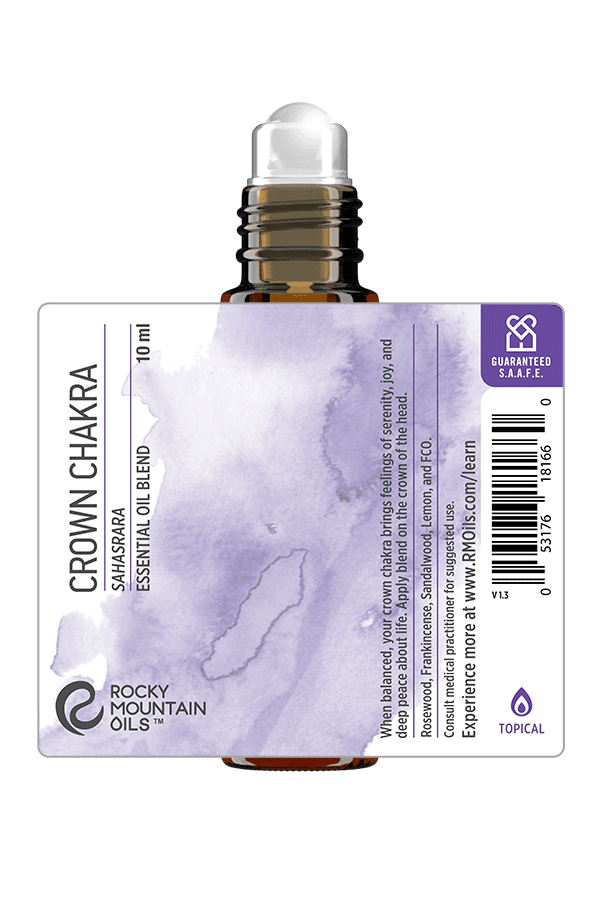 Crown Chakra Roll-on
GC/MS
TESTING
90 DAY
RETURNS
100% RECYCLED
PACKAGING
S.A.A.F.E
PROMISE
Open yourself to a deeper spiritual connection with this Crown Chakra Roll-on. This Roll-on features our Crown Chakra Blend, prediluted in a moisturizing base of 90% Fractionated Coconut Oil so it's ready for immediate topical use.
Also known as the Seventh Chakra, the Crown Chakra is located just above the crown of the head. It's the final energy center of the primary chakra system and is associated with the color violent. This chakra is believed to be the gateway for your connection to universal consciousness and spiritual enlightenment.
When you focus on Crown Chakra healing, you can strengthen your intuition and elevate your perspective. It can open you to deeper levels of faith and balance your energy to help you receive more blessings, synchronicities, and wisdom. To assist in this spiritual journey, we've combined some of the best essential oils for Crown Chakra balancing: Sacred Frankincense, Sandalwood, Lemon, Lavender, and Neroli.
Together, these Crown Chakra essential oils offer an alluring aroma that's earthy, woody, and floral, with a hint of uplifting citrus. Our Crown Chakra Roll-on also features a clear quartz gemstone rollerball for activating Crown Chakra energy. 
Click here to learn more about Crown Chakra healing.
---
The statements contained herein have not been evaluated by the Food and Drug Administration. Neither Rocky Mountain Oils nor its products are intended for the purpose of diagnosing, treating, curing, or preventing any disease. If you are pregnant, nursing, taking medication, or have a medical condition, consult your physician before using these products. 
Use the clear quartz rollerball to apply the oil directly to the forehead, or rub into your hands and massage it into the scalp, to balance Crown Chakra.
Apply to the forehead, temples, behind the ears, or back of the neck to ease headaches, migraines, and improve focus and concentration.
Roll onto the soles of the feet to absorb anti-inflammatory and immunity-boosting benefits.
Use on the chest, or simply uncap and inhale, to attain deeper levels of meditation for chakra balancing and energy work.
For topical use only. Do not use near eyes, mouth, nose, or mucus membranes. Always patch test prior to continuous use on the skin. Discontinue use if irritation occurs.
CAUTION: This blend contains Lemon oil, which is known to cause increased photosensitivity resulting in sunburn. If using topically on exposed skin, avoid direct sunlight and tanning beds for 12 hours after use.
NOTE: Occasional leaking (1-2 drops) may occur due to pressure changes from air transit and the unique texture of the gemstone roller ball. If you receive a roll-on with any leakage, please contact our Customer Experience team for a replacement container at no extra charge.
Kids Safety: Safe to use topically with children ages 2 and up when diluted with an additional carrier oil to a 1-2% dilution rate. Click here to learn more about using essential oils safely with children.
Your trust and confidence matter to us. As part of our S.A.A.F.E. Promise™ to you, Rocky Mountain Oils provides verified third-party GC/MS (Gas Chromatography/Mass Spectrometry) test results from an independent lab for every essential oil product in our collection.
GC/MS tests verify the quality and purity of every Rocky Mountain Oils product, which guarantees you're using the safest and highest quality essential oils and essential oil blends on the market.
To view the GC/MS test results for this Crown Chakra Roll-on, click here.
Crown Chakra Roll-on FAQ
What is the Crown Chakra responsible for?

The Crown Chakra is responsible for our spiritual connection to the universe and our higher selves. Activating Crown Chakra will help strengthen your intuition and enhance your ability to receive wisdom during meditation and prayer. This chakra also helps us see the world from a more balanced perspective without getting caught up in materialism or superficial problems.

What are the best Crown Chakra crystals?

This chakra is associated with the color violet, or clear white energy, so the best Crown Chakra crystals tend to reflect this. If you're interested in using healing crystals for this chakra, try amethyst, selenite, lepidolite, moonstone, or quartz. In our Crown Chakra Roll-on, we've included a quartz crystal rollerball to help activate the spiritual properties of our essential oil blend for Crown Chakra healing.

What are the signs that I need to balance Crown Chakra?

You may need to balance your Crown Chakra if you feel disconnected from your faith or spirituality, find yourself worrying too much about materialistic problems, or suddenly experience difficulty concentrating during meditation or other spiritual practices. When this chakra becomes misaligned, you may also feel depressed, disillusioned, or overly sensitive.

How do I meditate for Crown Chakra healing?

Meditation is a powerful tool for Crown Chakra healing, which can be enhanced by essential oils. To meditate for this chakra, use our Crown Chakra Roll-on on your forehead, throat, chest, or pulse points. Close your eyes, breathe deeply, and allow the alluring mystical aroma of the oils to focus your attention on your crown. Imagine violet or white light appearing at the top of your head and expanding with each inhale and exhale until it fills your entire body. Do this for 10-15 minutes or until you feel balanced and recharged.