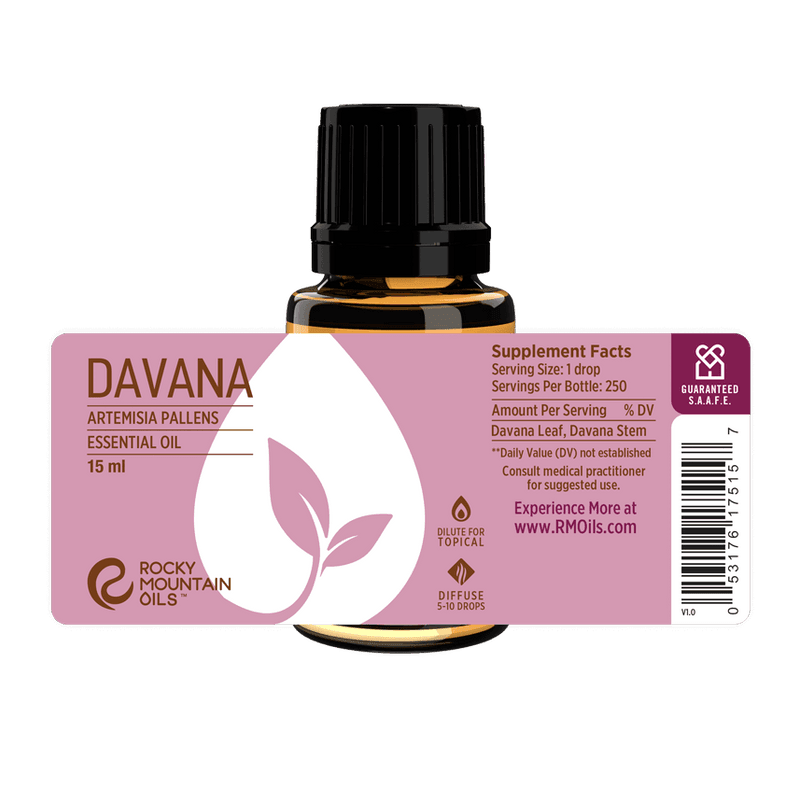 Davana Essential Oil
GC/MS
TESTING
90 DAY
RETURNS
100% RECYCLED
PACKAGING
S.A.A.F.E
PROMISE
Balance your emotions and feel uplifted with the delicate, vibrant aroma of Davana Essential Oil. Steam distilled from the leaves and stems of the Artemisia pallens plant in India, this essential oil offers a floral scent that's sweet and fruity, with a hint of honey and red wine.
Often used in natural perfumes and colognes, this alluring scent is said to promote libido and spark passion. Davana essential oil elevates mood, reduces anxiety, and enhances your well-being while creating a tranquil atmosphere. It's also used to help boost concentration, focus, memory, and creativity.
When diluted with a carrier oil, Davana can be used topically for its antimicrobial and anti-inflammatory properties. It relieves muscle pain and tension, boosts the immune system, helps with digestion, and balances hormones. Additionally, Davana is used in skincare and natural beauty for anti-aging effects.
Other Davana essential oil benefits include sanitizing surfaces, purifying the air, and inspiring a serene environment for meditation. Try using Davana in a personal aroma inhaler or uncap and smell directly from the bottle for quick relief from stress, depression, and negativity.
The statements contained herein have not been evaluated by the Food and Drug Administration. Neither Rocky Mountain Oils® nor its products are intended for the purpose of diagnosing, treating, curing, or preventing any disease. If you are pregnant, nursing, taking medication, or have a medical condition, consult your physician before using these products.
Diffuse to promote tranquility and peace while deodorizing the air in your home and purifying your space against germs, mold spores, fungus, and bacteria.
Dilute with a carrier oil, then massage into the skin for anti-inflammatory benefits that boost the immune system.
Use to promote clearer skin, healthier hair, and stronger nails.
Diffuse to relieve respiratory issues including chest congestion, asthma, coughing, and bronchitis.
Add a few drops to a warm bath for a soothing soak that relieves muscle fatigue and stress.
Diffuse or use in a sensual massage oil to boost the libido, spark passion, and strengthen intimacy with your romantic partner.
Use to add uplifting aroma to DIY soaps, candles, hand sanitizers, and more.
Davana Skin Rejuvenation Serum
For smoother, brighter, and more youthful-looking skin, try this rejuvenating serum using Davana essential oil benefits.
5 drops Davana
5 drops Frankincense
5 drops Geranium
1 oz. Jojoba Oil
Instructions: Combine all oils in a glass jar or bottle, then apply to the face with clean hands or a cotton pad. Gently massage into the skin to enjoy a clearer, softer complexion.
Botanical Name: Artemisia pallens
Country of Origin: India
Extraction Method: Steam Distilled
Plant Part: Leaves and Stems
Aroma: Sweet, Fruity, Floral
Consistency: Medium
Blends Well With: Bergamot, Black Pepper, Cardamom, Jasmine, Mandarin, Patchouli, Rose, Sandalwood, Tangerine, Ylang Ylang, Grapefruit, and Coriander
Always dilute prior to topical application. Avoid contact with mucous membranes, eyes, and the inside of the mouth, nose, and ears. Do not ingest. Do not use while pregnant or breastfeeding.
Kids Safety: Safe to use topically with children ages 6 years old and up. Dilute to a 1-2% dilution rate for topical application.
Tips for Safer Diffusing:
Diffuse in an open, well-ventilated area.
Keep children and pets out of the direct line of mist.
Diffuse in 30-60 minute intervals, with ample break periods for safe and effective use.
At Rocky Mountain Oils, your trust and confidence matter to us. As part of our S.A.A.F.E. Promise™, we offer third-party verified GC/MS (Gas Chromatography/Mass Spectrometry) test results from an independent lab for every essential oil and blend in our line.
GC/MS tests verify the purity and quality of our essential oils, so you can be sure you're using the safest, highest-quality essential oils available today.
GC/MS Test: Click Here
For batch-specific GC/MS tests, click here.
Davana Essential Oil FAQ
What does Davana oil smell like?

Davana oil has a sweet, fruity, slightly herbaceous aroma with a warm and woody undertone. In aromatherapy blends, it is considered a top note because it is lighter and provides the initial burst of fragrance.

What are the benefits of Davana essential oil for mood?

Davana essential oil benefits for mood include reducing stress and anxiety, letting go of anger and resentments, and promoting feelings of comfort and stability. Davana also creates a warm, joyful, and inviting atmosphere while clearing negative energy from your space. At night, diffusing this essential oil or blending it with a carrier oil for a topical massage can help you fall asleep faster and sleep more deeply.

What are some Davana essential oil benefits for skin?

When used for skincare, Davana is anti-aging, hydrating, toning, and brightening. It exfoliates dead skin cells, promotes elasticity and collagen, and reduces discoloration like sun spots and hyperpigmentation. Davana essential oil also shrinks pores, treats acne and blemishes, and heals skin conditions like eczema and psoriasis.

What are some Davana essential oil benefits for hair?

Davana essential oil benefits for hair include balancing the scalp, reducing oily buildup, stimulating follicle growth at the roots, and repairing dry, damaged, frizzy hair. You can also mix a few drops of Davana with cornstarch or baking soda to make a fragrant, deodorizing dry shampoo that's perfect for travel, camping, and more.