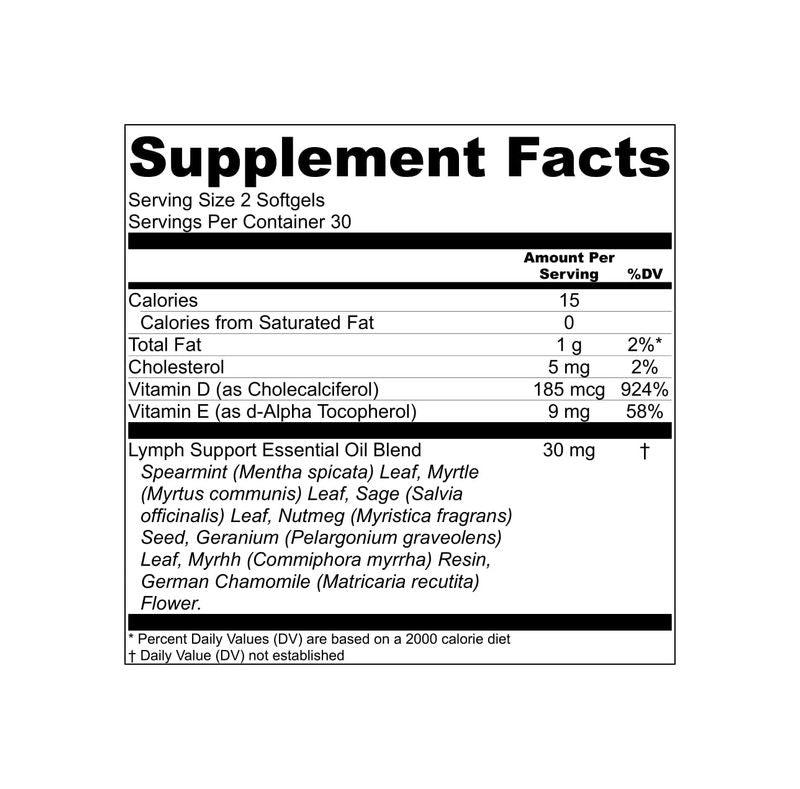 Tohi Enhance Omega Supplement
90 DAY
RETURNS
100% RECYCLED
PACKAGING
S.A.A.F.E
PROMISE
Support your health and longevity with our Tohi Enhance Omega Supplement. It's the best omega 3 supplement combined with omegas 5, 6. 7, and 9, then enhanced with Rocky Mountain Oils' Lymph Support blend. It also includes Flax Seed, Vitamin D, and Vitamin E.
By taking an omega supplement like Tohi Enhance, you can help reduce the levels of triglycerides in the blood and reduce your risk of cardiovascular disease, heart attack, and stroke. Studies also show that omega 3, 6, 9 supplements may help relieve symptoms of rhemeutoid arthritis, slow age-related macular degeneration, and support memory. 
When taken as directed as part of a healthy diet, this supplement promotes cardiovascular health, brain function, immunity, and improves the appearance of hair, skin, and nails. 

The Lymph Support essential oils in this blend are used in trace amounts at a safe level commonly used in commercial food and beverages. They work synergestically to enhance the absorption and function of the other natural ingredients in this supplement. Click here to learn more about our Lymph Support blend.
Vitamin D (as Cholecalciferol), Vitamin E (as d-Alpha Tocopherol), Fish Oil (Omega 3), Pollock Fish Oil (Omega 7), Pomegranate Seed Oil (Omega 5), Olive Oil (Omega 9), Flaxseed Oil Organic (Omega 3), Cranberry Seed Oil (Omega 3, 6, 9), Fish Gelatin, Glycerin, Purified Water, Rocky Mountain Oils Lymph Support Blend (Spearmint, Myrtle, Sage, Nutmeg, Geranium, Myrrh, German Chamomile, Fractionated Coconut Oil)
Take 2 soft gels in the morning, with or without food.
Keep out of reach of children. Take only as directed. Do not exceed recommended dosage. If you have a medical condition, please consult your physician before use. Pregnant or nursing women should also consult a physician before use.
Free of GMOs, synthetic colors, artificial flavors and preservatives, dairy, peanuts, shellfish, and salicylates. Made in the USA and in a GMP-Certified facility.
Store in a cool, dark place.
Tohi Enhance Omega Supplement FAQ
Can I take omega 3 every day?

Yes, omega 3 fatty acids supplements like Tohi Enhance are safe to take every day. However, do not exceed recommended dosage. If you have a medical condition, consult your doctor before using this supplement.

What is the difference between omegas 3, 6, 9?

All omegas are fatty acids, which are vital for our well-being. Taking omega 3, 6, 9 supplements may help support your immune system, brain function, and cardiovascular health. The difference between omegas lies in their chemical components. Omega 3 consists of Alpha-linolenic acid (ALA), eicosapentaenoic acid (EPA), and docosahexaenoic acid (DHA). Omega 6 has arachidonic and linoleic acids. Finally, omega 9 is a monounsaturated fatty acid that is naturally made in the body from foods like olive oils and nuts. However, taking an omega 9 supplement still offers benefits.

Who should not take omega supplements?

As with any new dietary supplement, please consult your doctor or healthcare provider before using it if you are taking any medication or have pre-existing conditions. People who are on blood thinners, such as warfarin, should not take omega supplements without prior approval from their physician. You should also avoid omega supplements if you have allergies to any of the ingredients, such as fish oil or flax seed.

How does Lymph Support Blend work?

Rocky Mountain Oils' Lymph Support Blend works by using anti-inflammatory compounds present in the essential oils to help reduce swollen glands and support lymphatic drainage. The oils in this blend help support your body's natural healing abilities and immune system function.