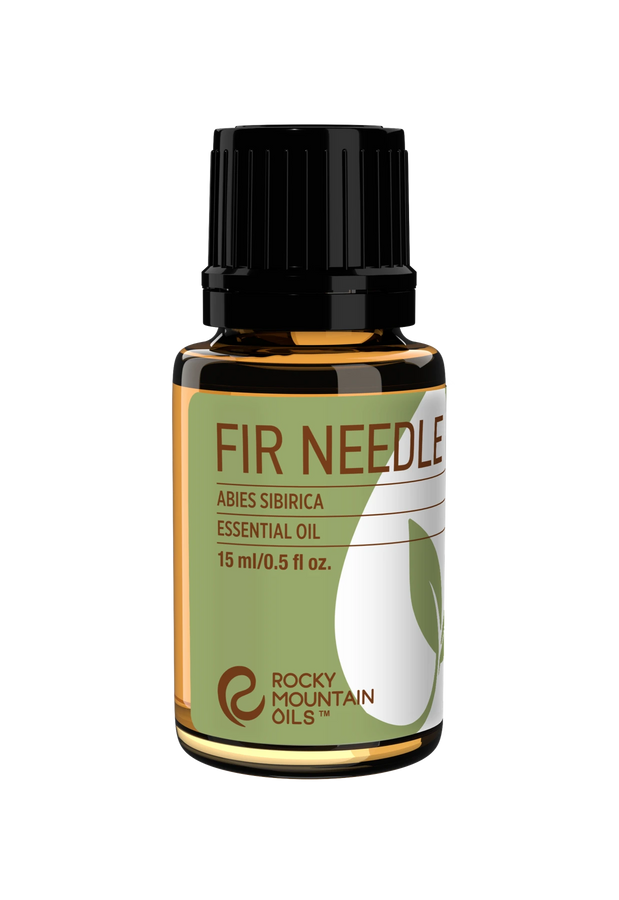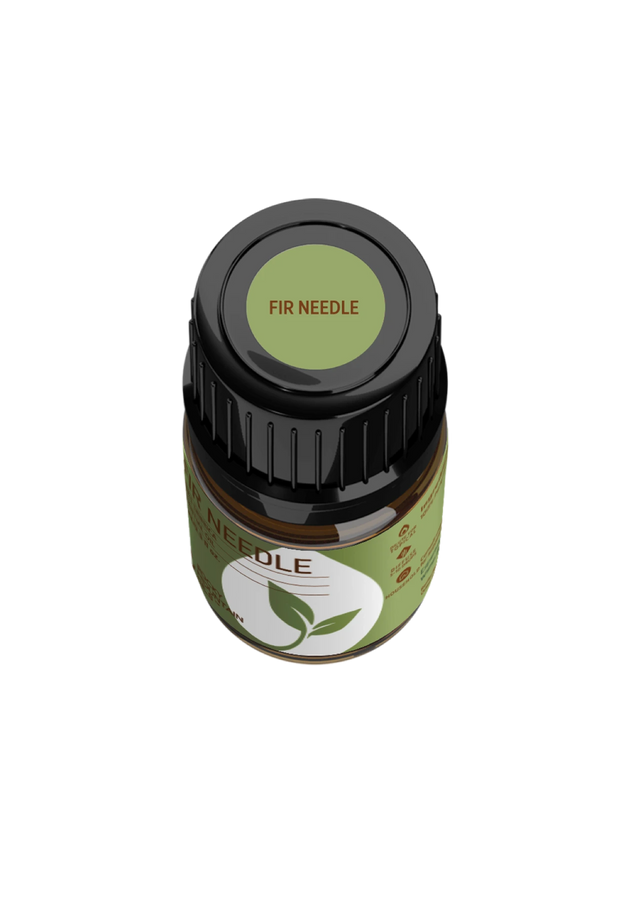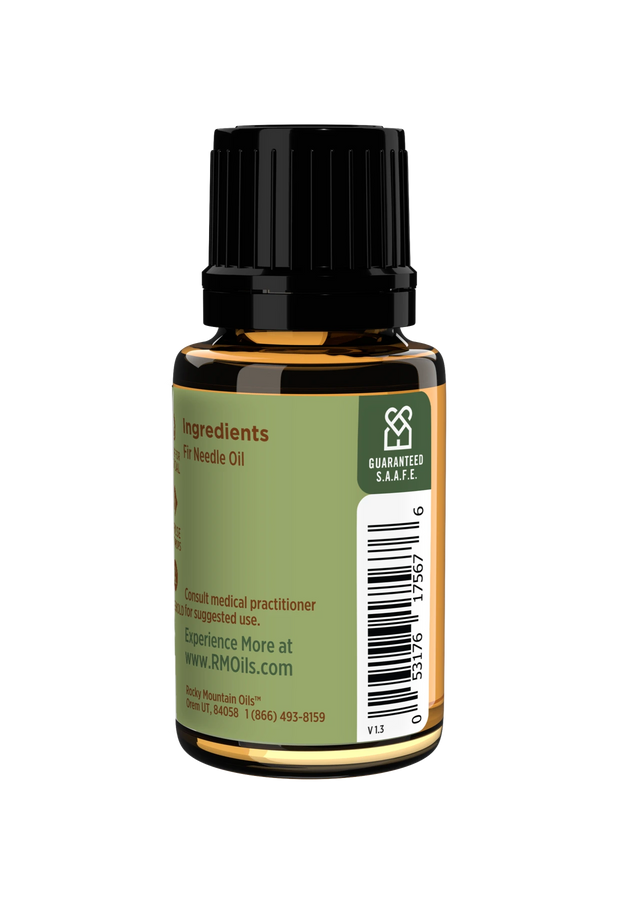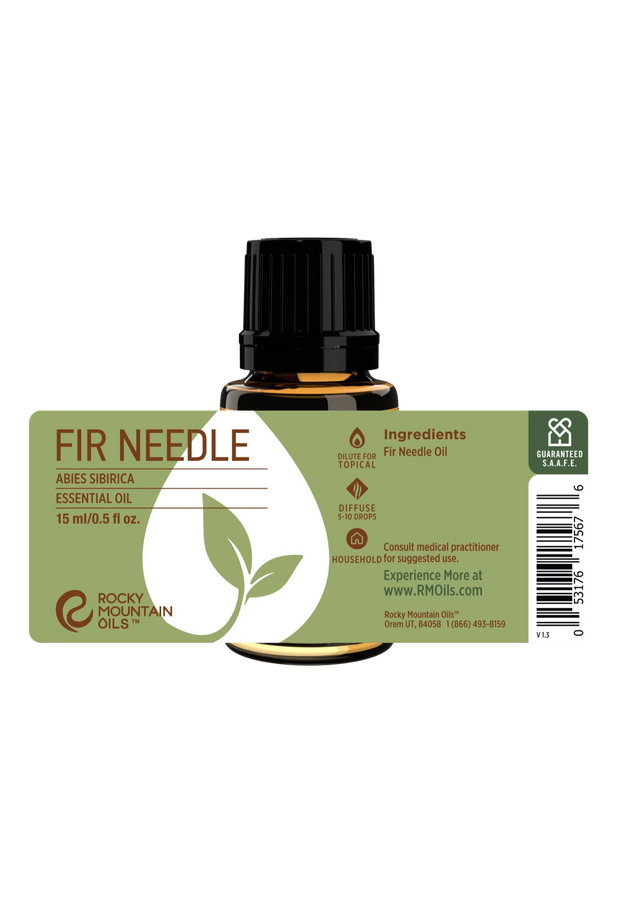 Fir Needle Essential Oil
GC/MS
TESTING
90 DAY
RETURNS
100% RECYCLED
PACKAGING
S.A.A.F.E
PROMISE
Fill your home with the clean, crisp aroma of an evergreen forest with Fir Needle Essential Oil. Also known as Siberian Fir Needle, this essential oil offers a woodsy aroma that's piney and slightly camphorous. It evokes pleasant holiday memories and wintertime cheer.
A rich source of healing plant compounds like alpha-pinene and limonene, Fir Needle essential oil benefits include reducing inflammation, preventing infection, healing small cuts and wounds, and boosting the immune system. It also supports digestion and respiratory health.
Try diffusing Fir Needle oil or Fir Needle essential oil blends to create a joyous mood that captures the holiday spirit and cures the winter blues. This oil also helps with seasonal affective disorder, travel stress, and general anxiety. Its clean scent is uplifting and invigorating.
Add Fir Needle oil to homemade cleaning products for a pine-fresh scent that also eliminates germs and bacteria. It's great for DIY candles, soaps, hand sanitizers, and more. You can also dilute Fir Needle essential oil with a carrier oil to use topically in skincare, haircare, or as a soothing muscle relief balm.
Diffuse or use in a room spray to eliminate odor-causing bacteria and purify the air in your space, while promoting a clean and tranquil atmosphere for holiday cheer.
Dilute with a carrier oil and use to treat acne, eczema, psoriasis, and other skin irritations while toning, brightening, and reducing the appearance of fine lines and wrinkles.
Use as a soothing muscle rub to ease stiff joints, relief pain, and reduce inflammation.
Dilute with a carrier oil and apply to the upper chest, or diffuse, to promote respiratory health and open congested airways.
Dilute or inhale to feel connected with nature and deepen your meditation practice.
Fir Needle Room Spray
Freshen and cleanse your space with the uplifting, cheerful aroma of Fir Needles with this DIY room spray.
10 drops Fir Needle
10 drops Lemon
1 tablespoon Rubbing Alcohol
8 oz. Distilled Water
Instructions: Add all ingredients to a clean spray bottle and shake well to combine. Shake again before each use. Spritz generously into the air or onto linens, pillows, and soft furniture.
Botanical Name: Pinaceae abies
Country of Origin: Russia
Extraction Method: Steam Distilled
Plant Part: Needles
Aroma: Piney, Woody, Sweet
Consistency: Medium
Blends Well With: Spruce, Lemon, Peppermint, Rosemary, Thyme, Orange, Lavender, Black Pepper
Popular Fir Needle Blends: Christmas Cabin, Autumn Air
Always dilute prior to topical application. Avoid contact with mucous membranes, eyes, and the inside of the mouth, nose, and ears. Do not ingest. Do not use while pregnant or breastfeeding.
Kids Safety: Safe to use topically with children ages 6 years old and up. Dilute to a 1-2% dilution rate for topical application.
Tips for Safer Diffusing:
Diffuse in an open, well-ventilated area.
Keep children and pets out of the direct line of mist.
Diffuse in 30-60 minute intervals, with ample break periods for safe and effective use.
At Rocky Mountain Oils, your trust and confidence matter to us. As part of our S.A.A.F.E. Promise™, we offer third-party verified GC/MS (Gas Chromatography/Mass Spectrometry) test results from an independent lab for every essential oil and blend in our line.
GC/MS tests verify the purity and quality of our essential oils, so you can be sure you're using the safest, highest-quality essential oils available today.
GC/MS Test: Click Here
For batch-specific GC/MS tests, click here.
Fir Needle Essential Oil FAQ
Why does Fir Needle essential oil smell like Christmas?

Fir trees are commonly used as Christmas trees, so the crisp, piney aroma of Fir Needle essential oil often evokes a feeling of holiday cheer. If you prefer artificial Christmas trees but miss the evergreen scent of a real tree, try diffusing Fir Needle essential oil blends or using this oil in a holiday room spray.

Is Fir Needle essential oil good for respiratory health?

Yes! Fir Needle is a natural decongestant and expectorant that helps loosen phlegm and mucus, while increasing blood flow to the lungs to promote better breathing. Using this essential oil also helps relieve sinus pressure. Additionally, you can use Fir Needle to strengthen your immune system and help boost your body's natural defenses against bronchitis and other upper respiratory infections.

Are there Fir needle essential oil benefits for hair?

Fir Needle oil and Fir Needle essential oil blends help reduce dandruff, prevent hair loss, moisturize the scalp, and help repair dry or damaged hair. Try blending this essential oil with a carrier oil, then leaving on the scalp for a deep-hydrating hair mask that restores a healthy shine and leaves hair smelling fresh and clean.

Is Fir Needle essential oil safe for dogs and cats?

No. Fir Needle is not safe for pets like dogs and cats. If using this oil in your home, keep all diffusers away from your pet's bed, food and water bowls, crates, litter boxes, and other common areas. Make sure all oily residue in cleaning products is thoroughly rinsed before allowing your pet into the sanitized area. If accidental ingestion occurs, contact your veterinarian immediately. Click here to learn more about essential oils and pet safety.