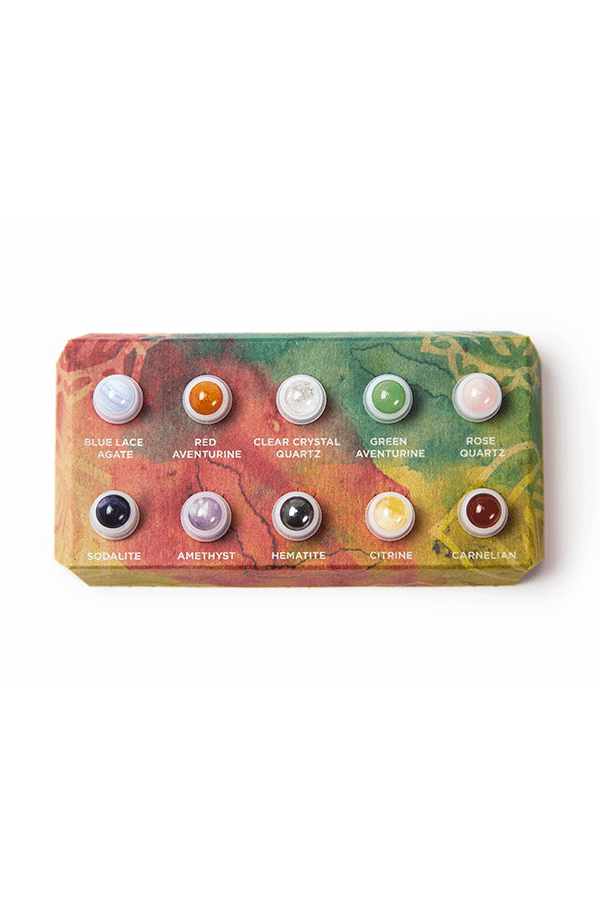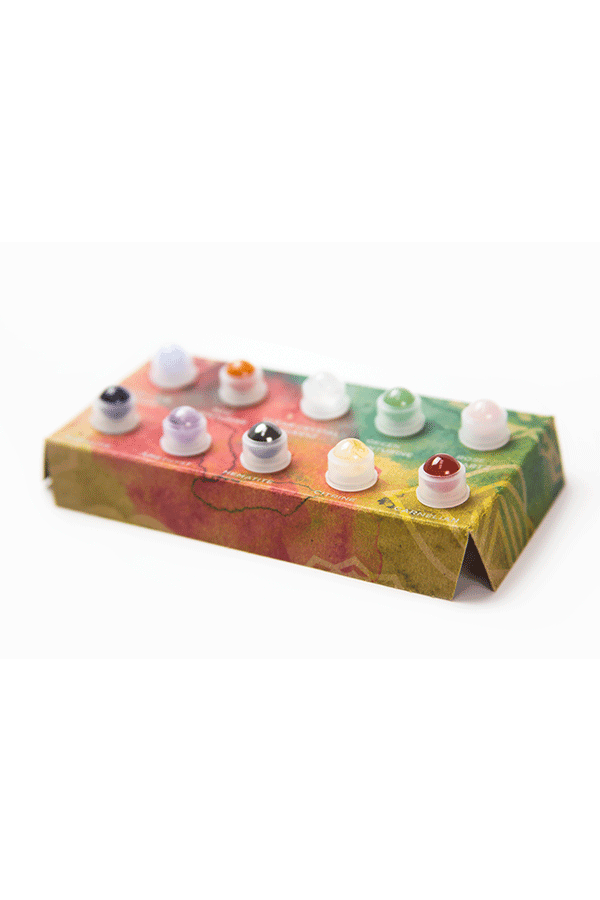 Gemstone Rollerball 10ml Bottle Tops
90 DAY
RETURNS
100% RECYCLED
PACKAGING
S.A.A.F.E
PROMISE
Enhance the energy of your essential oils with this Gemstone Rollerball Kit. This kit includes 10 unique gemstone roller balls to use in DIY roll-ons and blends. By adding a gemstone rollerball to your oils, you can elevate the experience of using essential oils while inspiring deeper healing.
Since ancient times, people have been drawn to gemstones and crystals. These colorful, mystical minerals and stones capture the imagination and evoke a sense of spiritual balance that can strengthen your connection to the universe. 
Like essential oils, each crystal gemstone has unique properties for addressing specific needs. When combined with an essential oil or oil blend, you can use these gemstone roller ball tops to uplift your mind, body, and soul. They can help improve the flow of your energy, strengthen your aura, and balance your chakras.
Gemstone roller balls are also a perfect accent piece if you're making DIY essential oil roll-ons as a gift. Adding a crystal will bring out the best in your essential oils.
NOTE: All stones are natural and untreated. Color and clarity may vary.
Fill an empty roll-on bottle with your favorite essential oils, then attach the desired gemstone rollerball and replace the cap.
10 crystal gemstone roller ball tops:
Amethyst: A vibrant, luxurious purple stone known to enhance the spirit and inspire positive transformation. Amethyst supports the Third Eye Chakra and inspires creativity, imagination, and the ability to see the world from a more expansive perspective.
Blue Lace Agate: With a pale blue color that inspires calm and joy, Blue Lace Agate is associated with the Throat Chakra and helps enhance communication and self-expression. It helps you speak your truth with confidence and clarity.
Carnelian: Carnelian has a deep red color that balances the Sacral Chakra, restoring vitality and sparking greater passion in your life. It benefits emotional well-being while inspiring more romance and creativity.
Citrine: A bright, clear, golden crystal that is believed to carry the power of the sun. Citrine is linked to the Solar Plexus Chakra. It is associated with healthy energy, prosperity, and self-confidence.
Clear Quartz: One of the most powerful healing stones on earth, Clear Quartz is known to promote spiritual awakenings and assist in manifesting your thoughts into reality. This dazzling stone helps you work with your Crown Chakra.
Green Aventurine: A shiny green gemstone that evokes feelings of nature and healing, Green Aventurine resonates with the Heart Chakra. It helps you let go of the past and find inner harmony.
Hematite: Known for stability and grounding, Hematite is a natural metal that's infused with earthy energy and supports your Root Chakra. This gemstone rollerball helps you remain centered and calm during stressful times.
Red Aventurine: The fiery red cousin of Green Aventurine, this crystal promotes vigor and vitality. It helps strengthen your mind-body connection while increasing determination and perseverance, and also supports the Root Chakra.
Rose Quartz: A gentle pink stone associated with unconditional love and healing. Rose Quartz helps open your Heart Chakra and allows you to give and receive more love, compassion, and understanding.
Sodalite: A colorful blue and white stone, often with small flecks of orange, Sodalite promotes harmony and tranquility while enhancing spirituality. It is associated with the Third Eye Chakra.
Keep out of reach of children and pets. Wipe clean with a damp cloth. To remove oily residue, gently dip the rollerball in white vinegar and rinse clean with water.
Gemstone Rollerball 10ml Bottle Tops FAQ
Can you put essential oils on crystals?

Yes! Essential oils are not harmful to crystals. In fact, essential oils are a great way to clean crystals and gemstones and enhance their shine. If you are using crystals for their energy healing or meditative properties, essential oils can complement the energy of your crystals and enhance their metaphysical benefits. Using essential oils with crystals can deepen your personal spiritual practice and add a tactile element to your aromatherapy.

Is amethyst safe to put in oil?

Yes, amethyst is nonporous and is safe to use with essential oils. As a powerful healing stone, amethyst and essential oils are complementary and often used together for energy healing such as Reiki. You can also incorporate amethyst into aromatherapy jewelry to wear this vibrant lilac stone and enhance your personal energy.

How do you make crystal-infused essential oils?

Making crystal-infused essential oils is easy! Simply purchase small crystals that can fit inside an empty roll-on container, bottle, or another glass container, place the crystal inside, and fill the container with your favorite essential oils. Over time, the essential oil will absorb the properties of the crystal. To enhance your crystal-infused blend, you can also add a gemstone rollerball.

What crystal goes with lavender?

Lavender is a versatile essential oil with a soothing, grounding aroma that pairs well with many crystals. Popular crystals for lavender include amethyst, clear quartz, lepidolite, rose quartz, and selenite. These crystals provide healing energy that is calming yet uplifting, which complements the tranquil aroma of lavender and helps reduce stress, promote better sleep, and enhance overall wellness.