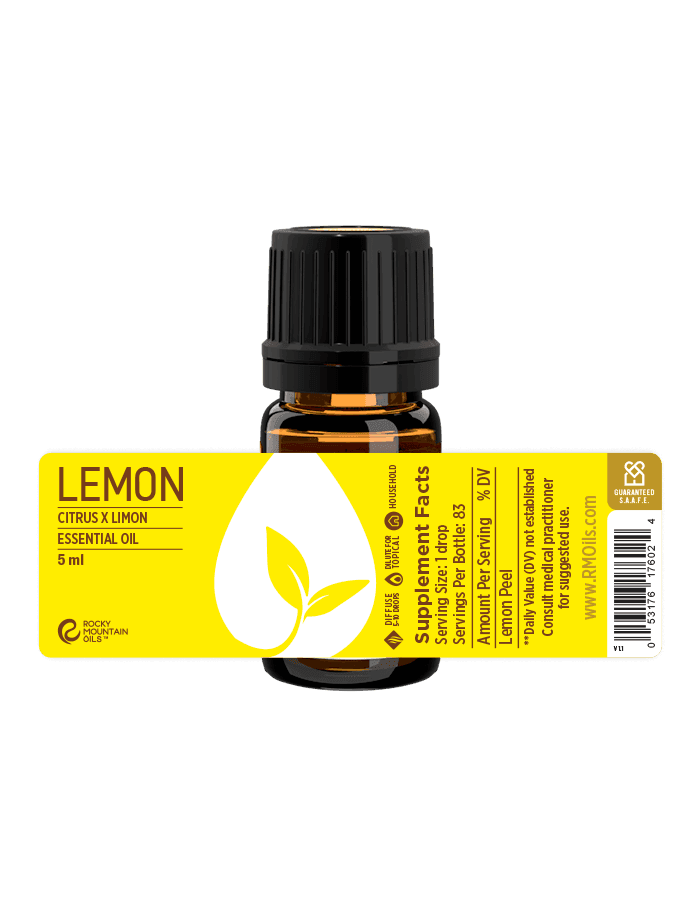 Lemon Essential Oil - 5ml
GC/MS
TESTING
90 DAY
RETURNS
100% RECYCLED
PACKAGING
S.A.A.F.E
PROMISE
Brighten, uplift, and surround yourself with sunshiney vibes with Lemon Essential Oil. Cold-pressed from the zesty yellow peel of the lemon fruit, this essential oil offers an invigorating fragrance that's cleansing and energizing.
Like the popular fruit we squeeze for lemonade, Lemon oil is high in vitamin C, citric acid, and limonene. Together, these antioxidant compounds offer powerful healing benefits as well as anti-inflammatory, antimicrobial, and antifungal properties. 
Lemon is one of the most popular essential oils due to its versatile uses and its tangy, refreshing scent that blends compliments a wide range of other essential oil aromas. The sweet, crisp fragrance of pure Lemon helps reduce stress and anxiety, improves focus, and inspires a burst of natural energy. Try diffusing Lemon essential oil to purify the air in your space and spread cheer.
When diluted with a carrier oil, Lemon essential oil benefits include toning and brightening skin, soothing sore muscles, boosting the immune system, promoting new hair growth, and more. It's also an excellent oil to use in DIY cleaning products and hand sanitizer. Click here to learn more about the best uses for Lemon oil.
---
The statements contained herein have not been evaluated by the Food and Drug Administration. Neither Rocky Mountain Oils nor its products are intended for the purpose of diagnosing, treating, curing or preventing any disease. If you are pregnant, nursing, taking medication, or have a medical condition, consult your physician before using these products.
Diffuse lemon oil to reduce stress and fatigue, while boosting energy naturally without caffeine.
Mix with white vinegar to create a DIY household cleaning spray that sanitizes and purifies surfaces.
Use 1-3 drops to remove sticky residue from labels or tape.
Dilute with a carrier oil and apply topically to your face to help reduce the appearance of dark spots and promote a clearer, brighter, more event complexion.
Diffuse, inhale, or apply topically with a carrier oil to help support your immune system and reduce inflammation in the body.
Lemon Oil Skin Toner
For a brighter, more even complexion, try this all-natural Lemon oil toner that also helps exfoliate and repair the skin's natural protective barrier.
10 drops Lemon Essential OIl
½ cup Water
½ cup Witch Hazel
Instructions: Add all ingredients in a spray bottle, shake well to combine, then spritz onto a clean cotton pad or washcloth and gently massage into the face.
Botanical Name: Citrus x limon
Country of Origin: Argentina/Italy/USA*
Extraction Method: Cold Pressed
Plant Part: Peel
Aroma: Fresh, Sweet, Citrusy
Consistency: Thin
Blends Well With: Lime, Bergamot, Cedarwood, Eucalyptus, Lavender, Peppermint, Sandalwood
Popular Lemon Blends: Lavender Lemon, Limoncello, Citrus Blend, Citrus Passion, Immune Strength
*Some of our essential oils have multiple countries of origin. To determine the origin of your bottle of essential oil, click here for batch-specific GC/MS test.
May cause irritation in its pure form. Always dilute with a carrier oil and patch test prior to extensive topical use. Do not use if pregnant or breastfeeding. Keep out of reach of children and pets.
Safe to use topically with children ages 2 and up when diluted to a 1-2% dilution rate. Click here to learn more about using essential oils for kids.
CAUTION: Lemon is phototoxic and may temporarily increase your sensitivity to sunlight, resulting in a higher risk of sunburn. When using topically, avoid direct sun exposure and tanning beds for at least 12 hours after application.
Store in a cool, dark place.
Safe Diffusing Tips:
Diffuse in an open, well-ventilated area.
Keep children and pets out of the direct line of mist.
Diffuse in 30-60 minute intervals with ample break periods.
Your trust and confidence matter to us. As part of our S.A.A.F.E. Promise™, Rocky Mountain Oils offers GC/MS (Gas Chromatography/Mass Spectrometry) test results verified by a third-party, independent lab for every essential oil and essential oil blend in our catalog.
GC/MS tests verify the purity and quality of all Rocky Mountain Oils products, so you can be sure you're using the safest, highest-quality essential oils available on the market.
GC/MS Test: Click Here
For batch-specific GC/MS tests, click here.
Lemon Essential Oil - 5ml FAQ
What is Lemon essential oil good for?

Lemon essential oil has many uses, including skincare, haircare, home cleaning products, and aromatherapy. Diffusing Lemon oil can create a happy, energizing mood and help increase your focus and concentration while reducing anxiety and depression. It's also a wonderful scent to add to DIY candles, soaps, bath bombs, room sprays, and more.

Is Lemon essential oil safe for dogs?

Lemon oil is considered safe for topical use on dogs when properly diluted in a carrier oil such as Fractionated Coconut Oil. However, always use caution when applying essential oils to your dog and make sure your pet does not ingest the oils. We recommend consulting your veterinarian or a trained animal aromatherapist prior to using Lemon oil on your furry friend. To learn more about essential oils and pets, read our blog article here.

Is Lemon essential oil the same as Lemon Balm essential oil?

No! Although both oils have a bright, tangy, citrusy aroma, Lemon Balm essential oil (also known as Melissa Essential Oil) is extracted from a different plant and is not in the citrus fruit family.

Will Lemon oil lighten hair?

Yes. Due to its high concentration of citric acid, Lemon oil functions as a natural bleaching compound. In addition to its use as a skin brightener, one of the most popular Lemon essential oil benefits is its ability to gently lighten hair. For a sun-kissed look without harsh chemicals, mix Lemon oil with a carrier oil, apply it to the hair, and spend 10-15 minutes in the sun. Repeat as desired. (However, be mindful not to overuse to avoid dry, brittle hair.)