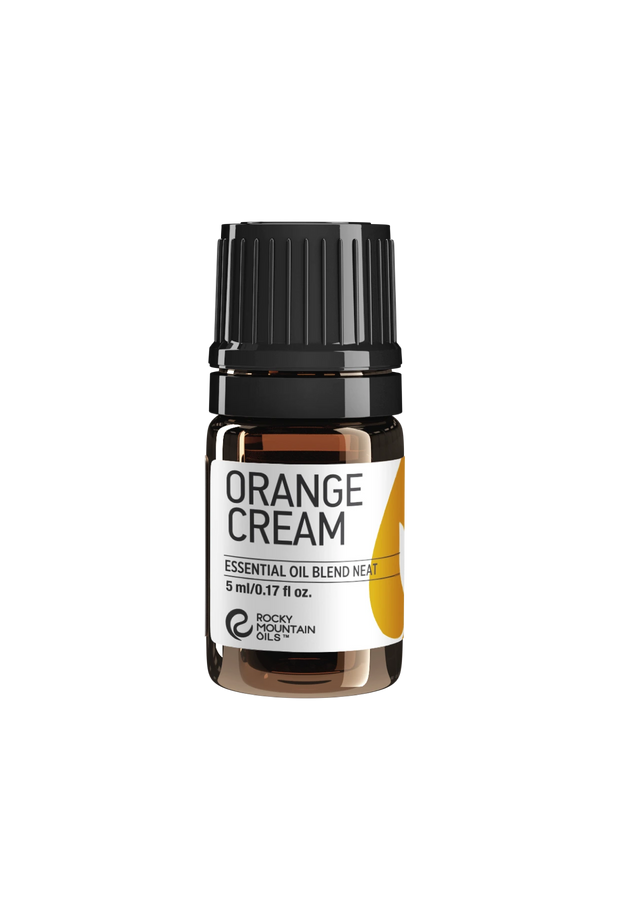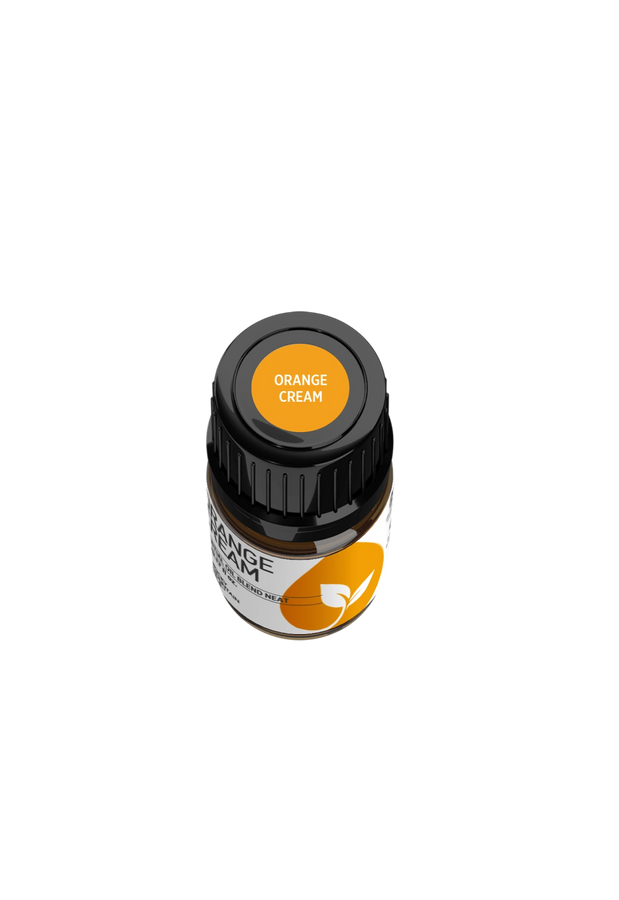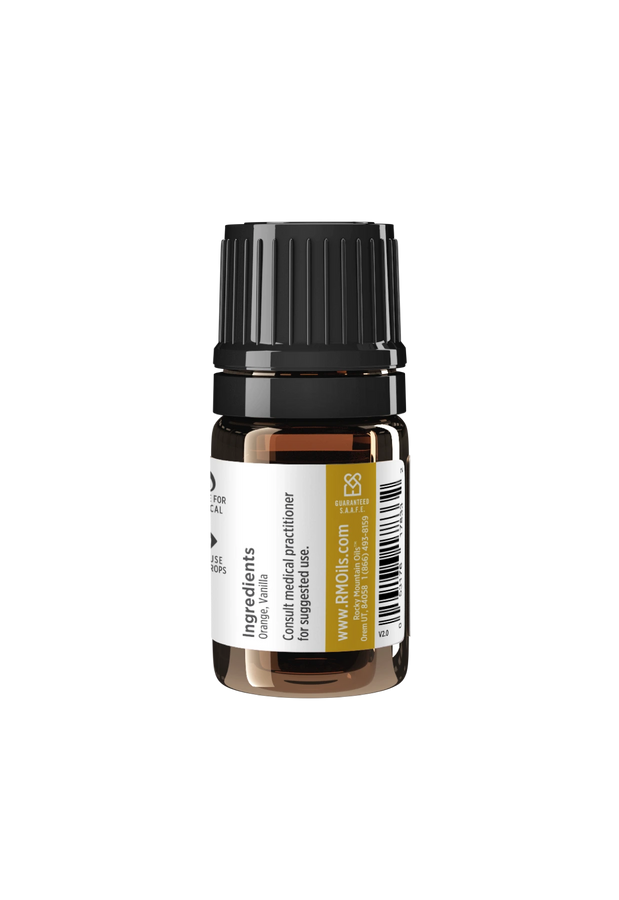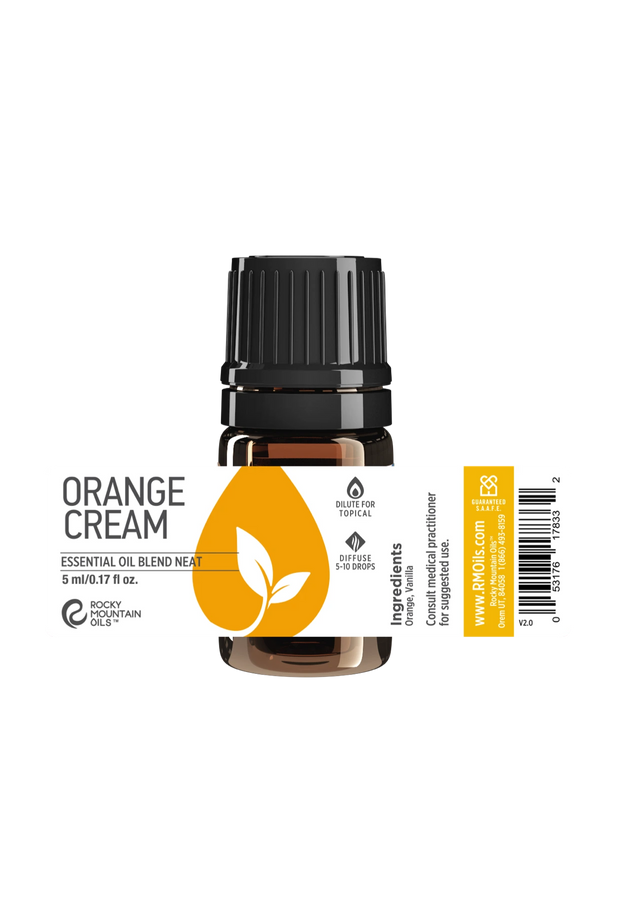 Orange Cream Essential Oil Blend - 5ml
GC/MS
TESTING
90 DAY
RETURNS
100% RECYCLED
PACKAGING
S.A.A.F.E
PROMISE
Sweeten your space with the cheerful aroma of citrus and vanilla with our Orange Cream Essential Oil Blend. This nostalgic blend was inspired by the classic orange creamsicle to evoke carefree summertime vibes and feelings of joy. It's an uplifting combination of pure Orange and Vanilla essential oils.
In addition to its charming fragrance, Orange Cream is one of our favorite essential oil blends for energy. The bright, sunny citrus scent inspires focus, concentration, and motivation, while the sweet, rich vanilla helps reduce anxiety and creates a feeling of comfort and stability. Orange Cream is one of the best vanilla and orange diffuser blends for kids due to its calming yet playful fragrance.
You can also use this vanilla and orange fragrance oil topically by diluting it with a carrier oil like Fractionated Coconut Oil or Jojoba. Orange and Vanilla essential oils offer numerous benefits due to their anti-inflammatory properties. They are also antimicrobial, astringent, and antifungal.
Try using this Orange Cream blend for DIY skincare, haircare, household cleaners, or projects like candle making. This blend also pairs well with Cinnamon Bark, Nutmeg, Clove Bud, Balsam of Peru, Lime, Cobaipa, Cardamom, Ginger Root, Cedarwood, and Sandalwood essential oils.
Dilute with a carrier oil and apply topically as a delightful perfume or cologne, or to use in skincare products to tone and brighten the skin. You can also add 1-3 drops to your regular moisturizer or cleanser to deepen hydration and reduce inflammation.
Use in a room spray or your favorite diffuser to fill your home, office, car, or other space with a cheerful, nostalgic aroma of sweet citrus and rich vanilla that helps reduce depression and anxiety while inspiring energy and focus.
Add to DIY cleaning products, candles, soaps, bath bombs, and more.
Use with a personal aroma inhale or aromatherapy jewelry, or keep a bottle in your pocket, to enjoy the uplifting scent throughout your day.
Orange Cream Room Spray
Eliminate foul odors and fill the air in your home, car, or office with the naturally uplifting aroma of oranges and vanilla with one of our favorite essential oil room spray recipes.
10-20 drops Orange Cream Essential Oil Blend
4 oz. Distilled Water
Instructions: Add oil and water to a 4 oz. spray bottle. Shake well to combine and shake again before each use. Mist generously throughout the day, or use as a linen spray on pillows and soft furniture. You can refill the water 3-4 times before adding more oil.
Always dilute with a carrier oil and patch test prior to extensive use on the skin. To patch test, apply a very small amount of oil to one area of the skin and wait 15 minutes to confirm that irritation or allergic reaction does not occur.
Do not use while pregnant or breastfeeding. Do not use near the eyes, nose, mouth, sensitive areas, or on broken skin or abrasions. For external use only. Do not ingest.
CAUTION: The Orange oil in this blend is phototoxic and may temporarily increase the risk of sun damage. Always keep the applied areas out of direct sunlight and avoid tanning beds for 12 hours after use.
KIDS SAFETY: Safe to use on children ages 2 and up. Dilute to a .5-1% dilution rate before applying topically on children. Click here to learn more.
Safe Diffusing Tips:
Diffuse in an open, well-ventilated area.
Keep children and pets out of the direct line of mist.
Diffuse in 30-60 minute intervals with ample break periods.
Your trust and confidence matter to us. As part of our S.A.A.F.E. Promise™ to you, Rocky Mountain Oils provides verified third-party GC/MS (Gas Chromatography/Mass Spectrometry) test results from an independent lab for every essential oil product in our collection.
GC/MS tests verify the quality and purity of every Rocky Mountain Oils product, which guarantees you're using the safest and highest quality essential oils and essential oil blends on the market.
To view the GC/MS test results for your essential oil blend, click here.
Orange Cream Essential Oil Blend - 5ml FAQ
What are the best essential oil blends for energy and motivation?

Orange Cream is one of our favorite essential oil blends for energy, focus, and motivation. Made with two simple ingredients, Orange essential oil and Vanilla essential oil, this unique blend imparts a sweet scent that helps inspire mental clarity and focus while quieting anxious thoughts and busting through depression. Diffusing this blend or using it with a personal aroma inhale helps you concentrate during study sessions, work from home, meetings, or other activities where your mind may be prone to wander. It also makes a perfect afternoon pick-me-up to get you through that post-lunch slump.

What are the benefits of Orange Cream essential oil?

Orange Cream essential oil is anti-inflammatory, astringent, antimicrobial, and antifungal. It offers benefits for depression, stress, anxiety, low energy, procrastination, ADHD, low self-confidence, mood swings, jet lag, seasonal depression, and more. When used topically with a carrier oil, it helps tone and brighten skin while controlling oily breakouts.

Can I use Orange Cream essential oil on skin?

Yes, this essential oil blend is safe for skin when properly diluted with a carrier oil. However, Orange oil is known to be phototoxic, which means it may temporarily increase your risk of sunburn. If you're using topically on exposed skin, avoid direct sunlight and tanning beds for 12 hours after application.

Is Orange Cream blend safe for kids?

Yes! Kids love this sweet essential oil blend. If diffusing, make sure to keep children away from the direct line of mist and always diffuse in an open room with plenty of ventilation. We also recommend taking breaks from diffusing every 30-60 minutes. To use topically on kids ages 2 and up, dilute to a .5-1% dilution rate. Click here to learn more about essential oil kid safety.