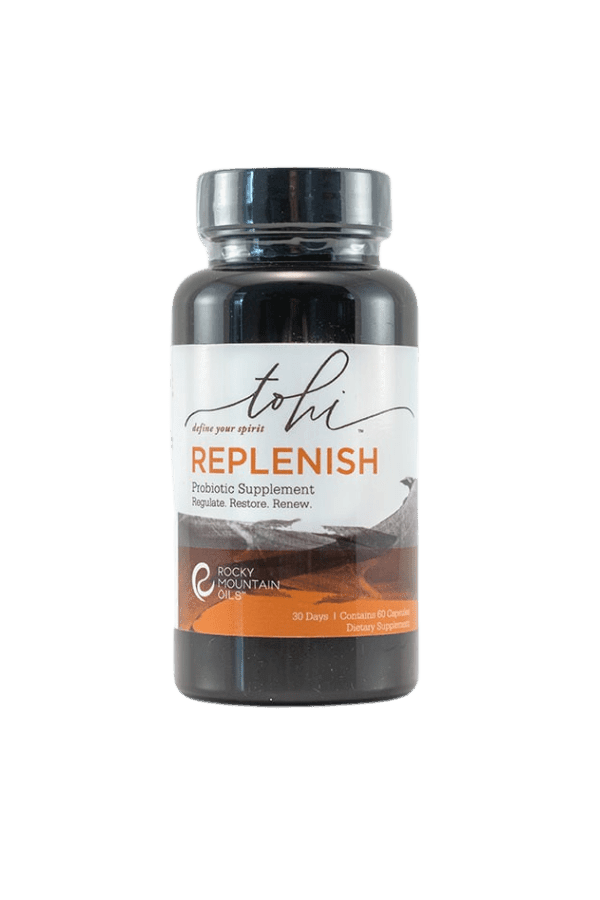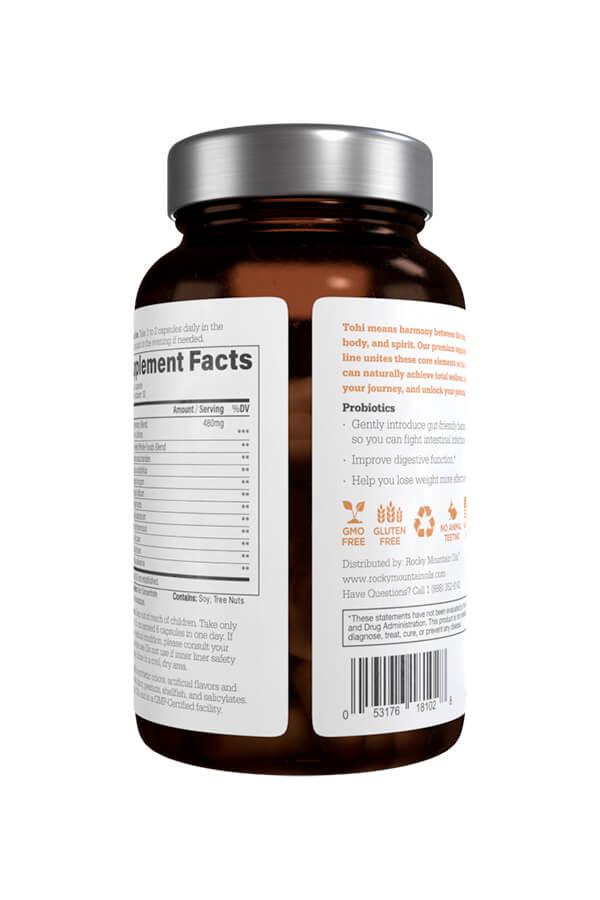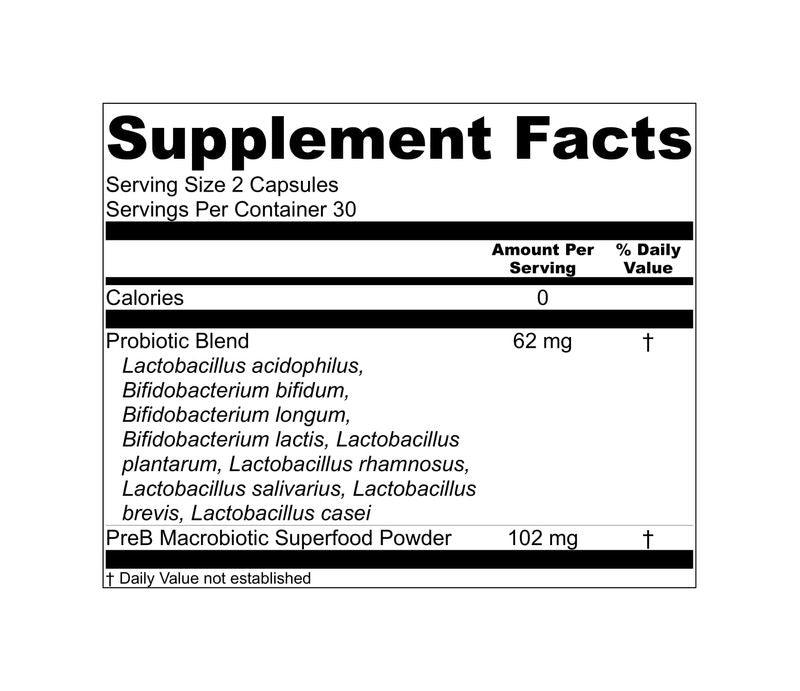 Tohi Replenish Probiotic Supplement
90 DAY
RETURNS
100% RECYCLED
PACKAGING
S.A.A.F.E
PROMISE
Heal your gut and boost your wellness with Tohi Replenish Probiotic Supplement. Tohi Replenish contains billions of shelf-stable, live active cultures to support your microbiome and promote better digestion. 
Taking a daily probiotic supplement like Tohi Replenish can boost digestive health and reduce bloating, constipation, gas, indigestion, cramping, and more. It also promotes regularity and may help manage symptoms of Irritable Bowel Syndrome (IBS). Studies suggest that probiotics may also boost the immune system, treat and prevent yeast infections, and reduce chronic inflammation.
Tohi Replenish includes some of the best probiotics for gut health, including strains of Lactobacillus, Bifidobacterium, Streptococcus, and Lactobacterium. Together, these probiotics help balance your body chemistry by restoring good bacteria in the gut. 
The best probiotics for gut health may also stimulate your metabolism and support your body's ability to release toxins. Try Tohi Replenish Probiotic Supplement today and you'll feel lighter, healthier, and more energized.
78 Billion Live Cultures, Pre-B Macrobiotic Superfood Powder, FOS Fructooligosaccharides, Bifidobacterium infantis, Bifidobacterium bifidum, Lactobacillus bulgaricus, Lactobacillus plantarum, Lactobacillus rhamnosus, Bifidobacterium breve, Lactobacillus salivarius, Lactobacillus casei, Lactobacillus helveticus, Bifidobacterium longum, Streptococcus thermophilus, Bifidobacterium lactis, Lactobacillus brevis, Lactobacterium acidophilus, Bifidobacterium lactis, Lactobacillus gasseri, Hypromellose, and Rice Concentrate
Take 1-2 capsules in the morning and again in the evening (if needed).
Do not exceed 6 capsules in one day.
Keep out of reach of children. Take only as directed. Do not exceed recommended dosage. If you have a medical condition, please consult your physician before use. Pregnant or nursing women should also consult a physician before use.
Made in the USA and in a GMP-Certified facility. Store in a cool, dark place.
CAUTION: Contains Soy and Tree Nuts.
Tohi Replenish Probiotic Supplement FAQ
What are probiotics?

Probiotics are strains of bacteria and yeast that naturally occur in body. They can be found primarily in the digestive system, but are also present in the mouth, urinary tract, skin, lungs, and other tissue. Unlike the organisms that can make us sick, probiotics are good for you! They balance the gut microbiome, support the immune system, and assist with the absorption of vitamins, minerals, and other nutrients. Some studies indicate that probiotics for gut health also help boost our mood and support cognitive health.

What is the best probiotic for women?

There are many different strains of probiotics that offer different benefits. Some strains are more beneficial to women's health. They can assist with balancing female hormones, promote vaginal health, pre-natal and post-natal care, and more. The best probiotics for women include strains of good bacteria called Lactobacillus rhamnosus, Lactobacillus reuteri, Lactobacillus paracasei, Lactobacillus rhamnosus, and Lactobacillus crispatus.

What is the best probiotic for men?

The best probiotic for men can help maintain a healthy prostate, support gut health, muscle development, healthy skin and hair, and more. Men who are interested in taking a probiotic supplement should look for a product containing strains called Lactobacillus, Bifidobacterium, and Bacillus.

How often should I take probiotics for gut health?

We recommend taking a probiotic supplement once per day, at a minimum (not to exceed 6 pills per day). Although some people may only take probiotics when they experience gastrointestinal distress, like bloating, the effect of probiotics is cumulative. You will receive the most health benefits if you consume them as part of your regular diet, like a multivitamin. However, as with any supplement, always consult your doctor before using probiotics if you have a medical condition or other health concerns.