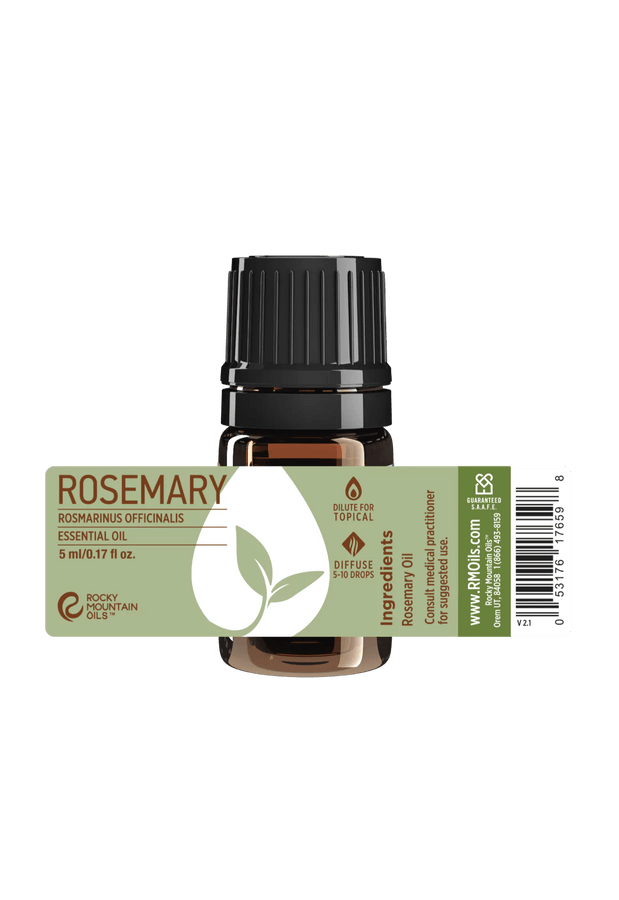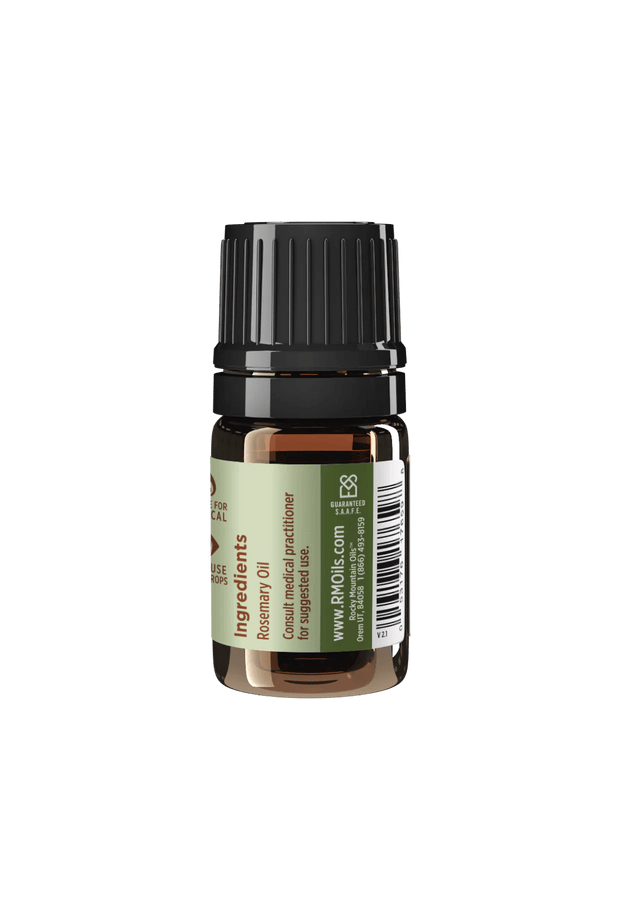 Rosemary Essential Oil - 5ml
GC/MS
TESTING
90 DAY
RETURNS
100% RECYCLED
PACKAGING
S.A.A.F.E
PROMISE
For healthier hair and radiant skin, try Rosemary Essential Oil. With a herbaceous and woody aroma that's crisp and uplifting, Rosemary is one of the best essential oils to keep in your medicine cabinet for treating inflammation. 
Steam distilled from the spiny leaves of the Rosmarinus offinalis bush, you may be familiar with Rosemary as an herb for cooking. But this powerful plant offers multiple benefits beyond the kitchen. Rosemary is a natural astringent, which helps tone and brighten the skin while reducing redness and exfoliating dead skin cells. It's also anti-inflammatory, antimicrobial, and antifungal.
Other Rosemary essential oil uses include haircare. Thanks to its healing benefits, Rosemary oil is an excellent addition to your regular haircare products or makes a deeply nourishing DIY hair mask. Try diluting Rosemary in Fractionated Coconut Oil to smooth frizzy flyaways, repair split-ends, and more.
The alluring aroma of this essential oil is also known to help promote better cognitive function and balance mood. If you struggle with anxiety, brain fog, low motivation, or get distracted too easily, inhaling Rosemary can help return your focus to the task at hand. Try it in a diffuser or personal aroma inhaler.
---
The statements contained herein have not been evaluated by the Food and Drug Administration. Neither Rocky Mountain Oils nor its products are intended for the purpose of diagnosing, treating, curing or preventing any disease. If you are pregnant, nursing, taking medication, or have a medical condition, consult your physician before using these products.
Diffuse to promote mental clarity and focus while reducing anxiety and purifying the air.
Add 1-3 drops of rosemary essential oil to your shampoo or conditioner, or blend with a carrier oil and massage into the scalp, to promote hair growth.
Dilute and massage into stiff joints or aching muscles to boost blood circulation and reduce inflammation.
Dilute and topically apply to your face to help reduce the appearance of fine lines, wrinkles, sun damage, and signs of aging. Also makes a great toner and makeup remover.
Diffuse, inhale, or topically apply rosemary essential oil to help support your immune system, open congested airways, and reduce nausea.
Add to DIY cleaners to sanitize surfaces.
Rosemary Sanitizer Spray
Enjoy the purifying Rosemary essential oil benefits while filling your home with a crisp, uplifting aroma using this DIY sanitizing spray.
10 drops Rosemary Essential Oil
1 cup Distilled Water
1 teaspoon Witch Hazel
Instructions: Add all ingredients to a spray bottle and shake well to combine. Shake again before each use. Spritz into the air or onto linens and soft furniture, or spray on countertops and wipe clean with a dry, soft cloth.
Botanical Name: Rosmarinus officinalis
Country of Origin: Tunisia/Hungary/Morocco*
Chemotype: 1,8 Cineole
Extraction Method: Steam Distilled
Plant Part: Flower
Aroma: Menthol, Spice, Herbal
Consistency: Thin
Blends Well With: Cedarwood, Cinnamon Bark, Clove Bud, Cucumber Seed, Eucalyptus, Ravintsara, Peppermint, Sandalwood
Popular Rosemary Blends: First Aid, Immune Strength, Hair Support, Purify
*Some of our oils have multiple countries of origin. To confirm which country your specific bottle of oil originates from, please consult its GC/MS test here.
May cause irritation in its pure form. Always dilute with a carrier oil and patch test prior to extensive topical use. Do not use if pregnant or breastfeeding. Keep out of reach of children and pets.
Safe to use topically with children ages 10 and up when diluted to a 1-2% dilution rate. Click here to learn more about using essential oils for kids.
Safe Diffusing Tips:
Diffuse in an open, well-ventilated area.
Keep children and pets out of the direct line of mist.
Diffuse in 30-60 minute intervals with ample break periods.
Your trust and confidence matter to us. As part of our S.A.A.F.E. Promise™, Rocky Mountain Oils offers GC/MS (Gas Chromatography/Mass Spectrometry) test results verified by a third-party, independent lab for every essential oil and essential oil blend in our catalog.
GC/MS tests verify the purity and quality of all Rocky Mountain Oils products, so you can be sure you're using the safest, highest-quality essential oils available on the market.
GC/MS Test: Click Here
For batch-specific GC/MS tests, click here.
Rosemary Essential Oil - 5ml FAQ
How is Rosemary essential oil made?

If you've ever wondered how to make Rosemary essential oil, the answer lies in a process called steam distillation. Steam distillation involves specialized equipment that uses high-powered, pressurized steam to separate the oils from the most potent, aromatic parts of a plant – in this case, the leaves of the Rosemary bush. These oils are then collected and carefully stored to ensure quality and effectiveness.

Although you may have rosemary growing your herb garden, we don't recommend trying steam distillation at home due to its complex process and the cost of equipment. Instead, we can bring the purest, highest quality Rosemary essential oil to your home in a ready-to-use bottle.

Does Rosemary essential oil cause hair growth?

When using Rosemary essential oil for hair, many people wonder if it causes hair growth. The answer is yes! Although Rosemary won't reverse severe hair loss caused by genetics or aging, this essential oil contains potent bioactive compounds that increase cellular rejuvenation in hair follicles. This helps stimulate the growth of new hair that's fuller, smoother, and shinier. Rosemary also helps balance your scalp's pH and repairs dry or brittle hair, which reduces excess shedding.

Can I apply Rosemary essential oil directly to hair?

We do not recommend applying pure Rosemary oil to your hair or scalp. Because pure essential oils are highly concentrated, they may cause irritation or itching. To use Rosemary essential oil for hair, dilute it with a carrier oil or add 1-3 drops to your standard shampoo or conditioner. Then, gently massage into the scalp and rinse.

What are the Rosemary essential oil benefits for mood?

Rosemary essential oil benefits for mood include anxiety relief and relief from depression. One study found that using Rosemary for aromatherapy may help lower levels of cortisol, a hormone associated with stress. It can help you feel calm and centered when you become overwhelmed. Additionally, the scent of Rosemary is associated with better concentration, memory, and focus. It may also help treat mental fatigue and brain fog.