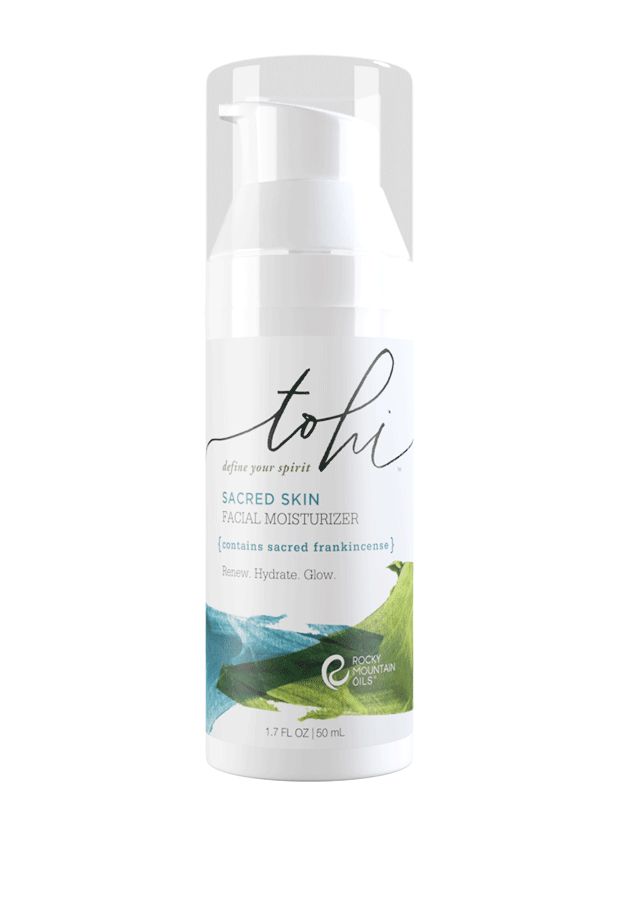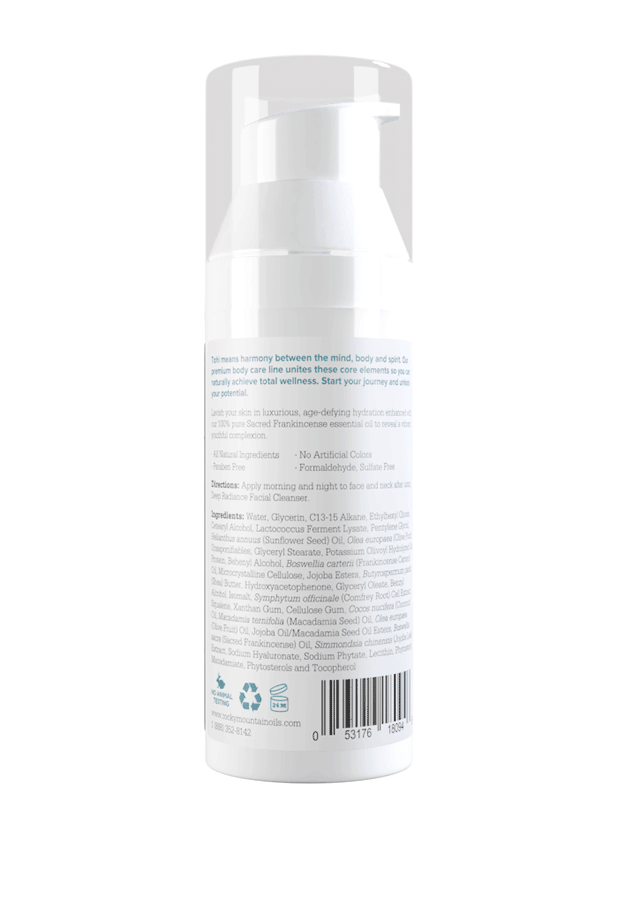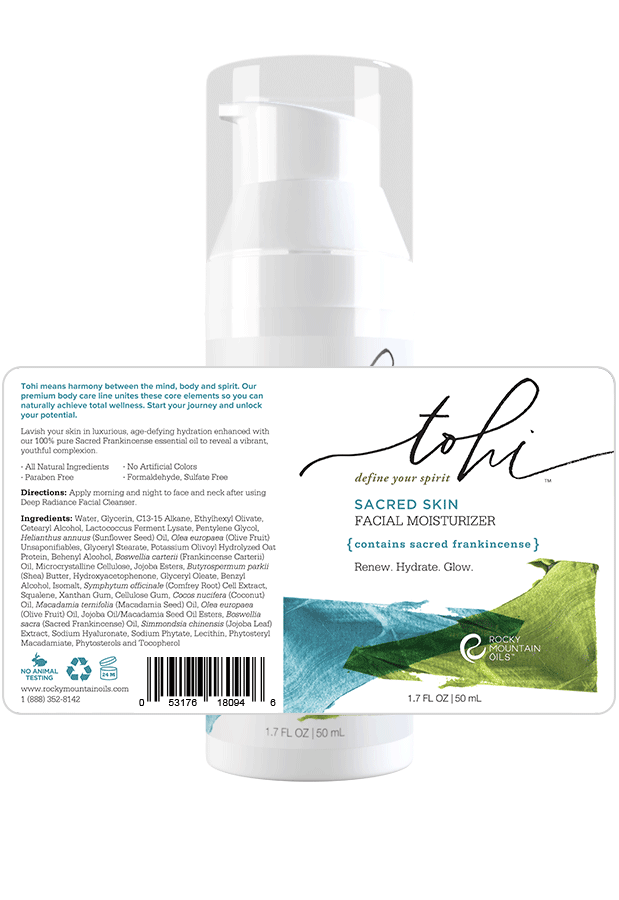 Tohi Sacred Skin
90 DAY
RETURNS
100% RECYCLED
PACKAGING
S.A.A.F.E
PROMISE
Nourish your skin and reverse the signs of aging with Tohi Sacred Skin. Using this moisturizer minimizes the appearance of fine lines and wrinkles thanks to revolutionary anti-aging ingredients like L22 and IBR-Gapture, plus Sacred Frankincense.
With daily use, your skin will look and feel more radiant than ever. This moisturizer hydrates and heals, restoring a youthful glow and smooth texture without harsh chemicals or artificial ingredients. It helps tone, brightens, reduces discoloration and inflammation, and boosts cell regeneration to reverse visible signs of aging as well as environmental damage like sun spots.
Sacred Skin is the best anti-aging face moisturizer for daily use. It's lightweight, nongreasy, fast-absorbing, and safe for all skin types. You'll also benefit from the profoundly calming aroma of Sacred Frankincense, which grounds and cleanses energy.
To use, simply apply 1-3 pumps (or more as needed) to freshly-washed skin. Gently rub the moisturizer onto your face and neck until completely absorbed. Use every morning and night for best results.
Learn more about Sacred Skin
Directions: Apply 1-3 pumps (or more as needed) to the face and neck after cleansing. Gently massage until absorbed into the skin.
Use in the morning or at night.
Water, Glycerin, C13-15 Alkane, Ethylhexyl Olivate, Cetearyl Alcohol, Lactococcus Ferment Lysate, Pentylene Glycol, Helianthus Annuus (Sunflower) Seed Oil, Olea Europaea (Olive) Fruit Unsaponifiables, Glyceryl Stearate, Potassium Olivoyl Hydrolyzed Oat Protein, Behenyl Alcohol, Boswellia Carterii Oil, Microcrystalline Cellulose, Jojoba Esters Ψ Butyrospermum Parkii (Shea) Butter, Hydroxyacetophenone, Glyceryl Oleate, Benzyl Alcohol, Isomalt, Symphytum Officinale Root Cell Extract, Squalene, Xanthan Gum, Cellulose Gum, Cocos Nucifera (Coconut) Oil, Macadamia Ternifolia Seed Oil, Olea Europaea (Olive) Fruit Oil, Jojoba Oil/Macadamia Seed Oil Esters, Boswellia Sacra Oil, Simmondsia Chinensis (Jojoba) Leaf Extract, Sodium Hyaluronate, Sodium Phytate, Lecithin, Phytosteryl Macadamiate, Phytosterols, Tocopherol.
Clinically Proven Science
L22-Engineered from botanically sourced lipids, L22® is designed to restore the skin surface to that of an average 22-year-old.
PhytoCellTec Symphytum-Clinically proven to boost the regenerative capacity of epidermal skin cells, PhytoCellTec™ helps speed up skin renewal and slow the effects of aging.
IBR-Gapture-A water extract of jojoba leaves, IBR-Gapture® works to improve cell cohesion, reduce water loss, diminish peeling and repair skin barriers.
ProRenew Complex CLR-Tightening skin through probiotic technology, ProRenew Complex CLR™ works to refresh skin while protecting it from the environment.
For external use only. Avoid contact with broken skin, eyes, or mucus membranes. Do not ingest. Keep out of reach of children. Store in a cool, dark place away from direct sunlight exposure.
Tohi Sacred Skin FAQ
What is the most effective anti-aging moisturizer?

With so many anti-aging moisturizers on the market, it's hard to know what actually works. We created Tohi Sacred Skin as a natural alternative that utilizes Sacred Frankincense and plant-derived ingredients that are clinically proven to reverse the visible signs of aging. It's the best anti-aging moisturizer because you'll attain noticeable results without harsh chemicals or artificial ingredients.

What moisturizers prevent wrinkles?

If you're interested in a moisturizer for wrinkles, try Tohi Sacred Skin! It's all-natural and proven to work. Use this moisturizer day and night to benefit from deeply hydrating, healing ingredients like coconut oil, macadamia oil, sunflower seed oil, olive oil, and Sacred Frankincense.

What is the best moisturizer for wrinkles over 55?

As we age, our skin begins to lose elasticity and often becomes dryer. The best anti-aging face moisturizer for individuals 55 and older is any product designed to promote hydration and heal the skin barrier. By increasing moisture retention and repairing damage, these moisturizers can reverse the appearance of fine lines and wrinkles. We also encourage you to choose a face moisturizer with ingredients like Sacred Frankincense essential oil, which tones, brightens, and lifts the skin while encouraging faster skin cell renewal.

Do face moisturizers reverse wrinkles?

Not all face moisturizers reverse wrinkles, but our Tohi Sacred Skin moisturizer has been clinically formulated with powerful, natural anti-aging ingredients. It includes L22®, which has been proven to restore skin's surface to that of an average 22-year-old; PhytoCellTec™, which boosts skin renewal and slows the appearance of aging; and IBR-Gapture®, a water extract of jojoba leaves that repairs the skin barrier and restores a youthful glow.

How long do I need to use an anti-aging moisturizer for wrinkles?

We recommend using an anti-aging face moisturizer for wrinkles every day. With consistent daily use, your skin will be healthier, tighter, and less prone to environmental damage like sun exposure. Keeping your skin hydrated with a moisturizer also reduces the appearance of fine lines and wrinkles.