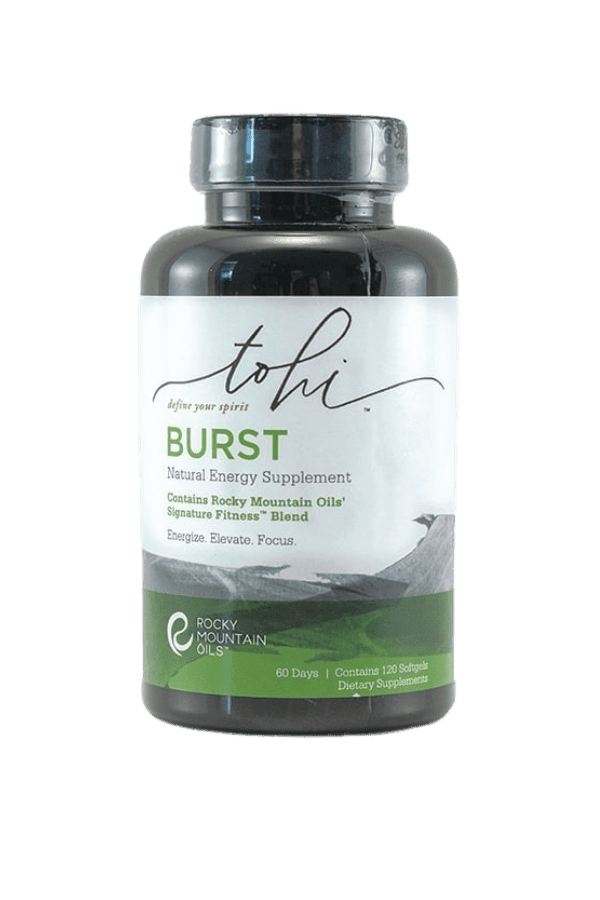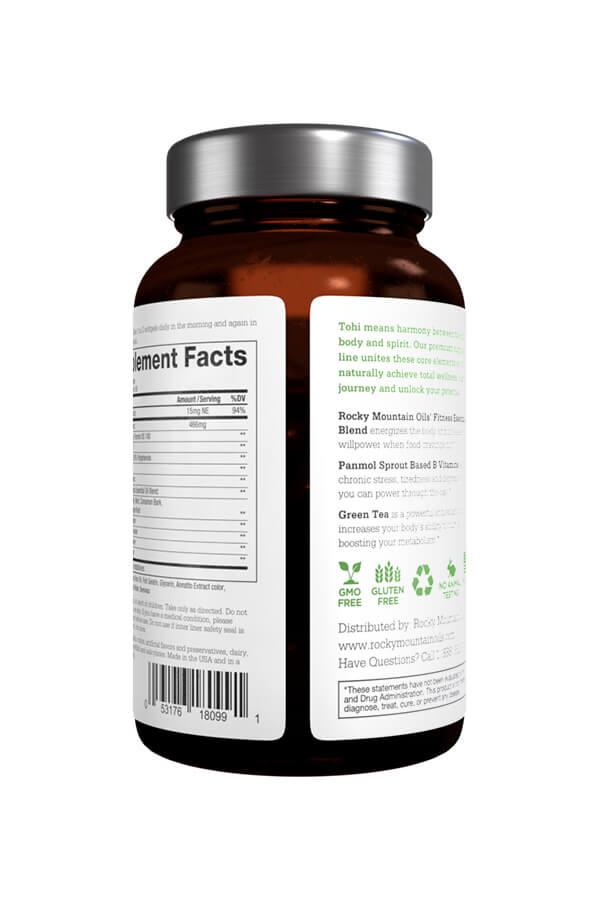 Tohi Burst Natural Energy Supplement
90 DAY
RETURNS
100% RECYCLED
PACKAGING
S.A.A.F.E
PROMISE
Elevate your energy with our Tohi Burst Natural Energy Supplement. It's the best natural energy supplement for anyone seeking more stamina without the crash or jitters of coffee and energy drinks.
Try Tohi Burst in the morning to start your day with more focus, clarity, and motivation, or take it in the afternoon to overcome that midday slump. Formulated with all-natural ingredients, this supplement increases your energy levels without causing you to feel overly stimulated or anxious. 
When you take Tohi Burst, you'll feel uplifted and invigorated with smooth, steady energy that lasts all day long. It's also one of the best natural preworkout supplements available. Try taking 1-2 soft gels before you hit the gym, yoga class, or go for your daily run. 
Each soft gel contains less than 1/6th the amount of caffeine as a standard cup of coffee – but thanks to our energizing Panmol B Vitamin complex, you'd never know it! Tohi Burst can help you feel just as energized without any of the negative side effects. It's perfect for anyone trying to curb cravings for caffeine and sugar.
Vitamin B1 (as Thiamin), Vitamin B2 (as Riboflavin), Vitamin B3 (as Niacin), Vitamin B6 (as Pyridoxine Hydrchloride), Vitamin B6 (as Cobalamine), Biotin, Panthothenic Acid, Maca Root, Green Tea Leaf, Kola Nut Powder, Kelp Powder, Guarana Seed Powder, Yerba Mate Leaf Powder, Damiana Leaf, Cocoa Bean Powder, Rice Bran, Soy Lecithin, Beeswax, Fish Gelatin, Purified Water, Glycerin, and Annatto Extract Color. Enhanced with Rocky Mountain Oils Fitness Blend (Grapefruit, Lemon, Mint, Cinnamon Bark, Celery Seed, and Ginger Root essential oils).
Take 1-2 soft gels daily in the morning and again in the afternoon if needed.
Do not exceed 8 soft gels in one day.
Keep out of reach of children. Take only as directed. Do not exceed recommended dosage. If you have a medical condition, please consult your physician before use. Pregnant or nursing women should also consult a physician before use.
Free of GMOs, synthetic colors, artificial flavors and preservatives, dairy, peanuts, shellfish, and salicylates. Made in the USA and in a GMP-Certified facility.
Store in a cool, dark place.
Tohi Burst Natural Energy Supplement FAQ
How can I increase my energy naturally?

In addition to a natural energy supplement like Tohi Burst, you can also increase your daily energy levels by getting more sleep, drinking more water, and making changes to your diet and exercise routine. Although it may sound counterintuitive if you are struggling with low energy, getting more exercise every day will help you feel lighter, more focused, and more motivated. Even a short walk or a few minutes of light stretching can act as a natural energy booster!

When is the best time to take a preworkout supplement?

For most people, the best time to take a preworkout is 30-60 minutes before you begin your workout. However, the exact timing depends on your individual activity level and metabolism. As you begin taking a preworkout supplement, notice how it affects your energy levels to see when it "kicks in," then plan your dosage accordingly.

Is the caffeine in energy supplements bad for you?

Although caffeine often gets a bad reputation, low to moderate amounts can actually be beneficial. According to many studies, caffeine can improve cognitive function, improve mood, and increase focus. However, it's important to be mindful of caffeine consumption and avoid overuse. If you have a heart condition or other medical issues, consult your physician prior to using energy supplements that contain caffeine.

How much caffeine is in Tohi Burst Natural Energy Supplement?

Each Tohi Burst soft gel contains 16mg of caffeine. For comparison, the average cup of coffee contains 95-180mg of caffeine. Tohi Burst also uses caffeine sourced from green tea, which contains a natural compound called L-theanine that helps create a smooth, steady flow of caffeinated energy rather than a sudden spike followed by a crash.