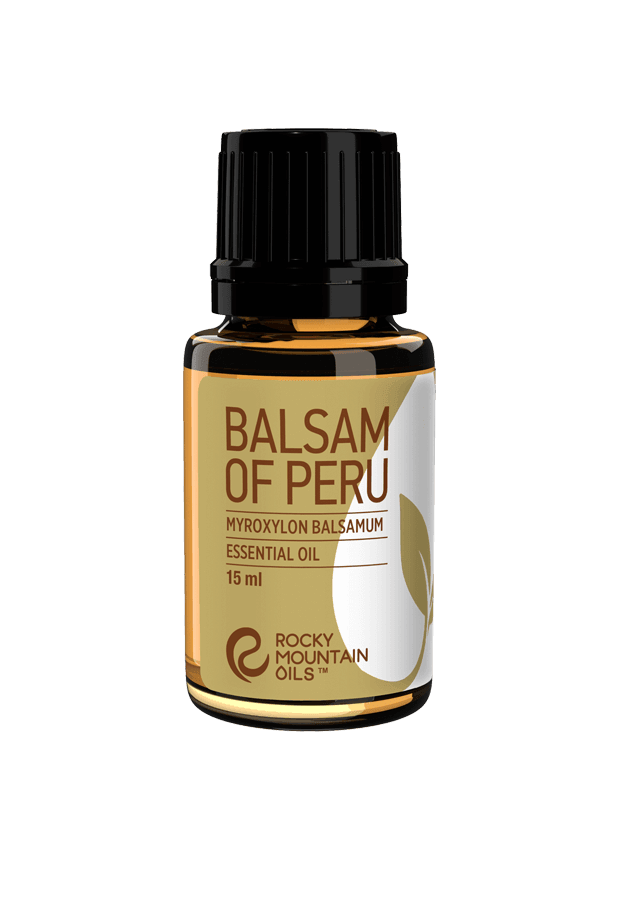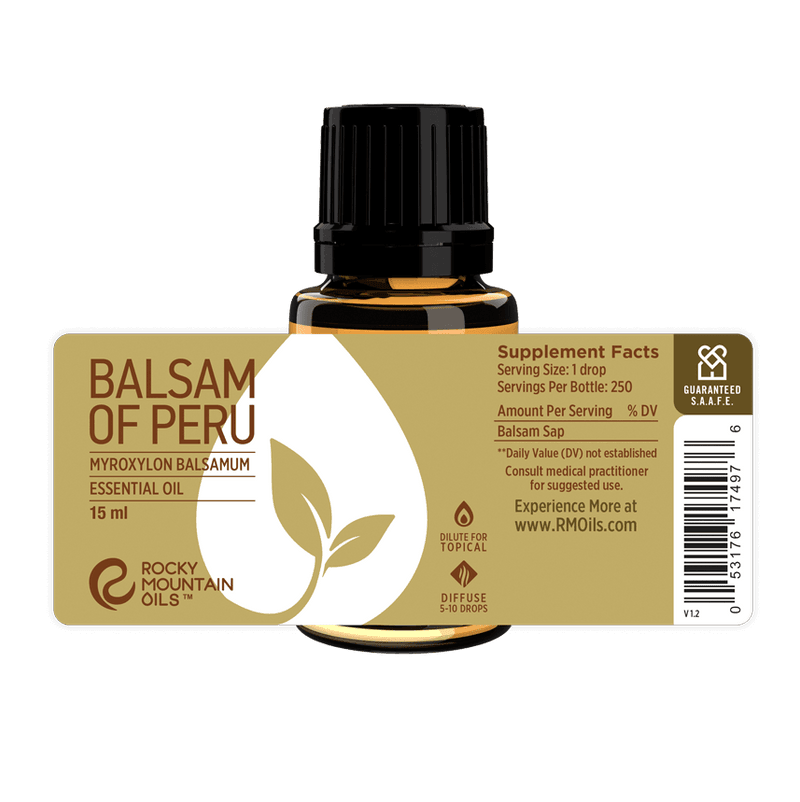 Balsam of Peru Essential Oil
GC/MS
TESTING
90 DAY
RETURNS
100% RECYCLED
PACKAGING
S.A.A.F.E
PROMISE
Balsam of Peru Essential Oil is grounding, healing, and uplifting. Steam distilled from the resin of the Peruvian balsam tree, this essential oil offers a woody scent that's sweet, vanilla-like, and slightly spicy. It improves your mood while supporting your health and wellness.
Also known as Peru Balsam, this potent oil is rich in natural plant compounds that are anti-inflammatory, antimicrobial, and antiseptic. It also eliminates mold spores and fungus in your home, and can be used to treat nail infections or Athlete's Foot. Try adding a few drops of Balsam of Peru to your home cleaning products to sanitize and invigorate your space.
Other Peru Balsam essential oil benefits include hydrating dry, cracked skin, nourishing the scalp, and healing small cuts and burns. With a long history in traditional medicine, this essential oil is also used to promote a stronger immune system and support respiratory health. If you or your family are experiencing colds, flu, or bronchitis, diffuse Balsam of Peru oil to soothe your symptoms and promote better breathing.
When meditating with this essential oil or using it for aromatherapy, Balsam of Peru helps balance your emotions and remain more present in your day-to-day life. It reduces anxiety, worries, depression, and helps with insomnia. Try inhaling Peru Balsam essential oil to create a calm, mindful moment whenever you need a break.
Balsam of Peru Essential Oil is part of the Rocky Mountain Oils Skin Care collection.
The statements contained herein have not been evaluated by the Food and Drug Administration. Neither Rocky Mountain Oils® nor its products are intended for the purpose of diagnosing, treating, curing, or preventing any disease. If you are pregnant, nursing, taking medication, or have a medical condition, consult your physician before using these products.
Diffuse to promote relaxation, reduce stress levels, and purify the air in your home, car, or office.
Dilute with a carrier oil and apply topically to reduce the appearance of scars, stretch marks, fine lines and wrinkles, acne, and other blemishes or discoloration while cleansing and hydrating the skin.
Use in DIY haircare products or add a few drops to your usual shampoo or conditioner to nourish and moisturize the scalp while promoting new hair growth, reducing dandruff, and smoothing frizzy flyaways.
Apply topically with a carrier oil or add a few drops to a warm bath to soothe sore muscles, reduce inflammation, and relieve pain from stiff joints, injury, or physical exertion.
Diffuse or use in a chest rub to calm coughs, relieve sinus congestion, and use as a natural expectorant to loosen phlegm and mucus during respiratory illnesses.
Use to eliminate germs and microbes while strengthening the immune system.
Peru Balsam Essential Oil Room Spray
Fill your space with the robust yet calming aroma of Balsam of Peru, which elevates your mood while eliminating odor-causing bacteria and other impurities.
10 drops Balsam of Peru essential oil
1 cup Distilled Water
1 teaspoon Witch Hazel
Instructions: Add all ingredients to a spray bottle and shake well to combine, then spritz liberally into the air or onto linens, pillows, and soft furniture to freshen and revitalize your home.
Botanical Name: Myroxylon balsamum
Country of Origin: El Salvador/Peru*
Extraction Method: Steam Distilled
Plant Part: Resin
Aroma: Sweet, Vanilla, Woodsy
Consistency: Thick
*Some of our oils have multiple countries of origin. To confirm which country your specific bottle of oil originates from, please click here to consult its GC/MS test.
Blends Well With: Cardamom, Cedarwood, Cinnamon Bark, Clove Bud, Jasmine, Orange, Patchouli, Sandalwood, Ylang Ylang
Popular Balsam of Peru Blends: Sweet Oasis, Peace & Quiet, Autumn Air, Spiced Chai
Always dilute prior to topical application. Avoid contact with mucous membranes, eyes, and the inside of the mouth, nose, and ears. Do not ingest. Do not use while pregnant or breastfeeding.
Kids Safety: Safe to use topically with children ages 2 years old and up. Dilute to a .5-2% dilution rate for topical application.
Tips for Safer Diffusing:
Diffuse in an open, well-ventilated area.
Keep children and pets out of the direct line of mist.
Diffuse in 30-60 minute intervals, with ample break periods for safe and effective use.
At Rocky Mountain Oils, your trust and confidence matter to us. As part of our S.A.A.F.E. Promise™, we offer third-party verified GC/MS (Gas Chromatography/Mass Spectrometry) test results from an independent lab for every essential oil and blend in our line.
GC/MS tests verify the purity and quality of our essential oils, so you can be sure you're using the safest, highest-quality essential oils available today.
GC/MS Test: Click Here
For batch-specific GC/MS tests Click Here
Balsam of Peru Essential Oil FAQ
What is in Peru Balsam essential oil?

Balsam of Peru essential oil is steam distilled from the resin of the Peruvian balsam tree and is high in beneficial plant compounds. It contains Cinnamein and Cinnamic acid, which are also found in cinnamon and give Peru Balsam essential oil its spicy-sweet, vanilla-like aroma. It's also a natural source of a compound called benzyl benzoate, which helps heal minor wounds, burns, and skin conditions.

Can you use Peru Balsam essential oil for skin?

Yes, when properly diluted in a carrier oil, Balsam of Peru can be used topically to help promote better skin. It helps deep-clean and exfoliate your pores, reduces discoloration, plumps and rejuvenates by boosting collagen and elastin, and helps treat skin conditions like acne. You can also use this essential oil as a makeup remover or a soothing, moisturizing base for gua sha and jade rolling.

What are some Peru Balsam essential oil uses for the home?

Balsam of Peru is an excellent addition to DIY cleaning products like hand soap, hand sanitizer, wood polish, floor cleaner, bathroom tile scrub, and more. As a thicker oil, a little goes a long way to add uplifting aroma and purifying benefits. This essential oil is antiseptic, so one of the most popular Peru Balsam essential oil uses is safely eliminating bacteria, viruses, molds, and fungi. However, before using on wood floors or furniture, always test a tiny amount to make sure the oil won't cause discoloration to any surfaces.

What are the emotional benefits of Balsam of Peru?

Like all essential oils, Balsam of Peru (also known as Peru Balsam essential oil) offers many benefits for our emotional well-being. The deep, sweet, earthy aroma of this oil creates a feeling of comfort and safety, adding cozy vibes to your space that help you feel supported and held. Inhaling this oil can reduce stress and anxiety, loneliness, depression, and other difficult emotions. It inspires calm, peace, and gentle focused energy. If you are prone to mood swings or have a hot temper, try diffusing Balsam of Peru to feel more stable and less reactive.