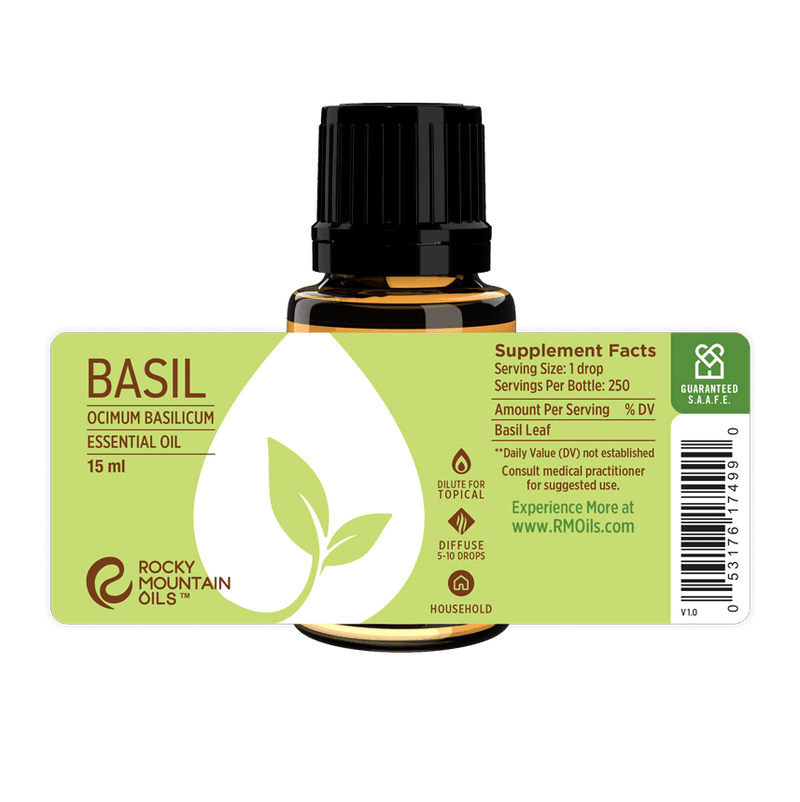 Basil Essential Oil
GC/MS
TESTING
90 DAY
RETURNS
100% RECYCLED
PACKAGING
S.A.A.F.E
PROMISE
Feel more balanced and grounded with Basil Essential Oil. This essential oil offers a deeply relaxing yet energizing aroma that's herbal, spicy, sharp, and reminiscent of black licorice. Its bright medium-strength scent is perfect for diffusing and creates an uplifting atmosphere in any space.
Steam distilled from the leaves of the Basil plant, this oil has been used for centuries in traditional healing across cultures like ancient Egypt, China, and India. It's naturally anti-inflammatory, antifungal, antibacterial, and antiseptic. Using Basil oil helps calm anxious nerves and promotes feelings of peace and stability.
One popular use of Basil Essential Oil is haircare, where the healing compounds in this oil help balance the scalp and nourish hair follicles at the root to promote the growth of thicker, more lustrous hair. Try adding a few drops of Basil to your shampoo or condition to reduce excess oil, treat dandruff, smooth frizzy flyaways, and slow hair loss.
Other Basil Essential Oil benefits include skincare and first aid. Use Basil with a carrier oil to treat acne, psoriasis, eczema, and prevent infections in small cuts and scrapes. It also calms red, itchy skin due to allergies or insect bites. Additionally, Basil oil can help soothe sore, tired muscles and relieve joint pain.
Diffuse to purify the air in your space, promote mental clarity, and deter insects like mosquitoes.
Dilute with a carrier oil and use topically to boost immunity, reduce inflammation, joint stiffness, muscle pain, and gastrointestinal symptoms like gas, bloating, cramps, constipation, and water retention.
Use in skincare products to reduce oily buildup and acne, fade scars and discoloration, and reduce the appearance of fine lines and wrinkles.
Use for aromatherapy to help feel more grounded, less anxious, and promote feelings of happiness and stability.
Add 2-3 drops to your shampoo or conditioner to balance the scalp and promote new hair growth.
Great for DIY soaps and household products.
Takin' It Easy Diffuser Blend
Relax, unwind, and fill your space with positive vibes with this diffuser blend that helps reduce inflammation and support digestive health.
Instructions: Add the drops to your favorite diffuser, kick up your feet, and enjoy the fresh, lemonade-like aroma of this bright and sunshine-esque diffuser blend.
Botanical Name: Ocimum basilicum
Country of Origin: India/Egypt*
Extraction Method: Steam Distilled
Plant Part: Leaf
Aroma: Spicy, Herbal
Consistency: Thin
Blends Well With: Black Pepper, Cinnamon Bark, Ginger Root, Lavender, Orange
Popular Cedarwood Blends: Focusing, Nerve Support, Hair Support
*Some of our oils have multiple countries of origin. To confirm the country of origin for your specific bottle of oil, please consult its GC/MS test here.
For external use only. Do not ingest. Always dilute in a carrier oil and patch test prior to extensive topical use. (Click here to learn more about dilution rates.) Not recommended for use while pregnant or breastfeeding.
Safe to use topically with children 2 years of age and older. Dilute to a .5-2% dilution rate for topical application. Click here to learn more about using essential oils for kids.
Tips for Safe Diffusing:
Diffuse in an open, well-ventilated area.
Keep children and pets out of the direct line of mist.
Diffuse in 30-60 minute intervals with ample break periods.
Your trust and confidence are very important to us. As part of our S.A.A.F.E. Promise™, Rocky Mountain Oils offers GC/MS (Gas Chromatography/Mass Spectrometry) test results verified by a third-party, independent lab for every essential oil and essential oil blend in our catalog.
GC/MS tests verify the purity and quality of all Rocky Mountain Oils products, so you can be sure you're using the safest, highest-quality essential oils available on the market.
GC/MS Test: Click Here
For batch-specific GC/MS tests, click here.
Basil Essential Oil FAQ
Does Basil Essential Oil smell like fresh basil?

Basil Essential Oil is steam distilled from the basil plant, which means the plant compounds are highly concentrated. This concentration creates a different aroma profile than the scent of fresh basil leaves used in cooking. Basil Oil is more herbaceous, with a sharp, spicy-sweet top note that's reminiscent of black licorice.

What are some Basil Essential Oil benefits?

Basil Essential Oil benefits include skincare, haircare, healing minor wounds, preventing infection, boosting immunity, pain relief, anxiety, depression, fatigue, and concentration. This oil is also a powerful digestive aid that reduces bloating, gas, cramps, and water retention.

What are the spiritual benefits of Basil Oil?

Basil is used in many spiritual practices to bring balance to the mind, body, and spirit. It cleanses negative energy from your space, strengthens intuition, and helps you feel more empathic. Many people meditate with Basil Oil by applying a small drop (diluted with a carrier oil) to the third-eye area on the forehead or the heart center on the chest. You can also diffuse this oil to deepen your personal spiritual practices.

What is the difference between Basil Oil and Holy Basil Oil?

Basil and Holy Basil come from two different plants and have different chemical compositions. However, they provide many of the same therapeutic benefits and Holy Basil essential oil uses often overlap with Basil. Choosing whether to use Basil or Holy Basil is a matter of aroma preference. Basil is milder, more herbal, spicy, sharp, and licorice-like, while Holy Basil has a stronger scent that's warm, spicy, sweet, and fresh.