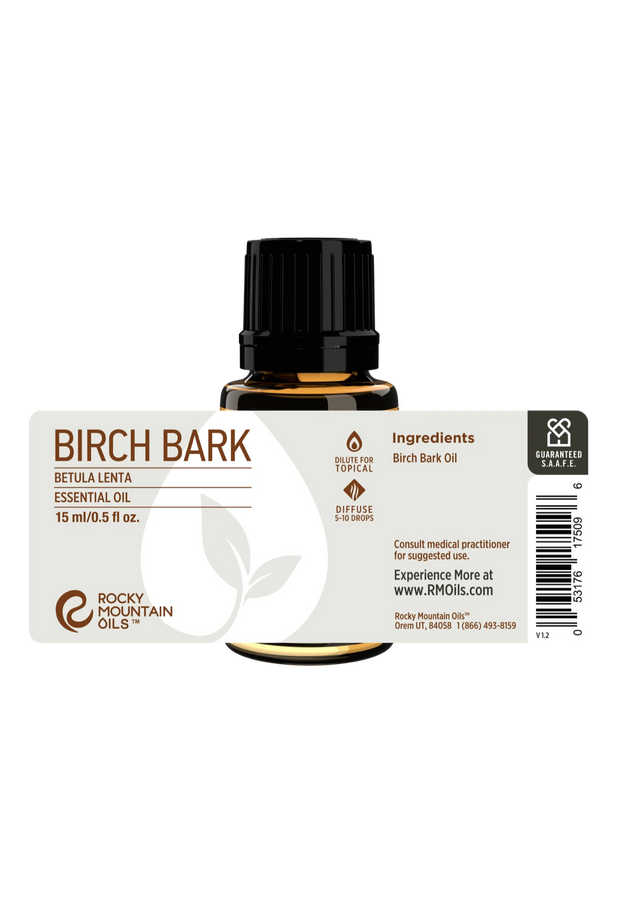 Birch Bark
GC/MS
TESTING
90 DAY
RETURNS
100% RECYCLED
PACKAGING
S.A.A.F.E
PROMISE
Feel healed and uplifted with Birch Bark Essential Oil. Birch essential oil offers an invigorating, clean aroma that's sharp, sweet, and minty, with a delicate woody undertone. It's an energizing yet grounding scent that's perfect for natural air fresheners.
The best uses of Birch oil take advantage of its unique healing properties. Birch Bark is anti-inflammatory, astringent, and rich in natural menthol which allows it to be used as a topical analgesic. Try diluting Birch Bark oil with Fractionated Coconut Oil, Almond Oil, or Jojoba Oil, or add a few drops to your favorite lotion, then massage into the skin for relief from aches and pains.
Diffusing Birch Bark essential oil can stimulate the mind, which makes this an excellent scent for focused work or studying. The aroma of this essential oil may help enhance memory, improve concentration, and lengthen your attention span. It also helps reduce anxiety and depression by allowing you to let go of distracting thoughts.
Enjoy this essential oil on its own, or blend with other natural essential oils like Lavender to create a deeply relaxing and fortifying scent. Birch Bark also supports respiratory health and can be used to clear sinus congestion, calm coughs, and support the immune system.
Diffuse in your home or office to purify the air, neutralize odors, and eliminate airborne germs, allergens, and pollutants.
Blend with a carrier oil and apply topically as a natural analgesic for aches and sprains, muscle cramps, tendonitis, stomach aches, and more. You can also rub into the soles of the feet for anti-inflammatory benefits.
Apply to the upper chest or use in a personal aroma inhaler to clear congested airways, loosen phlegm and mucus, and promote respiratory health.
Add to DIY skincare, haircare, cleaning products, candles, soaps, bath bombs, and more.
Great for making natural hand sanitizers, first aid balms, and treatments for bug bites and small wounds.
Sore Muscle Massage Oil
Whether you're sore from working out or simply tired and achy after a long day on your feet, this natural massage oil will help soothe and rejuvenate your body.
4 drops Birch Bark
2 drops Helichrysum italicum
3 drops Lavender
2 teaspoons FCO
Instructions: Blend oils together, then massage into the affected areas using gentle yet firm pressure. As you apply the oils, allow the soothing, medicinal aroma to help you release any tension stored in your muscles.
For external use only. Do not ingest. Always dilute in a carrier oil and patch test prior to extensive topical use. (Click here to learn more about dilution rates.) Do not use if you are pregnant, breastfeeding, or have epilepsy. Not recommended for use on children.
CAUTION: Do not use if you are allergic to aspirin or White Willow Bark.
Tips for Safe Diffusing:
Diffuse in an open, well-ventilated area.
Keep children and pets out of the direct line of mist.
Diffuse in 30-60 minute intervals with ample break periods.
Your trust and confidence are very important to us. As part of our S.A.A.F.E. Promise™, Rocky Mountain Oils offers GC/MS (Gas Chromatography/Mass Spectrometry) test results verified by a third-party, independent lab for every essential oil and essential oil blend in our catalog.
GC/MS tests verify the purity and quality of all Rocky Mountain Oils products, so you can be sure you're using the safest, highest-quality essential oils available on the market.
For batch-specific GC/MS tests, click here.
Birch Bark FAQ
Does Birch Bark smell like wood?

Although Birch Bark essential oil is steam distilled from the bark of the birch tree, its aroma is closer to mint or wintergreen than wood. The scent of Birch oil is crisp, sharp, slightly herbal, and menthol-like. However, if you enjoy woody essential oils for their grounding effects, you will also love Birch Bark for its ability to reduce stress while uplifting your mood.

Is Birch oil the same as Wintergreen?

No. Birch Bark essential oil is derived from a different plant than Wintergreen. However, both essential oils contain an active ingredient called methyl salicylate, which is responsible for a menthol-like cooling sensation, and Birch oil has an aroma that is similar to Wintergreen.

What are some Birch essential oil benefits for skin?

Birch essential oil is a great natural astringent, which tightens and firms the skin while helping to reduce the appearance of cellulite. Birch oil benefits for skin also include treating acne, psoriasis, eczema, and reducing redness. Try adding a few drops to your regular moisturizer or toner for more youthful-looking skin that glows.

What happens if I put Birch oil in my hair?

Birch oil helps balance scalp pH to control excess oil, reduce dandruff, and stimulate the growth of new hair while strengthening follicles. This reduces excess shedding and hair loss, while helping your existing hair look thicker and fuller. Birch oil can also tame frizzy flyaways and help restore your hair's natural protective barrier.