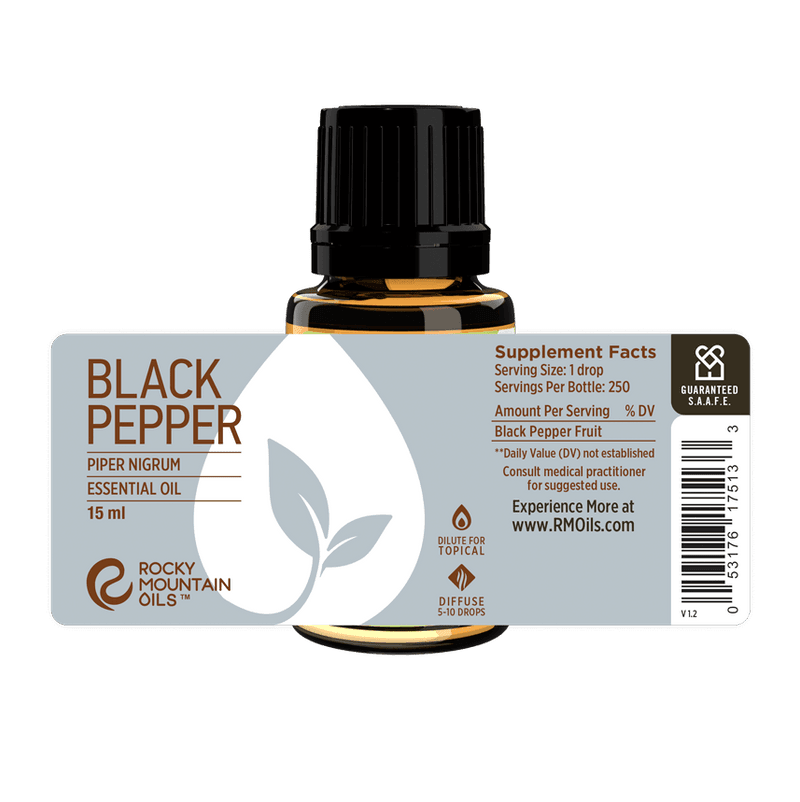 Black Pepper Essential Oil
GC/MS
TESTING
90 DAY
RETURNS
100% RECYCLED
PACKAGING
S.A.A.F.E
PROMISE
Spice up your life and inspire clean, calming energy with Black Pepper Essential Oil. Steam distilled from the peppercorns of the Piper nigrum plant, this essential oil offers a distinct scent that's peppery, stiff, and earthy, with a hint of underlying floral notes.
It's a rich source of a natural antioxidant called piperine, which offers many Black Pepper essential oil benefits for health and wellness. The piperine in Black Pepper oil helps open blood vessels, which reduces inflammation and promotes better circulation. It may help lower the risk of cardiovascular disease and conditions like high blood pressure. 
Thanks to piperine, Black Pepper also enhances the body's ability to absorb other beneficial compounds like vitamins and minerals. This makes Black Pepper essential oil an excellent addition to DIY blends designed to boost the immune system, improve digestive health, or support respiratory function.
Other Black Pepper essential oil benefits include helping people quit smoking, opening congested airways, treating mold and fungus, and repelling insects like mosquitoes. You can also use Black Pepper with a carrier oil to promote healthier skin, hair, and nails.
Black Pepper Essential Oil is part of Rocky Mountain Oils Pain Relief and Wellness collections.
---
The statements contained herein have not been evaluated by the Food and Drug Administration. Neither Rocky Mountain Oils nor its products are intended for the purpose of diagnosing, treating, curing or preventing any disease. If you are pregnant, nursing, taking medication, or have a medical condition, consult your physician before using these products.
Diffuse or use in a room spray to create a relaxing atmosphere while promoting better focus, concentration, and natural energy.
Dilute with a carrier oil, then apply topically to the chest to support respiratory function, massage into the abdomen to support better digestion, or use as a soothing salve to treat muscle pain and inflammation.
Dilute with a carrier oil, then massage into the soles of the feet to promote better circulation and strengthen the immune system naturally.
Use to keep insects like fleas, ticks, and mosquitoes from biting exposed skin by diluting with a carrier oil or adding to a DIY bug spray.
Diffuse, inhale, or use it in a topical massage oil to help quit smoking.
Black Pepper Anti-Smoking Roll-on
Trying to quit cigarettes, vaping, or other forms of tobacco? Try this soothing DIY roll-on blend made with Black Pepper oil, which helps reduce nicotine cravings.
Instructions: Add all oils to an empty roll-on bottle and shake well to combine. When you feel the urge to consume nicotine products, apply the roller to your wrists, neck, or temples and inhale the rich aroma of Black Pepper until your craving passes.
Botanical Name: Piper nigrum
Country of Origin: India/Madagascar*
Extraction Method: Steam Distilled
Plant Part: Peppercorns
Aroma: Spicy, Earthy
Consistency: Thin
*Some of our oils have multiple countries of origin. To confirm which country your specific bottle of oil originates from, please click here to consult its GC/MS test.
Blends Well With: Bergamot, Cinnamon Bark, Lavender, Lemon, Orange, Sandalwood, Ylang Ylang
Popular Black Pepper Blends: Joint Support, Sports Pro, Solar Plexus Chakra Blend, Revitalize
Always dilute and patch test prior to topical application. Avoid contact with mucous membranes, eyes, and the inside of the mouth, nose, and ears. Do not ingest. Do not use while pregnant or breastfeeding.
Kids Safety: Safe to use topically with children ages 2 years and up. Dilute to a .5-2% dilution rate for topical application.
Tips for Safe Diffusing:
Diffuse in a well-ventilated area with plenty of airflow.
Diffuse in 30-60 minute intervals, with ample break periods for safe and effective use.
Keep children and pets out of the direct line of mist.
At Rocky Mountain Oils, your trust and confidence matter to us. As part of our S.A.A.F.E. Promise™, we offer third-party verified GC/MS (Gas Chromatography/Mass Spectrometry) test results from an independent lab for every essential oil and blend in our line.
GC/MS tests verify the purity and quality of our essential oils, so you can be sure you're using the safest, highest-quality essential oils available today.
GC/MS Test: Click Here
For batch-specific GC/MS tests, click here.
Black Pepper Essential Oil FAQ
Does Black Pepper essential oil smell like peppercorns?

Most people are familiar with the scent of Black Pepper from their spice cabinet or tabletop pepper grinder. Black Pepper essential oil has a very similar aroma. However, the essential oil derived from black peppercorns has a slightly "greener" scent with a hint of floral notes.

Will Black Pepper essential oil make you sneeze?

No! Although sniffing fresh ground pepper will irritate your nostrils and make you sneeze or cough, Black Pepper essential oil has a gentler aroma that won't cause irritation. However, when you diffuse Black Pepper, do not put your face in the direct line of mist. We also recommend diluting Black Pepper oil with a carrier oil before using it anywhere on your skin for extended periods.

Does Black Pepper oil help you quit smoking?

Yes, helping people quit smoking is one of the most popular Black Pepper essential oil uses. Studies show that the aroma of Black Pepper essential oil can help curb nicotine cravings. If you are trying to quit smoking, try diffusing Black Pepper, or blend it with a carrier oil to apply topically. You can also meditate with Black Pepper essential oil to promote mindfulness and use this practice to self-soothe any anxiety related to nicotine withdrawals.

Can you cook with Black Pepper essential oil?

No. Black Pepper essential oil is not a cooking oil and is not intended for internal use. Do not ingest Black Pepper oil. To add a peppery flavor to your recipes, use freshly ground black pepper from your spice cabinet instead.