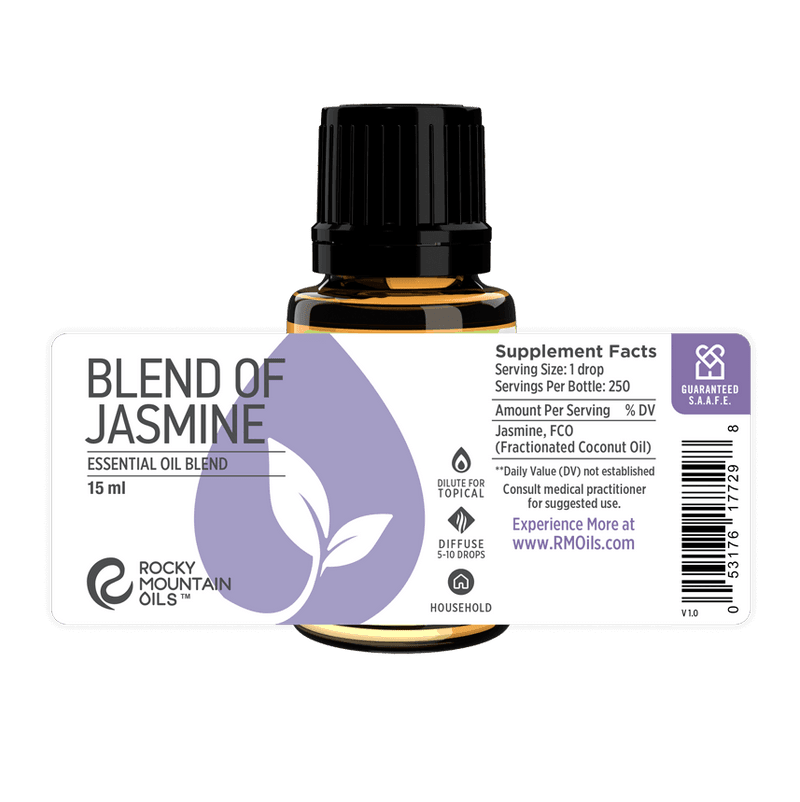 Blend of Jasmine
GC/MS
TESTING
90 DAY
RETURNS
100% RECYCLED
PACKAGING
S.A.A.F.E
PROMISE
Delight your senses with the alluring aroma of Blend of Jasmine. Steam distilled from the delicate white flowers of the Jasminum plant, jasmine essential oil is well-known for its uplifting yet calming fragrance that's floral, sultry, and slightly sweet. 
Diluted in a moisturizing base of 95% Fractionated Coconut Oil, Blend of Jasmine is ready for immediate topical use on adults. It's perfect as a natural perfume, or use to release tension, soothe anxiety, and promote better sleep. One of the best jasmine essential oil benefits is this tantalizing aroma's ability to stimulate GABA in the brain, which is a neurotransmitter that calms the central nervous system when we're in fight-or-flight mode.
Blend of Jasmine is also useful for skincare, haircare, meditation, enhancing libido, and boosting self-confidence. Try adding 1-2 drops of Blend of Jasmine to your wrists, neck, upper chest, or pulse points in the morning to cleanse and uplift your energy while setting a peaceful tone for the day ahead.
For fans of jasmine essential oil blends, try pairing Blend of Jasmine with Bergamot FCF, Cedarwood, Lavender, Lemon, Orange, Rose, and Sandalwood essential oils. Blend of Jasmine is perfect for DIY air fresheners, homemade scented candles, soaps, bath bombs, perfumes, and more.
Blend of Jasmine Uses
Add 2 drops of Blend of Jasmine essential oil to your daily face moisturizer to enhance hydration, heal blemishes, tone, and brighten skin. Blend of Jasmine can be diluted with extra carrier oil to use as a makeup remover.
Apply a few drops to the wrists, neck, or pulse points for a natural perfume that's also deeply relaxing.
Use in a room spray to deodorize, freshen the air, and uplift. The alluring aroma of jasmine helps clear negative energy and promotes tranquility.
Massage oil into the bottoms of the feet to balance the central nervous system, soothe sore muscles, and help enhance libido.
Use before bedtime to help with insomnia. This Blend of Jasmine can help you fall asleep faster and sleep more deeply.
Add to DIY household cleaners, soaps, candles, and bathbombs for a clean floral fragrance that's also antimicrobial.
Use in homemade haircare products to balance the scalp, reduce dandruff and breakage, and promote new growth for hair that's thicker, fuller, and shinier.
Blend of Jasmine Essential Oil Blend Recipes
Jasmine Sugar Face Scrub
Use the anti-inflammatory, toning, and skin-softening benefits of jasmine in this all-natural face scrub to gently exfoliate the skin, control breakouts, and promote a glowing complexion.
½ cup water
¼ cup skim milk
2 tablespoons raw sugar
1 egg white
5 drops Blend of Jasmine
Instructions: Mix ingredients together until well combined. Apply a small amount to a wet cloth, then gently massage it into your face and neck. Rinse well with warm water and pat dry. Refrigerate any leftover cleanser in an airtight container.
Safe to use topically on adults. Always patch test prior to extensive use on the skin. To perform a patch test, apply a small amount of oil to one area of the skin, then wait 15 minutes to make sure irritation or allergic reaction does not occur.
Kids Safety: Safe for children ages 2 years old and above when properly diluted to a .5-2% dilution rate. Learn more about essential oils and kids here.
Your trust and confidence matter to us. As part of our S.A.A.F.E. Promise™ to you, Rocky Mountain Oils provides verified, third-party GC/MS (Gas Chromatography/Mass Spectrometry) test results from an independent lab for every essential oil product we sell.
GC/MS tests verify the quality and purity of every Rocky Mountain Oils product, which guarantees you're using the safest and highest quality essential oils and essential oil blends on the market.
For batch-specific GC/MS test results, click here.
Blend of Jasmine FAQ
What are some Jasmine Essential Oil uses?

Jasmine Essential Oil uses include relaxation, naturally treating stress, anxiety, and panic attacks, aromatherapy and aromatherapy jewelry, naturally treating insomnia, making DIY perfume blends, soapmaking, candlemaking, homemade cleaning products, skincare, haircare, bath bombs, massage oils, enhancing libido, and more.

Does Jasmine Essential Oil make you sleepy?

Using jasmine oil during the day won't necessarily make you sleepy, but jasmine has a powerful relaxing effect that is known to help with insomnia and jet lag. Try using a Jasmine Essential Oil Blend at bedtime to fall asleep faster and sleep more deeply. It's also great for nap times and sleepovers.

Does Jasmine Essential Oil help with anxiety?

Jasmine Essential Oil is deeply calming and helps with stress, anxiety, and panic attacks. Studies show that the aroma of jasmine stimulates the release of GABA in the brain, which is a neurotransmitter that calms our central nervous system when we're in flight-or-flight mode. Inhaling jasmine or gently massaging a Jasmine Essential Oil blend into your skin can help stabilize your mood, alleviate feelings of unease, and help you feel more relaxed.

What does Jasmine Essential Oil do for hair and skin?

For use in haircare, Jasmine Essential Oil helps moisturize and balance scalp pH while calming irritation and inflammation. This may help strengthen hair follicles to prevent breakage and frizzy flyaways, reduce dandruff, and promote new hair growth.

When used in skincare, the antimicrobial properties of jasmine oil can help neutralize bacteria that contribute to inflammation. Jasmine Essential Oil and Jasmine Oil Blends may also help enhance the skin's natural protective barrier, fade scars, brighten the complexion, and tone skin.

Is Jasmine Essential Oil safe to use around pets?

Jasmine Essential Oil is safe to use in room sprays and cleaning products if you have pets, however your pets should be kept away from direct contact with jasmine oil and bottles should be stored in a drawer or cabinet where your animal won't get into it. Do not use topically on pets or allow your pet to ingest oil.