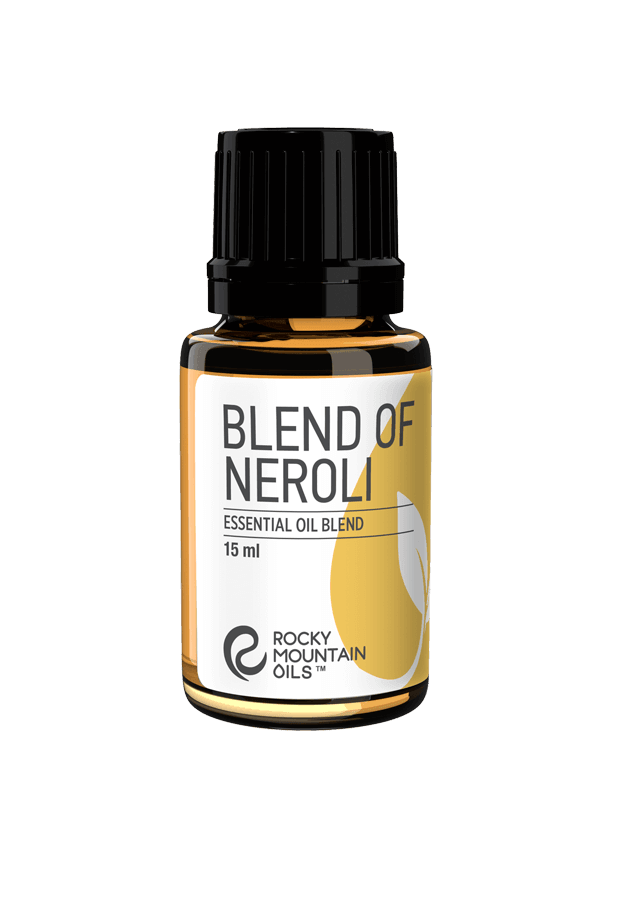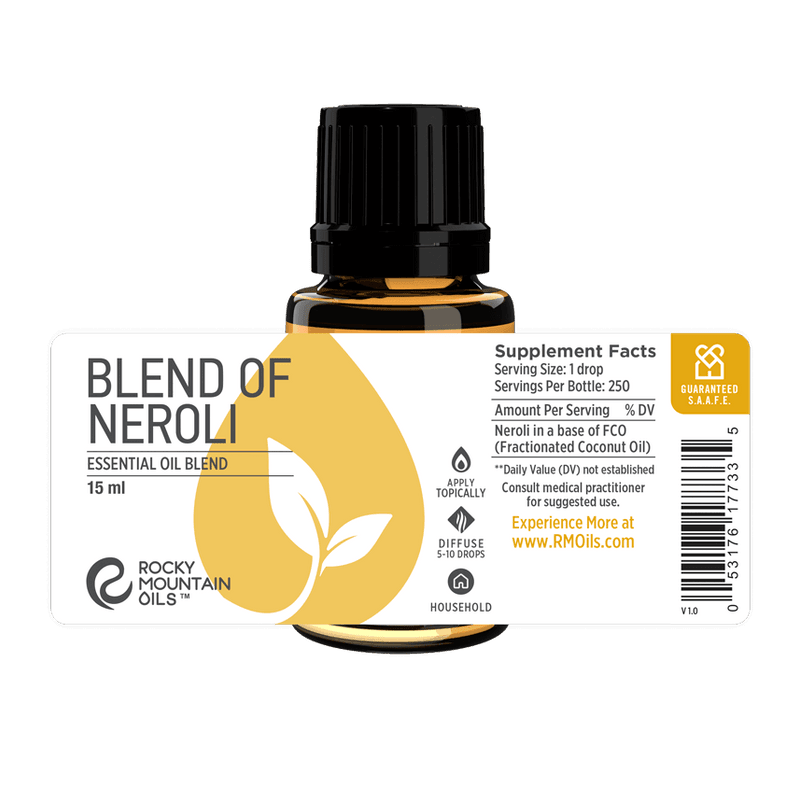 Blend of Neroli - What is Neroli
GC/MS
TESTING
90 DAY
RETURNS
100% RECYCLED
PACKAGING
S.A.A.F.E
PROMISE
Soothe your senses and spark joyful moments with Blend of Neroli. A blend of pure Neroli Essential Oil in a 90% Fractionated Coconut Oil base, it's perfect for skincare, haircare, massage oils, and more.
Also known as Orange Blossom, Bitter Orange, or Sour Orange, our Neroli Oil is steam distilled from the flowers of the Citrus x aurantium plant and offers a bitter, sweet floral scent with citrus undertones. This prediluted blend is safe for use on adult skin and nonphototoxic. For use on children ages 7 and up, dilute further to a .5-1% dilution rate.
Neroli Essential Oil, rich in antioxidants like limonene, offers a multitude of benefits for skin and hair care. What is Neroli, you may wonder? Well, Neroli Essential Oil is known for its remarkable ability to tone and plump the skin, effectively controlling acne breakouts. Additionally, Neroli boasts anti-aging properties, aiding in the reduction of fine lines and wrinkles. When incorporated into hair care routines, this blend of Neroli not only balances the scalp but also stimulates new hair growth.
Neroli is a sensual scent that is also associated with increased libido and sensuality. Research suggests that inhaling a Neroli Essential Oil Blend stimulates serotonin in the brain, which reduces stress and promotes feelings of well-being and happiness. Neroli may also help with high blood pressure, PMS and hormonal imbalances, insomnia, and more.
Use it on skin as a natural toner and exfoliant, to help heal acne, psoriasis, eczema, and other skin irritants while boosting collagen production and smoothing fine lines and wrinkles.
Apply 1-2 drops to pulse points and upper chest to lower stress and anxiety, while promoting feelings of well-being and positive energy.
Use in a massage oil to relax sore, aching muscles, provide relief from PMS symptoms, lower blood pressure, or promote a sensual vibe to stimulate the libido.
Add to DIY hair masks and scalp serums, or mix 2-3 drops into your regular conditioner, to balance the scalp, reduce dandruff, and stimulate the growth of new hair.
Add 2-3 drops to a warm bath at bedtime to relax and soak away the day's stress, priming your body for deeper, more restful sleep.
Use for aromatherapy jewelry, homemade natural cleaning products, soaps, bath bombs, candles, and more.
Love Potion Massage Oil
Ease muscle tension and settle into a deeper state of relaxation while awakening passion in your partner with this Love Potion Massage Oil.
Instructions: Blend all oils together in a small bowl or jar, then warm with your hands and use as a relaxing, sensual massage oil.
Prediluted in FCO carrier oil and ready for immediate topical use on adults.
However, we always suggest a patch test prior to extensive use on the skin. To perform a patch test, apply a small amount of oil to one area of the skin, then wait 15 minutes to make sure irritation or allergic reaction does not occur.
Kids Safety: Safe for children ages 7 years old and above when properly diluted to a .5-1% dilution rate. Click here to learn more about essential oil safety and kids
Keep out of reach of children and pets.
Your trust and confidence matter to us. As part of our S.A.A.F.E. Promise™ to you, Rocky Mountain Oils provides verified, third-party GC/MS (Gas Chromatography/Mass Spectrometry) test results from an independent lab for every essential oil product we sell.
GC/MS tests verify the quality and purity of every Rocky Mountain Oils product, which guarantees you're using the safest and highest quality essential oils and essential oil blends on the market.
Click here for the GC/MS test results for your essential oil product.
Blend of Neroli - What is Neroli FAQ
What is Neroli Essential Oil used for?

Neroli Essential Oil is a great choice for reducing stress, anxiety, and anxiety-induced depression. Breathing in the aroma of Neroli causes the brain to release serotonin, a neurotransmitter that helps regulate mood and can contribute to feelings of contentment and well-being. Neroli Oil is also used for skincare, haircare, boosting immunity, controlling blood pressure, relief from PMS symptoms, sanitizing surfaces, massage oils, and more.

Is Neroli Oil good for wrinkles, fine lines, and anti-aging?

Yes. Neroli Essential Oil contains antioxidants and anti-inflammatory compounds, which can help reduce the appearance of fine lines and wrinkles. Neroli Oil also naturally exfoliates and helps promote new skin cells and collagen synthesis. Try adding 1-2 drops of our prediluted Neroli blend to your daily moisturizer or foundation for smoother, more radiant skin.

Is Neroli Essential Oil phototoxic?

No. Neroli Oil is not phototoxic, which means you can use it topically and it won't increase your skin's sensitivity to sun damage like some citrus oils. In fact, Neroli is not a citrus oil! Although sometimes called Bitter Orange Oil, Neroli is actually extracted from the blossoms of the bitter orange tree, not the fruit. Therefore, Blend of Neroli does not cause phototoxicity or increased sensitivity to UV rays.

What other oils make good Neroli diffuser blends?

Does Neroli Oil help with insomnia?

Yes! Neroli essential oil has natural tranquilizing properties that can help you fall asleep faster, sleep more soundly, or fall back to sleep if you wake up during the middle of the night. Try massaging into the soles of the feet or apply 1-2 drops to the upper chest, neck, and temples before bedtime.