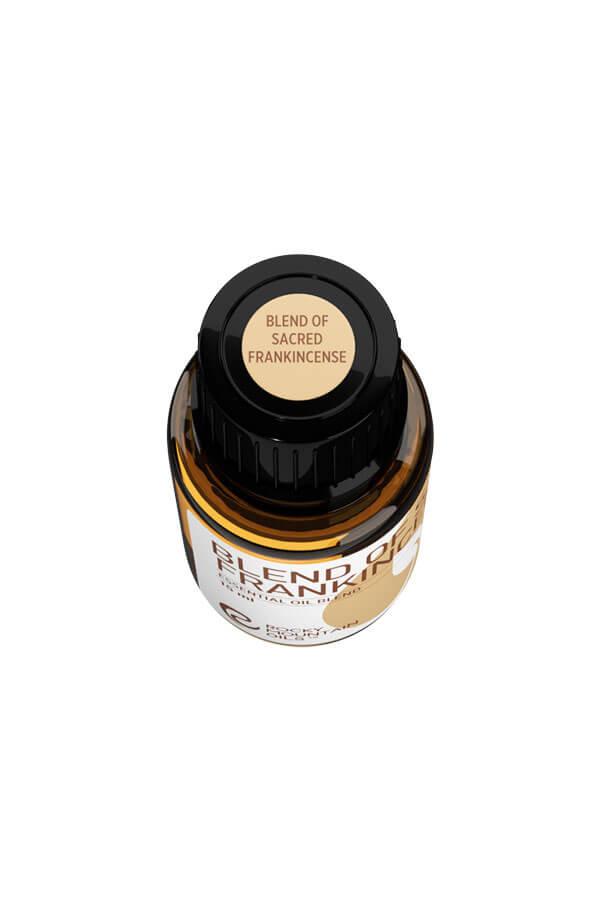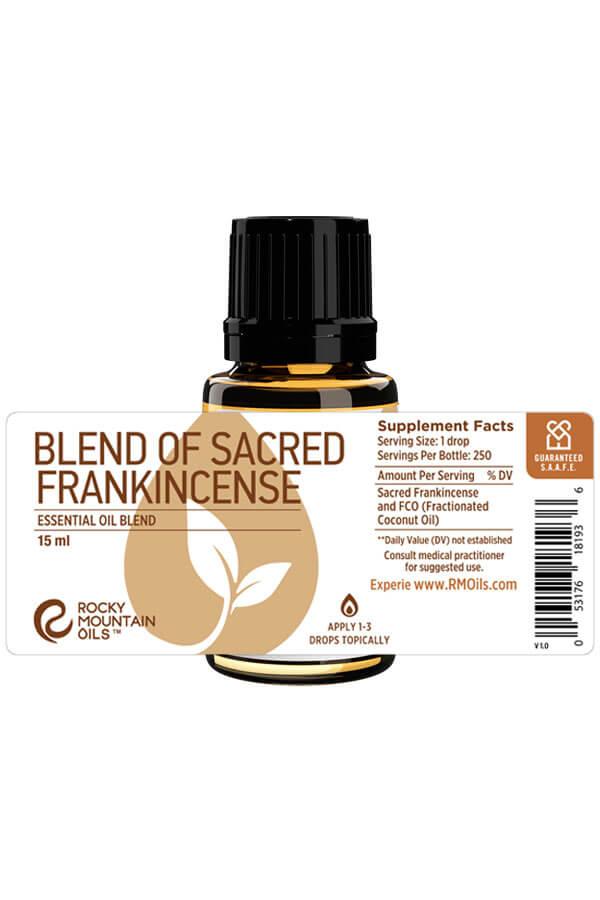 Blend of Sacred Frankincense
GC/MS
TESTING
90 DAY
RETURNS
100% RECYCLED
PACKAGING
S.A.A.F.E
PROMISE
Feel more grounded, strengthen your immunity, and soothe your skin with this Blend of Sacred Frankincense. It's a prediluted blend of pure Sacred Frankincense Essential Oil in a deeply hydrating base of Fractionated Coconut Oil, so it's ready for immediate topical use on adult skin.
Also known as Olibanum or Olibanum Tree Oil, this essential oil is steam distilled from the wood resin of the rare Boswellia sacra tree that is found exclusively in the deserts of Oman. It has a richer, deeper aroma than other varieties of Frankincense and contains 20% more alpha-pinene compounds for healing and anti-inflammatory benefits. 
Frankincense (Sacred) has a woody, balsam, earthy, slightly spicy-sweet scent that encourages feelings of stability and balance. Use this Blend of Frankincense as a natural cologne or perfume that helps you feel grounded and resilient, or inhale the oil when you need a moment of quiet serenity.
Thanks to its medicinal properties, this essential oil blend helps boost the immune system and provides numerous anti-aging benefits for skincare. Apply directly to the skin or add a few drops to your regular moisturizer or cleanser to brighten, tone, and revitalize your skin.
This Frankincense Essential Oil blend is prediluted to 10% in a deeply hydrating base of 90% Fractionated Coconut Oil (FCO) and is ready for immediate topical use on adults. For use on children ages 2 and up, dilute with additional FCO to a 1-2% dilution rate. (Click here to learn more about essential oils and kids.)
Apply 1 drop to scars, blemishes, sun spots, age spots, or other areas of discoloration to fade and brighten your complexion.
Use to control oily breakouts, acne, psoriasis, rosacea, and eczema.
Massage into the soles of the feet to absorb its potent anti-inflammatory and antimicrobial properties and help strengthen your immune system.
Add 1-2 drops to a warm bath to soak away tension and relieve stress.
Inhale to feel more grounded and use in your meditation practices to reach deeper levels of stillness and clarity.
Apply 1-3 drops to aromatherapy jewelry, the neck, backs of the ears, upper chest, or pulse points for a natural cologne or perfume that clears negative energy and supports emotional stability.
Sacred Smooth Salt Scrub
Enjoy smoother, softer, brighter skin and indulge in the rich, grounding aroma of Frankincense with this natural exfoliating scrub that relaxes and soothes.
Instructions: Mix oils and salt together, then apply to areas with rough, dry skin such as hands, elbows, knees, or feet. Gently massage the salt scrub across your skin, then rinse off and pat dry.
Prediluted in 90% Fractionated Coconut carrier oil and ready for immediate topical use on adults.
However, we always suggest a patch test prior to extensive use on the skin. To perform a patch test, apply a small amount of oil to one area of the skin, then wait 15 minutes to make sure irritation or allergic reaction does not occur.
Kids Safety: Safe for children ages 2 years old and above when properly diluted to a 1-2% dilution rate. Click here to learn more about essential oil safety and kids
Keep out of reach of children and pets. Not recommended for diffusing.
Your trust and confidence matter to us. As part of our S.A.A.F.E. Promise™ to you, Rocky Mountain Oils provides verified, third-party GC/MS (Gas Chromatography/Mass Spectrometry) test results from an independent lab for every essential oil product we sell.
GC/MS tests verify the quality and purity of every Rocky Mountain Oils product, which guarantees you're using the safest and highest quality essential oils and essential oil blends on the market.
Click here for the GC/MS test results for your essential oil blend.
Blend of Sacred Frankincense FAQ
What are the benefits of Sacred Frankincense Oil?

This essential oil offers powerful benefits for aromatherapy, skincare, and general wellness. It brightens and tones the skin, fades scars and blemishes, promotes collagen production, reduces the appearance of fine lines and wrinkles, promotes cellular rejuvenation, helps the immune system, reduces inflammation, sanitizes, and deodorizes. It also helps you feel more grounded and emotionally stable.

What is the difference between Blend of Sacred Frankincense and Sacred Frankincense?

This blend is 10% pure Sacred Frankincense Essential Oil prediluted in a base of 90% FCO carrier oil. Because it's prediluted, Blend of Frankincense is ready for immediate use in topical skincare or massage oils. It is also a more cost-effective alternative to our pure Sacred Frankincense Essential Oil.

What makes Sacred Frankincense and Frankincense Serrata?

Sacred Frankincense is steam distilled from the wood of the Boswellia sacra tree, a variety of Boswellia that is native only to the deserts of Oman. Due to the unique soil and temperature of this environment, it has a richer, deeper, less citrusy aroma than Frankincense Serrata. It also contains a higher concentration of alpha-pinene, which is the plant compound that gives Frankincense its anti-inflammatory and medicinal properties. Sourcing Sacred Frankincense is more difficult than other varieties, which results in its higher price.

How do I use Sacred Frankincense Essential Oil for skincare?

To use this essential oil for skincare, dilute with a carrier oil (or use our prediluted Blend of Frankincense) and apply 1-2 drops directly to the skin or apply with a cotton pad. You can also add a few drops to your daily cleanser, toner, or moisturizer, or use in a DIY face mask for clarifying and hydrating your complexion.

What does Sacred Frankincense do for moods?

With its deeply grounding aroma, this essential oil helps you let go of anxious thoughts, worries, and stress. It helps balance emotions, creates feelings of comfort and stability, and boosts confidence.