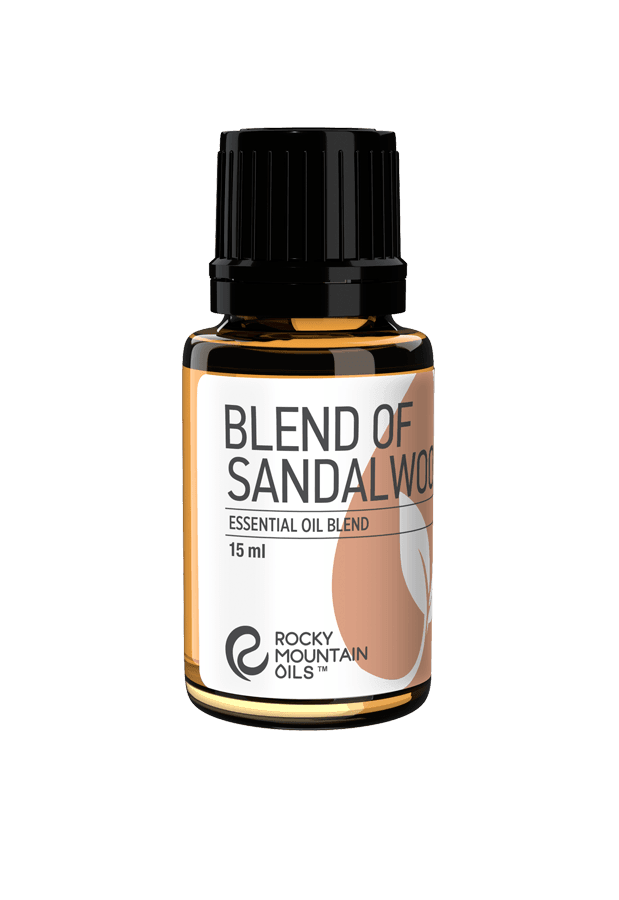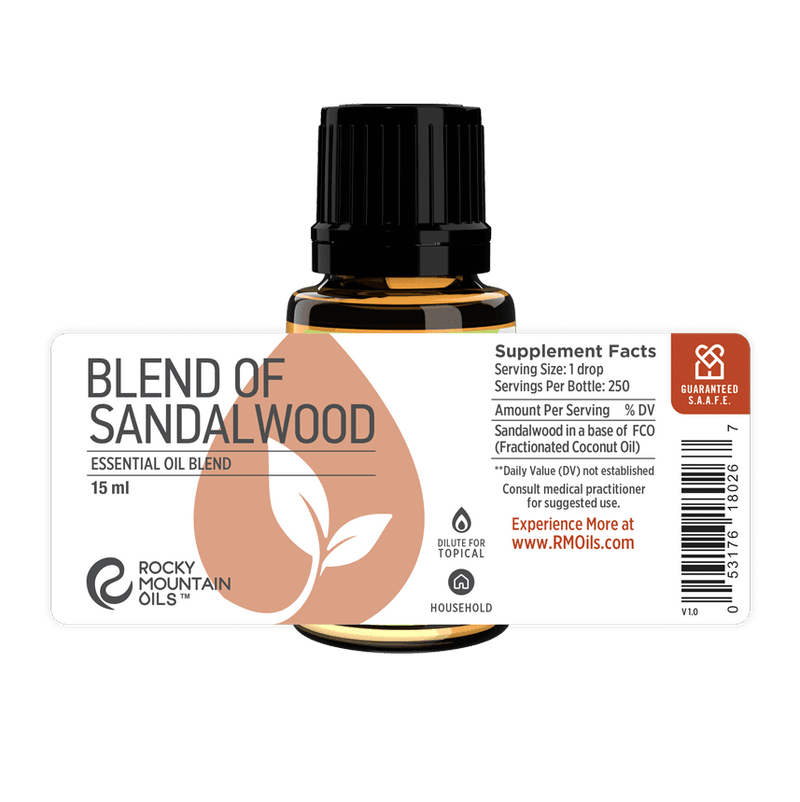 Blend of Sandalwood
GC/MS
TESTING
90 DAY
RETURNS
100% RECYCLED
PACKAGING
S.A.A.F.E
PROMISE
Breathe in the deep, rich aroma of Blend of Sandalwood to feel calm and centered. A combination of pure Sandalwood Essential Oil prediluted in a base of Fractionated Coconut Oil, it offers benefits for aromatherapy, skincare, and more.
Steam distilled from the wood of the Santalum album tree, Sandalwood is a highly sought-after essential oil due to its distinctly alluring scent and its versatile holistic uses. The aroma of Sandalwood is woody, earthy, warming, and slightly sweet. Surrounding yourself with Sandalwood helps clear negative energy while grounding and uplifting. It's also a very popular masculine scent.
Sandalwood and Sandalwood Essential Oil Blends are also known to stimulate the mind and promote focus, better memory, and mental clarity. Try adding a drop to your forehead, throat, or heart-center to deepen your concentration during meditation, prayer, or other spiritual practices. Sandalwood helps reduce irritability and moodiness, and can gently guide you through fear, grief, or other moments of instability. It's also known to spark the libido when used as a massage oil.
Thanks to the nourishing, soothing hydration of Fractionated Coconut Oil, this blend is ready for immediate use on adults. Use it as a natural astringent for toning, reducing acne breakouts, and exfoliating skin. Sandalwood also makes a wonderful addition to homemade men's colognes and perfumes, soaps, candles, and other DIY care products.
Use as a spiritual aid to feel more grounded and enhance your concentration during meditation, prayer, energy work, chanting mantra, or other practices.
This prediluted Sandalwood Essential Oil in an FCO base can also be used topically to help heal and prevent acne and other skin irritations. It's also naturally astringent and will help exfoliate, tone, and brighten.
Apply 1-2 drops to the soles of your feet, pulse points, or chest, or add to a warm bath, to inhale the wood, calming aroma and let go of anxiety and muscle tension. The anti-inflammatory properties of Sandalwood can help relieve aches, pains, and swelling.
Use this Sandalwood blend in a sensual massage oil to awaken the libido and create a romantic mood with your partner.
Add to natural colognes and perfumes, as well as homemade deodorants, soaps, candles, or household cleaning products.
Inhale or massage into the skin before bedtime to help treat insomnia and sleep more soundly.
Restful Sleep Massage Oil
Trouble sleeping? Try this restful massage oil to settle the mind and relax the body so you can fall asleep faster and sleep more deeply.
Instructions: Combine all ingredients together in a small bowl or glass jar. As you get ready for bed, warm the oil between your palms and then massage the blend into the upper chest, neck, shoulders, and upper back. Inhale deeply and allow the warm, comforting aroma of Sandalwood to carry you off to dreamland.
Prediluted in 90% Fractionated Coconut carrier oil and ready for immediate topical use on adults.
We recommend a patch test prior to extensive use on the skin. To perform a patch test, apply a small amount of oil to one area, then wait 15 minutes to make sure irritation or allergic reaction does not occur.
Kids Safety: Safe for kids ages 7 months old and above when properly diluted to a .5-1% dilution rate. Click here to learn more about essential oil safety and children.
Keep out of reach of children and pets.
Your trust and confidence matter to us. As part of our S.A.A.F.E. Promise™ to you, Rocky Mountain Oils provides verified, third-party GC/MS (Gas Chromatography/Mass Spectrometry) test results from an independent lab for every essential oil product we sell.
GC/MS tests verify the quality and purity of every Rocky Mountain Oils product, which guarantees you're using the safest and highest quality essential oils and essential oil blends on the market.
Click here for the GC/MS test results for your essential oil product.
Blend of Sandalwood FAQ
What is Sandalwood Essential Oil good for?

Sandalwood essential oil blend uses include skincare, haircare, stimulating the libido, mental clarity, memory, reducing inflammation and swelling, better sleep, better focus and concentration, lowering stress, and relieving symptoms of anxiety and depression disorders. Sandalwood is also used to feel more centered and attain deeper levels of meditation.

Can I apply Sandalwood Oil directly on skin?

We recommend that all pure essential oils should be diluted in a carrier oil prior to direct use on the skin. This product is prediluted in a base of 90% Fractionated Coconut Oil, making it ready for immediate topical use on adults. To use on children, dilute with additional oil until you reach a .5-1% dilution rate. Click here to learn more about essential oil safety and children.

What does Sandalwood Essential Oil do for the mind?

The aroma of Sandalwood is calming and comforting. Many people use Sandalwood to reduce anxiety, stress, and depression, and help promote feelings of safety and stability during periods of overwhelm, anger, or grief. Inhaling the aroma can help you focus and feel greater mental clarity.

Is Sandalwood Oil safe for pets?

Sandalwood Essential Oil is generally considered safe for dogs. However, you should always take caution to ensure that your animal does not ingest Sandalwood Oil. If using essential oils on your dog, always monitor its behavior closely. Discontinue use and consult a veterinarian immediately if allergic reaction or other issues occur. Sandalwood is not considered safe for cats. Essential oils should always be stored out of reach of pets.

What other essential oils blend well with Sandalwood?

Sandalwood Essential Oil blends well with Red Mandarin, Rose, Black Pepper, Bergamot, Cedarwood, Juniper Berry, Pine, and Ylang Ylang. Our Blend of Sandalwood is prediluted in FCO, which also makes it a perfect oil for blending into skin serums, moisturizing masks, massage oils, bath bombs, and more.