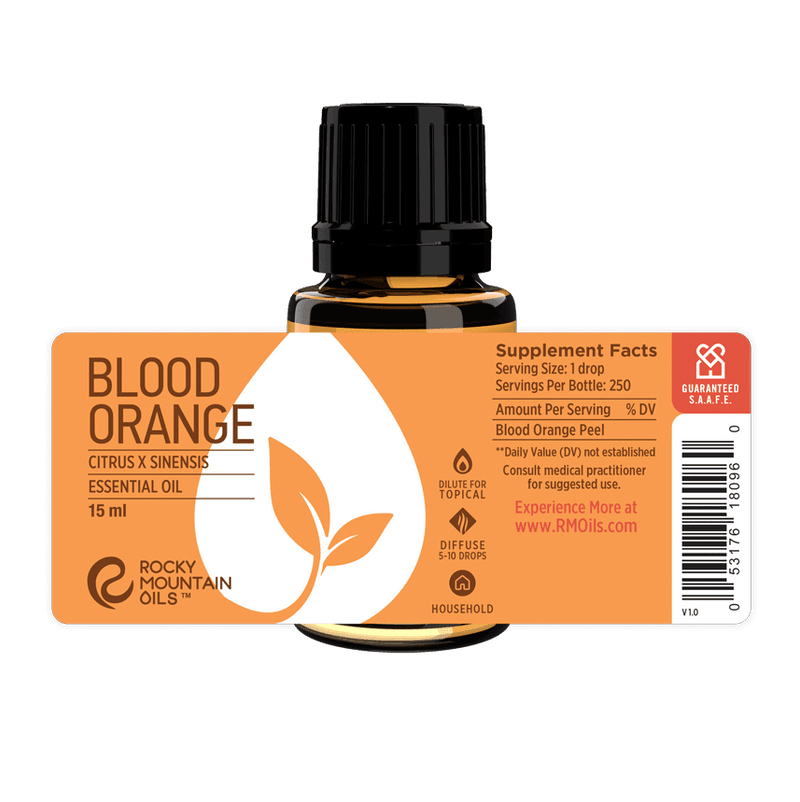 Blood Orange Essential Oil
GC/MS
TESTING
90 DAY
RETURNS
100% RECYCLED
PACKAGING
S.A.A.F.E
PROMISE
For the invigorating benefits of citrus with a grounding tranquility, try Blood Orange Essential Oil. Cold pressed from the peel of the crimson-fleshed Blood Orange fruit, this essential oil offers a scent that's very similar to classic orange yet richer, deeper, and less sweet. 
Like all citrus oils, Blood Orange offers a burst of natural energy while helping you let go of stress and anxiety. It promotes mental clarity, relieves brain fog and burn out, enhances memory and concentration, and lifts depression. Try Blood Orange essential oil for seasonal affective disorder, jet lag, insomnia, and mood imbalances.
Blood Orange oil is also high in antioxidants like Vitamin C and limonene, which give it antiseptic and anti-inflammatory properties. Blood Orange essential oil benefits include boosting the immune system, supporting gut health, and helping heal the body from injuries, small wounds, bug bites, and more.
When used topically with a carrier oil, Blood Orange is also anti-aging and helps give you more radiant skin. It's also used for haircare products to de-tangle, de-frizz, and promote new hair growth. If you love making natural products, you'll also enjoy Blood Orange as a chemical-free fragrance for DIY soaps, candles, perfumes and colognes, and more.
Blood Orange Essential Oil is part of the Rocky Mountain Oils Relief and Cleaning collections.
---
The statements contained herein have not been evaluated by the Food and Drug Administration. Neither Rocky Mountain Oils nor its products are intended for the purpose of diagnosing, treating, curing or preventing any disease. If you are pregnant, nursing, taking medication, or have a medical condition, consult your physician before using these products.
Diffuse to reduce stress, anxiety, and depression while promoting natural energy, especially in the mornings or after traveling and experiencing jet lag.
Inhale or dilute with a carrier oil, then apply to pulse points when you need a burst of invigorating focus and concentration. Try Blood Orange as an afternoon pick-me-up instead of coffee or energy drinks.
Dilute with a carrier oil or add to cleansers, toners, or moisturizers to soothe inflamed skin and promote a brighter, younger-looking, more even skin tone.
Diffuse or use in a room spray to purify the air against allergens, pollutants, germs, and bacteria.
Add to DIY home cleaning products to sanitize surfaces and protect your family from colds, flu, and other viruses.
Apply to the soles of the feet to help boost the immune system.
Blood Orange Room Spray
Fill your home, car, or office with the uplifting citrus aroma of Blood Orange with this natural DIY room spray.
10 drops Blood Orange
1 cup Distilled Water
1 teaspoon Witch Hazel
Instructions: Add all ingredients to a fine-mist spray bottle and shake well to combine. Shake again before each use. Spritz naturally to neutralize odors and freshen your space. You can also use it on linens, pillows, and soft furniture.
Always dilute prior to topical application. Avoid contact with mucous membranes, eyes, and the inside of the mouth, nose, and ears. Do not ingest. Do not use while pregnant or breastfeeding.
CAUTION: This essential oil is phototoxic. When used topically, it may temporarily increase risk of sunburn and sun sensitivity. Avoid direct sunlight and tanning beds for up to 12 hours after topical use on exposed skin.
Kids Safety: Safe to use topically with children ages 2 years old and up. Dilute to a .5-2% dilution rate for topical application.
Tips for Safer Diffusing:
Diffuse in an open, well-ventilated area.
Keep children and pets out of the direct line of mist.
Diffuse in 30-60 minute intervals, with ample break periods for safe and effective use.
At Rocky Mountain Oils, your trust and confidence matter to us. As part of our S.A.A.F.E. Promise™, we offer third-party verified GC/MS (Gas Chromatography/Mass Spectrometry) test results from an independent lab for every essential oil and blend in our line.
GC/MS tests verify the purity and quality of our essential oils, so you can be sure you're using the safest, highest-quality essential oils available today.
GC/MS Test: Click Here
For batch-specific GC/MS tests, click here.
Blood Orange Essential Oil FAQ
What is the difference between Orange oil and Blood Orange oil?

All citrus oils, including Orange and Blood Orange, are rich in antioxidants like Vitamin C and offer anti-inflammatory benefits for skin, hair, and overall wellness. The primary difference between Orange (also known as Sweet Orange) essential oil and Blood Orange essential oil is the scent. Both oils are bright and sweet, but Blood Orange oil has an aroma that is stronger, deeper, and slightly earthier compared to Orange oil.

Can I use Blood Orange essential oil for skin?

Yes! When diluted with a carrier oil or added to your regular skincare products, Blood Orange essential oil helps hydrate and heal skin for a more toned, youthful, glowing complexion. Blood Orange helps reduce acne, eczema, psoriasis, and other irritation while enhancing collagen production, exfoliating dead skin cells, and improving elasticity to reduce the appearance of fine lines and wrinkles.

However, please note that Blood Orange essential oil may temporarily increase your sensitivity to the sun. Avoid direct sun exposure and tanning beds when using this product topically.

What are some Blood Orange essential oil benefits for hair?

Blood Orange essential oil benefits for hair include reducing dandruff, slowing hair loss, and promoting new hair growth by stimulating follicles at the root. Blood Orange oil also freshens the scalp, cleanses bacteria and excess oil, de-tangles, and helps repair dry or damaged hair. You can also use Blood Orange to gently lighten your hair. Simply apply a few drops to the roots and comb outward, then spend a few minutes outdoors to add natural, sun-kissed highlights.

Is Blood Orange oil safe for dogs and cats?

No. Blood Orange essential oil is not considered safe for dogs, cats, or other pets. Do not use this essential oil topically on your pet or allow your pet to ingest it. When diffusing Blood Orange oil, always keep your pet away from the direct line of mist, make sure there is plenty of ventilation, and do not diffuse near your pet's bed, food bowl, water bowl, or litter box. If using this essential oil in cleaning products, keep pets away from the affected area until all products have been rinsed off or fully evaporated.