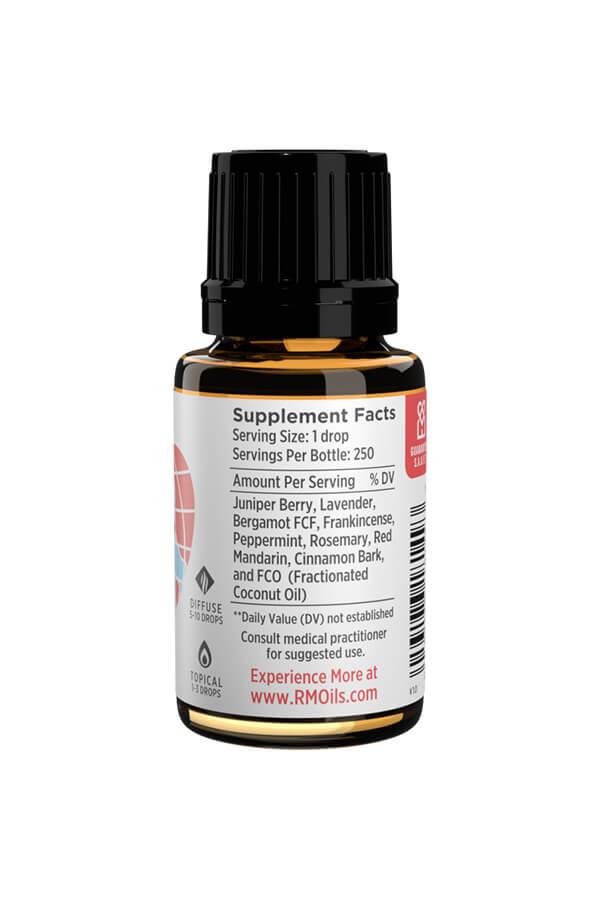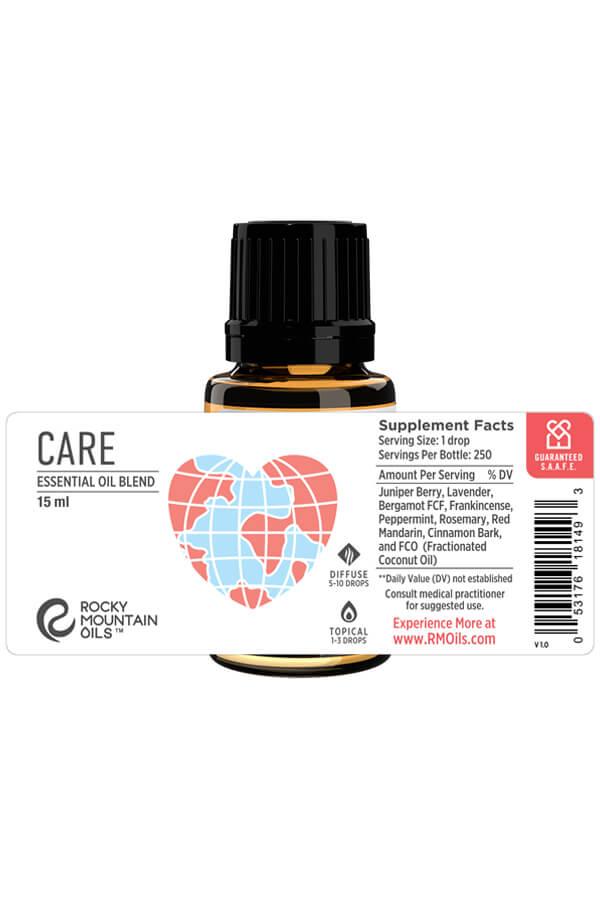 CARE
GC/MS
TESTING
90 DAY
RETURNS
100% RECYCLED
PACKAGING
S.A.A.F.E
PROMISE
When life feels challenging, take a moment for self-love with our Care Essential Oil Blend. Care is a comforting combination of Juniper Berry, Lavender, Bergamot FCF, Frankincense Serrata, Peppermint, Rosemary, Red Mandarin, and Cinnamon Bark essential oils. It was specially formulated by Christi Diamond, The Healing Coach, to help you practice better self-care.
These essential oils reduce feelings of stress and anxiety while promoting a sense of peace and stability. They inspire hope and help heal personal trauma. The aroma of this blend is earthy, herbaceous, and floral, with a hint of spicy sweetness from Cinnamon Bark. When applied topically, Care Blend offers a gentle warming sensation and anti-inflammatory benefits.
Use these essential oils for stress whenever you feel overwhelmed, upset, or burned out. Simply inhale the calming aroma or apply a few drops directly to the skin. You can also use this blend as a massage oil to release tension from the body and soothe aching, stiff muscles and joints. Care Blend is prediluted in Fractionated Coconut Oil and ready for immediate use for adults.
Care Blend is extra special because 100% of the profits are donated to Let It Flow, a nonprofit devoted to providing clean water around the globe. Let It Flow was founded by Kelle and Nyjah Huston, who were inspired by their own experience of living without running water to create an organization that builds and repairs wells and supplies families with water filtration systems. We're proud to support their mission to make drinking water accessible to all.
---
The statements contained herein have not been evaluated by the Food and Drug Administration. Neither Rocky Mountain Oils® nor its products are intended for the purpose of diagnosing, treating, curing or preventing any disease. If you are pregnant, nursing, taking medication, or have a medical condition, consult your physician before using these products.
Use this prediluted blend of essential oils for anxiety relief topically to release negative energy and inspire feelings of lightness and serenity. Apply 1-2 drops to the forehead, temples, upper chest, or pulse points and breathe deeply.
Use as a warming massage oil to soothe sore, tired muscles and stiff joints, or rub into the soles of the feet for anti-inflammatory benefits.
Add 2-3 drops to a warm bath for a comforting, relaxing soak and take your self-care game to the next level.
Inhale the grounding aroma to turn the volume down on anxious thoughts and reduce distractions, allowing for deeper levels of presence during meditation or other rituals.
Makes a perfect gift for care packages.
Ease the Tension Muscle Rub
2 Tbsp Beeswax
1/2 cup Coconut Oil
60-70 drops Care Blend
Instructions: Melt the beeswax in a double boiler over low heat. Once melted, add the coconut oil and essential oils. Remove from heat and stir to combine. Pour the mixture into a sealable container, the let it cool completely. To use, apply a liberal amount onto tense, sore muscles and massage as needed for relief.
Prediluted to 5% pure oil in 95% Fractionated Coconut carrier oil and ready for immediate topical use on adults after patch-testing. For external use only. Avoid contact with the eyes, mouth, nose, mucus membranes, and broken skin.
CAUTION: This blend contains Cinnamon Bark, which is a "hot" oil that may cause skin irritation. Be sure to properly dilute prior to applying topically and perform a patch test. If sensitivity occurs, dilute with an additional carrier oil.
Kids Safety: Safe for kids ages 10 years and up when properly diluted to a 1-2% dilution rate. Click here to learn more about essential oil safety and children.
Keep out of reach of children and pets.
NOTE: Because this blend contains a carrier oil, it is not recommend for diffusing. Try our Calming Essential Oil Blend instead.
Your trust and confidence matter to us. As part of our S.A.A.F.E. Promise™ to you, Rocky Mountain Oils provides verified, third-party GC/MS (Gas Chromatography/Mass Spectrometry) test results from an independent lab for every essential oil product we sell.
GC/MS tests verify the quality and purity of every Rocky Mountain Oils product, which guarantees you're using the safest and highest quality essential oils and essential oil blends on the market.
Click here for the GC/MS test results for your essential oil product.
CARE FAQ
What are the essential oils in Care Blend?

Can I use Care Blend essential oil for tension headache?

To use this blend for headaches, apply 1-2 drops to the forehead, temples, behind the ears, or at the base of the neck. Use your index finger and middle finger to apply gentle pressure in small circles as you inhale the deep, relaxing aroma of these essential oils. As the oils are absorbed into the skin, you'll begin to feel a mild warming sensation that helps reduce inflammation and alleviates headaches.

How do I use Care Blend essential oils for anxiety relief?

Care is a powerful stress relief essential oil blend that can be used in several ways to relieve anxiety. Apply this prediluted blend to the forehead, massage into the soles of the feet, add 2-3 drops to a warm bath, or simply uncap and breathe the soothing aroma for quick relief from anxiety and stress. This blend also helps you meditate more deeply, which can help you control and reduce your anxiety long-term.

Can stress relief essential oil help kids?

Yes, our Care stress relief essential oil blend is safe for kids ages 10 and up when diluted to a 1-2% dilution rate. This anti-anxiety blend can help kids feel more balanced, safe, comforted, and calm melt-downs. It's great for helping children who feel nervous in social settings or feel stressed out about school.

Can I put a stress essential oil blend on my skin?

Yes, Rocky Mountain Oils' Care Essential Oil Blend is prediluted in Fractionated Coconut Oil and safe to use topically on adults. However, we advise conducting a patch test prior to extensive use on the skin. To perform a patch test, apply a small amount of oil to one area, then wait 15 minutes to make sure irritation or allergic reaction does not occur.