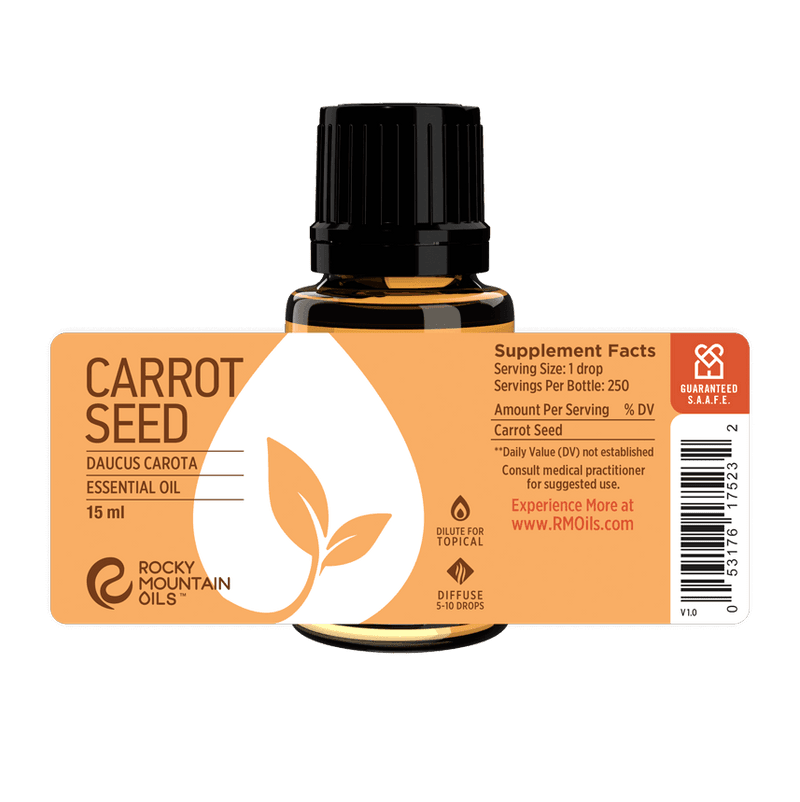 Carrot Seed Essential Oil
GC/MS
TESTING
90 DAY
RETURNS
100% RECYCLED
PACKAGING
S.A.A.F.E
PROMISE
Elevate your natural skincare and beauty routine with Carrot Seed Essential Oil. Also known as Wild Carrot, Queen Anne's Lace, Bird's Nest, Bee's Nest, Devil's Plague, or Bishop's Lace, this essential oil offers powerful healing benefits to restore your wellness inside and out.
Steam distilled from the seeds of the carrot plant, this essential oil has an earthy aroma that's herbal, woody, and slightly spicy. It creates a tranquil atmosphere and helps reduce anxious thoughts while promoting a longer attention span. Using the grounding scent of Carrot Seed oil in the evening will help you fall asleep faster and sleep more deeply. 
Carrot Seed oil is rich in vitamin A, also known as beta-carotene or retinol, which is a powerful anti-inflammatory compound that also reduces signs of aging when used in skincare. When you dilute Carrot Seed oil, you can use it for a soothing, anti-aging toner or makeup remover that's powerful yet gentle enough for all skin types. Using Carrot Seed essential oil will help your complexion glow.
Other Carrot Seed essential oil benefits include support gut health and improving digestion, lowering blood pressure, improving circulation, and boosting the immune system. Try adding a few drops to home cleaning products to sanitize surfaces, eliminate germs and fungi, and leave your surfaces sparkling clean!
Carrot Seed Essential Oil is part of Rocky Mountain Oils' Skin Care and Wellness collections.
---
The statements contained herein have not been evaluated by the Food and Drug Administration. Neither Rocky Mountain Oils nor its products are intended for the purpose of diagnosing, treating, curing or preventing any disease. If you are pregnant, nursing, taking medication, or have a medical condition, consult your physician before using these products.
Diffuse to reduce stress and anxiety while purifying the air against odor-causing bacteria, allergens, environmental pollutants, and more.
Dilute with a carrier oil or add a few drops to your cleanser or moisturizer to soothe irritated skin, hydrate, reduce dark spots, heal acne, and more.
Use in DIY home cleaning products to eliminate germs, bacteria, mold, and fungus. You can also dilute in a carrier oil, then apply to the skin to treat toenail fungus or athlete's foot.
Diffuse to promote a stronger immune system, respiratory health, and better digestion.
Apply to the abdomen with a carrier oil for relief from nausea, indigestion, constipation, gas, bloating, menstrual cramps, or other gastrointestinal discomfort.
Carrot Seed Face Oil
For a more youthful and glowing complexion, try this DIY hydrating face oil to absorb Carrot Seed oil benefits for skin.
5-10 drops Carrot Seed
¼ cup Fractionated Coconut Oil
Instructions: Blend oils together, then massage into the skin and leave on for a few minutes before rinsing clean with your regular cleanser. Apply 1-3 times per week to reduce inflammation and hyperpigmentation. Store any leftover oil in an airtight container in a cool, dry place.
Botanical Name: Daucus carota
Country of Origin: India/France*
Extraction Method: Steam Distilled
Plant Part: Seed
Aroma: Earthy, Woody, Herbal
Consistency: Medium to Thick
*Some of our oils have multiple countries of origin. To confirm which country your specific bottle of oil originates from, please click here to consult its GC/MS test.
Blends Well With: Bergamot FCF, Cedarwood, Cucumber Seed, Lavender, Red Mandarin, Rose, Sandalwood, Ylang Ylang
Popular Carrot Seed Blends: Skin Care
Always dilute prior to topical application. Avoid contact with mucous membranes, eyes, and the inside of the mouth, nose, and ears. Do not ingest. Do not use while pregnant or breastfeeding.
Kids Safety: Safe to use topically with children ages 2 years old and up. Dilute to a .5-2% dilution rate for topical application.
Tips for Safer Diffusing:
Diffuse in an open, well-ventilated area.
Keep children and pets out of the direct line of mist.
Diffuse in 30-60 minute intervals, with ample break periods for safe and effective use.
At Rocky Mountain Oils, your trust and confidence matter to us. As part of our S.A.A.F.E. Promise™, we offer third-party verified GC/MS (Gas Chromatography/Mass Spectrometry) test results from an independent lab for every essential oil and blend in our line.
GC/MS tests verify the purity and quality of our essential oils, so you can be sure you're using the safest, highest-quality essential oils available today.
GC/MS Test: Click Here
For batch-specific GC/MS tests, click here.
Carrot Seed Essential Oil FAQ
Does Carrot Seed essential oil smell like carrots?

Carrot Seed oil has a savory, woody aroma that's herbal and slightly spicy. Although it has a faint aroma of carrots, this essential oil is steam distilled from the seeds, not the root, of the carrot plant. As a result, its scent is earthier and slightly bitter.

Does Carrot Seed essential oil have Vitamin A?

Yes, Carrot Seed essential oil is a rich natural source of Vitamin A (also known as beta-carotene) and can help support eye health, vision, skin, hair, and nails. This essential oil also has Vitamins C, D, E, and F. Together, the vitamins in this essential oil can help boost your health and wellness when used topically with a carrier oil and absorbed through the skin, or gently diffused into the air.

What are Carrot Seed oil benefits for skin?

Carrot Seed essential oil benefits for skin include toning and brightening, shrinking pores, deep cleansing, exfoliating, and reducing the appearance of fine lines and wrinkles. Carrot Seed oil is high in Vitamin A, also known as retinol, which makes it a natural alternative to many anti-aging skincare products on the market. Carrot Seed oil also has antioxidants that may prevent and reduce damage caused by UV exposure and free radicals.

What are Carrot Seed oil benefits for hair?

Carrot Seed oil benefits for hair include stimulating new hair growth, reducing excess shedding, balancing scalp pH and oil (sebum) production, de-tangling and de-frizzing, controlling and eliminating dandruff, and strengthening hair follicles for thicker, shinier hair. You can also use Carrot Seed as a hydrating beard oil for men.