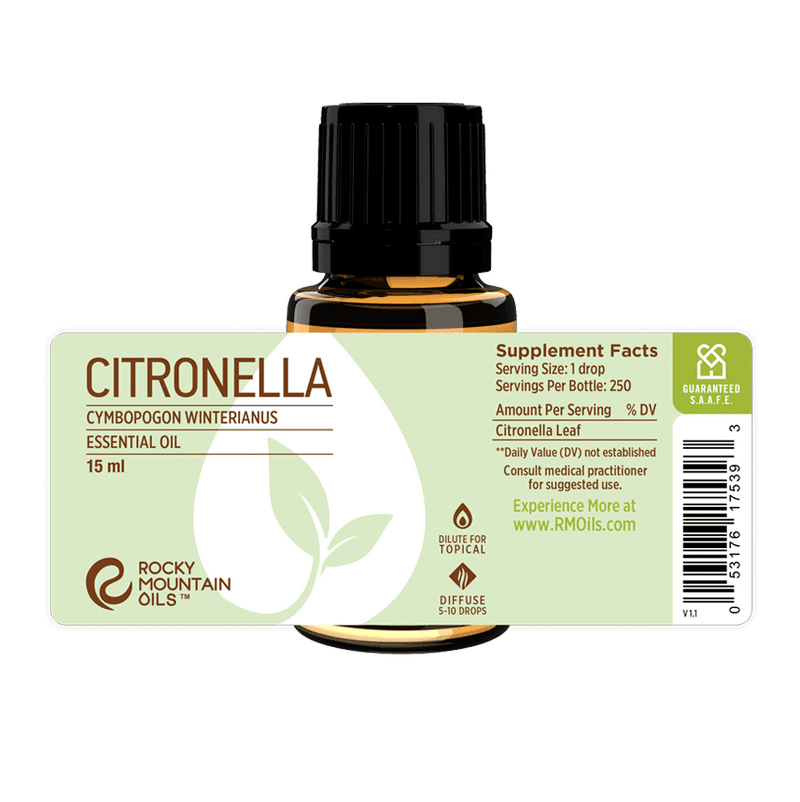 Citronella Essential Oil
GC/MS
TESTING
90 DAY
RETURNS
100% RECYCLED
PACKAGING
S.A.A.F.E
PROMISE
Keep mosquitoes and other insects from ruining your outdoor fun with Citronella Essential Oil. Also known as Citronella Grass, this essential oil is celebrated for its ability to deter bugs without harsh chemicals like DEET. It has a medium-strength aroma that's grassy, lemony, and slightly sweet and presents a top-middle fragrance note. 
Diffuse this oil around your backyard patio or campsite to prevent bugs from bothering you and your family. Although many people enjoy Citronella's bright herbal fragrance, mosquitoes and insects can't stand it. Using Citronella Essential Oil on doorways and windowsills can also keep bugs from entering your home. 
Additionally, it can be used topically in a carrier oil to prevent bug bites on exposed skin. Blend it with Jojoba Oil or Fractionated Coconut Oil, then apply to the skin before going outside and reapply as needed. Also helps control oily skin, reduce redness, and heal acne.
But repelling insects like mosquitoes is just one benefit of Citronella Oil. It's also antifungal, antimicrobial, and anti-inflammatory. Try it for Athlete's Foot and mildew, as well as treating small scrapes and minor wounds. A few drops of this essential oil in homemade cleaning products may help eliminate odors and bacteria.
---
The statements contained herein have not been evaluated by the Food and Drug Administration. Neither Rocky Mountain Oils nor its products are intended for the purpose of diagnosing, treating, curing or preventing any disease. If you are pregnant, nursing, taking medication, or have a medical condition, consult your physician before using these products.
Use in a diffuser on your patio to keep insects away. It's also great for use in waterless diffusers for camping trips, day hikes, or other outdoor adventures where bugs may bite.
Apply to doorways, windowsills, and screens to deter ants, spiders, mosquitoes, flies, and other insects from entering your home.
Dilute with a carrier oil, then apply directly to exposed skin as a natural, DEET-free mosquito and bug repellent.
Use as an antifungal agent to prevent and eliminate mold and mildew, or treat fungal infections like Athlete's Foot.
When bugs do bite, apply a topical salve of diluted Citronella Oil for mosquitoes to soothe itching and promote faster healing.
Use to make homemade anti-mosquito candles, or add a few drops to DIY cleaning products and allow the fresh, bright aroma to help deodorize and sanitize your home.
Mosquito Free Balm
Don't let the bugs bite and ruin your outdoor fun! Try this all-natural balm to keep mosquitoes and other pesky insects from biting.
Instructions: Warm the Shea Butter until just barely melted. Remove from heat, then add oils and mix until all ingredients are blended together. Apply to exposed skin before heading outside, and reapply as needed once the aroma fades.
May cause irritation. Always dilute in a carrier oil and patch test prior to extensive topical use. Do not use if pregnant or breastfeeding. Keep out of reach of children.
When using topically, avoid contact with eyes, nose, mouth, and other mucus membranes.
Safe to use topically with children ages 7 months and up. Dilute to a .5-2% dilution rate for topical application. Click here to learn more about using essential oils for kids.
Practice safe diffusing:
Diffuse in an open, well-ventilated area.
Keep children and pets out of the direct line of mist.
Diffuse in 30-60 minute intervals with ample break periods for safe and effective use.
Your trust and confidence are very important to us. As part of our S.A.A.F.E. Promise™, Rocky Mountain Oils offers GC/MS (Gas Chromatography/Mass Spectrometry) test results verified by a third-party, independent lab for every essential oil and essential oil blend in our catalog.
GC/MS tests verify the purity and quality of all Rocky Mountain Oils products, so you can be sure you're using the safest, highest-quality essential oils available on the market.
GC/MS Test: Click Here
For batch-specific GC/MS tests, click here.
Citronella Essential Oil FAQ
What is the main benefit of Citronella Essential Oil?

A very popular use of Citronella Oil is its ability to keep mosquitoes and other insects from biting. Although most people enjoy the herbal, citrusy scent, bugs can't stand it and studies indicate that Citronella is an effective, natural alternative to bug sprays like DEET. It can also deodorize, heal irritated skin, boost energy, and reduce stress.

Is Citronella Oil safe to breathe?

Citronella Oil may cause sensitivity or irritation if diffused directly in front of the face or in rooms without proper ventilation. Keep children and pets away from the direct line of mist. Diffuse in areas with plenty of airflow, and run your diffuser in cycles of 30-60 minute intervals. Allow for breaks in between to let the oil diffusion disperse.

Does Citronella keep mosquitoes away?

Yes, Citronella keeps mosquitoes and other insects away when used topically in a carrier oil. Research suggests that Citronella Oil for mosquitoes remains effective for up to 3 hours. However, this may be affected by air temperature and humidity as well as how often you sweat. When using Citronella Oil as a natural bug repellent, we recommend reapplying as soon as you notice the aroma has begun to fade.

How do I make a citronella oil mosquito repellent?

To make a citronella oil mosquito repellent, add 2-3 drops to a carrier oil and massage into exposed skin prior to going outside. You can also create a DIY bug spray by blending Citronella, FCO, and distilled water into a spray bottle, then misting it onto hats and clothes.

If you're making a mosquito repellant for kids, be sure to dilute the Citronella to a kid-safe .5-2% dilution rate. Do not use on children younger than 7 months old.

Citronella can also be used to make your own "bug off" candles or in a diffuser to keep mosquitoes from interrupting backyard barbecues, camping trips, day hikes, or other outdoor activities.

Is Citronella Oil safe to use on skin?

Citronella Oil is safe to use on skin when properly diluted in a carrier oil such as Jojoba or FCO. Always patch test prior to extensive topical use. To conduct a patch test, apply 1 drop to a small area of skin, then wait 15 minutes to see if irritation or sensitivity occurs. For using on kids' skin, dilute to a .5-2% rate. (Click here to learn more.)