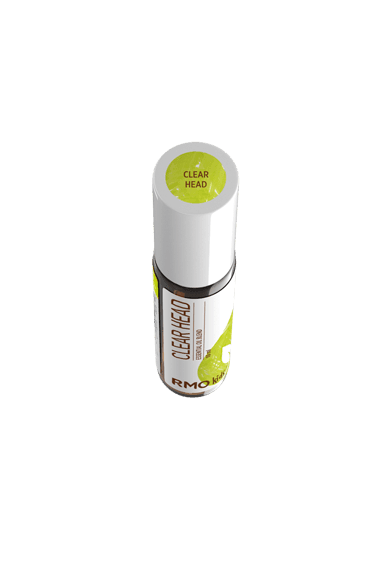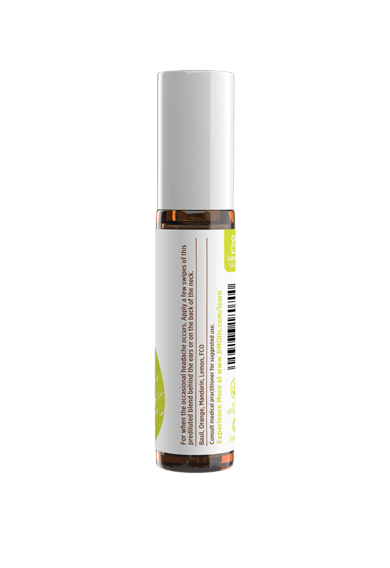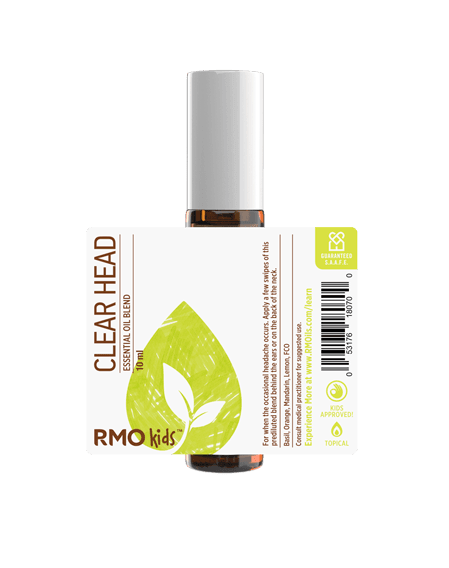 Clear Head Roll-on
GC/MS
TESTING
90 DAY
RETURNS
100% RECYCLED
PACKAGING
S.A.A.F.E
PROMISE
When headaches slow you down or your brain feels foggy, reach for our Clear Head Roll-on. Clear Head is a powerful roll-on that uses essential oils for anxiety, concentration, and memory. It has an uplifting and naturally energizing aroma that promotes mental clarity and relieves tension. 
Clear Head relaxing oil roll-on that uses pure Mandarin, Orange, Lemon, and Basil essential oils prediluted in a base of 98% Fractionated Coconut Oil. Because it's prediluted, this roll-on is safe for immediate topical use on adults and children ages 2 and up. It's perfect for kids who have trouble concentrating in school and helps calm emotional outbursts.
Try it for instant relief from mental fatigue, ADHD symptoms, tension headaches, or stress. This blend offers a calming, relaxing effect without making you feel sluggish or tired. The convenient 10ml roll-on container is travel-sized and fits easily into any backpack, purse, briefcase, or carry-on. 
Clear Head is also an excellent choice to use as a meditation blend. Inhale the gently focusing aroma to help turn the volume down on noisy thoughts and reduce distractions, allowing you to turn inward with deeper concentration. It's a great sensory aid for teaching children to meditate, too!
Apply to the forehead, temples, behind the ears, or the back of the neck to soothe aches and tension.
Inhale to relieve stress, depression, and mental fatigue, while promoting memory and concentration.
Use for natural, uplifting energy without a sugar or caffeine-crash.
Rub into the soles of the feet to boost the immune system and support cardiovascular health.
For topical use only. Do not use near eyes, mouth, nose, or mucus membranes. Always patch test prior to continuous use on the skin. Discontinue use if irritation occurs. May cause photosensitivity.
Kids Safety: Safe for kids ages 2 and up.
Your trust and confidence matter to us. As part of our S.A.A.F.E. Promise™ to you, Rocky Mountain Oils provides verified third-party GC/MS (Gas Chromatography/Mass Spectrometry) test results from an independent lab for every essential oil product in our collection.
GC/MS tests verify the quality and purity of every Rocky Mountain Oils product, which guarantees you're using the safest and highest quality essential oils and essential oil blends on the market.
To view the GC/MS test results for this roll-on, click here.
Clear Head Roll-on FAQ
Are citrus essential oils good for brain health?

Many essential oils promote brain health and cognitive function, including citrus oils like the Mandarin, Orange, and Lemon oils used in our Clear Head blend. Citrus oils offer a strong, bright aroma that stimulates the olfactory nerves, which connect to the limbic system in the brain which regulates emotion and memory. By inhaling the scent of citrus, you can help strengthen these neuropathways.

Does this Clear Head Roll-on help with headaches?

Yes! This essential oil stress relief roll-on can also help reduce the severity and duration of headaches, reduce tension, and relieve sinus pressure. To use for headaches, simply roll it onto the temples, forehead, or behind the ears. You can also apply the oil to your hands and massage it into the scalp.

Do citrus essential oils help hyperactivity and ADHD in kids?

Although citrus essential oils have an uplifting scent that can be energizing, these oils actually help reduce hyperactivity and ADHD symptoms in children. Our Clear Head calming roll-on promotes mental focus, concentration, and can help naturally lengthen attention span. Studies suggest that using essential oils in a peace and calming roll-on may be able to reduce the severity of ADHD or similar attention issues.

Is it safe to use Clear Head Roll-on on exposed skin?

This roll-on contains citrus essential oils (Mandarin, Orange, and Lemon) which are known to be phototoxic and may cause increased photosensitivity. If you're using topically on exposed skin, it may temporarily increase the risk of sunburn and UV damage. Be sure to use sun protection and avoid direct sunlight and tanning beds while using this product.