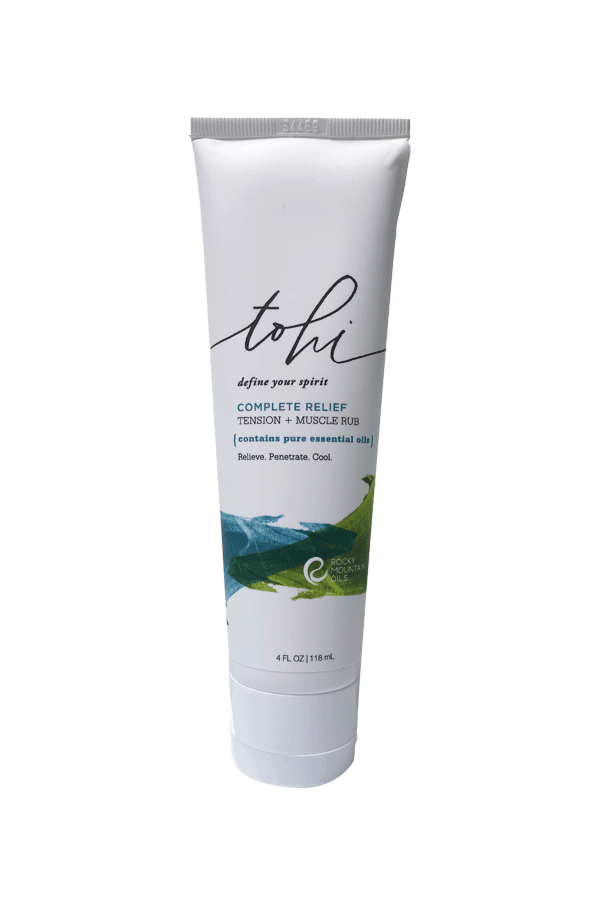 Tohi Complete Relief - Muscle Cream
90 DAY
RETURNS
100% RECYCLED
PACKAGING
S.A.A.F.E
PROMISE
Get fast, natural relief from aches and pains with Tohi Complete Relief Muscle Rub. It's the best cream for muscle pain relief, with a cooling-warming sensation that soothes and relaxes. Try it for everyday aches, injuries and strains, or muscle recovery after an intense workout.
This muscle cream is entirely natural and suitable for topical application on adults, containing no harsh chemicals or artificial fragrances. It leverages the therapeutic properties of two of nature's finest healing elements: Arnica, a potent herb that enhances the body's self-repair abilities, and Capsicum, an anti-inflammatory agent derived from hot peppers.
Capsicum, also known as capsaicin, increases blood flow while functioning as an analgesic to reduce pain. It can help treat back pain, pulled muscles, sprains, stiff joints, and arthritis. Studies indicate that patients who used capsicum in a cream for muscle pain experienced a significant reduction in symptoms and reported improved quality of life.
Tohi Complete Relief also uses a powerful blend of Peppermint, Eucalyptus, Clove, Ginger Root, Ylang Ylang, Camphor, Wintergreen, and Chamomile essential oils. These oils enhance its anti-inflammatory abilities and provide a cooling sensation from the natural menthol in Peppermint and Wintergreen. Add this relief cream to your first aid kid or medicine cabinet today to feel better, faster.
Directions: Apply topically and massage into the affected area for fast-acting pain relief.
Use up to 3 times per day to relieve body aches, sore muscles, stiff joints, and inflammation.
Wash hands thoroughly after each use to remove any residue.
Water, Methyl Salicylate, Menthol, Cinnamomum Camphora (Camphor) Bark Oil, Glycerin, Stearyl Alcohol, Cetearyl Alcohol, Capsicum Frutescens Extract, Steareth-21, Glyceryl Stearate, Behenyl Alcohol, Pentylene Glycol, Eucalyptus Globulus Leaf Oil, Mentha Piperita (Peppermint) Oil, Steareth-2, Ψ Mentha Arvensis Leaf Oil, Gaultheria Procumbens (Wintergreen) Leaf Oil, Stearyl Phosphate, Benzyl Alcohol, Hydroxyacetophenone, Zingiber Officinale (Ginger) Root Oil, Carbomer, Eugenia Caryophyllus (Clove) Leaf Oil, Cananga Odorata Flower Oil, Sodium Phytate, Arnica Montana Flower Extract, Chamomilla Recutita (Matricaria) Flower Oil, Aloe Barbadensis Leaf Juice
Botanicals
Arnica- A powerful herb, arnica is used to relieve common aches and pains including bruising and swelling by speeding up the repair process.
Capsicum- Red, green and yellow bell peppers are rich in vitamin C, which helps protect cells from further damage, while antioxidants reverse signs of aging.
Essential Oils
Peppermint
Eucalyptus
Clove
Ginger
Ylang Ylang
Camphor
Wintergreen
Chamomile
For external use only. Do not ingest. Avoid contact with eyes, mouth, nose, and sensitive skin. Do not apply to broken or wounded skin. Do not use with a heating pad.
Wash hands immediately after application to remove any lingering residue. If skin irritation occurs, wash the product away with soap and water.
Not intended for use on children. Keep out of reach of children and pets.
Tohi Complete Relief - Muscle Cream FAQ
How do I use Tohi Complete Relief cream for muscle pain relief?

To use this cream for muscle pain relief, squeeze a small amount into your hand and apply to the affected area. Gently massage the muscle rub until you begin to feel its warming, cooling sensation soothe your aches and pains. Apply up to three times a day for relief. Wash hands after applying to remove any residual cream.

What essential oils are in the best cream for muscle pain?

For muscle pain relief, we recommend Peppermint, Wintergreen, Ginger, and Clove essential oils. These essential oils have natural anti-inflammatory properties that help reduce aches and pains. Peppermint and Wintergreen also contain menthol, which provides a cooling effect, while Ginger and Clove are "hot" oils that warm the body to release tension.

How often should I use a muscle tension cream?

If you're experiencing sore or aching muscles, use Tohi Complete Relief on the affected area up to three times per day. We do not recommend more than that, as minor skin irritation may occur. If sensitivity develops, wash the skin with soap and water to remove the muscle tension cream.

Is Tohi Complete Relief all natural?

Yes, our Tohi Complete Relief muscle rub is made from 100% natural ingredients and contains no harsh, artificial chemicals. The active ingredients in this muscle rub are essential oils and medicinal botanicals, which provide anti-inflammatory benefits to reduce pain.