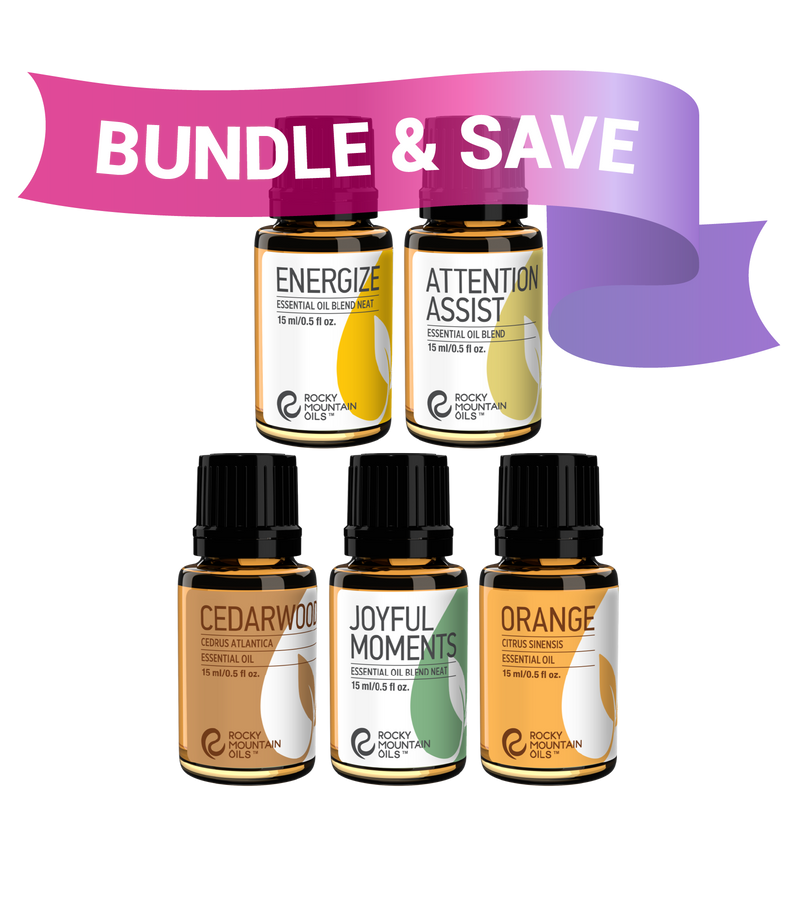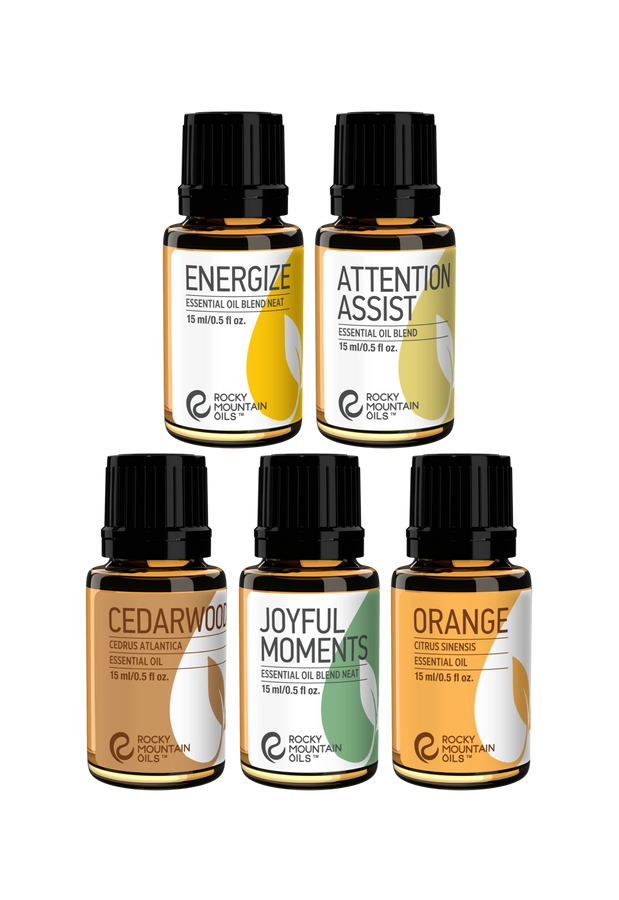 Concentration Essential Kit
GC/MS
TESTING
90 DAY
RETURNS
100% RECYCLED
PACKAGING
S.A.A.F.E
PROMISE
Sharpen your focus and enhance your concentration with the essential oils and blends in our Concentration Essential Kit. This kit includes one bottle of each of the following oils and blends: Attention Assist 15ml, Orange 15ml, Energize 15ml, Joyful Moments 15ml, and Cedarwood 15ml.
Our busy world can be full of distractions, but using essential oils can help you tune them out and focus on what's important. Using the essential oils and blends in Rocky Mountain Oils' Concentration Essential Kit can help you feel more grounded, relaxed, and mindful. 
These oils have rich, vibrant aromas that can enhance your concentration and help you feel more present in your daily tasks. Use them for deeper meditation, calming anxious thoughts, lifting brain fog, and more. Add to room sprays, apply topically, or simply inhale the focusing scents to improve your productivity. 
Our Concentration Essential Kit is perfect for students as well as adults who need help concentrating at work. Use it in your home office, study room, or any workspace. The essential oils and blends in this kit may also help naturally treat and manage symptoms of ADHD.
Use these essential oils for focus and concentration for work, studying, exams, creative projects, journaling, reading, or any time you need to pay closer attention to the task at hand.
Add Concentration Essential Kit blends to a room spray to freshen, deodorize, and clear stagnant energy. The uplifting aromas can help you feel more energized and improve mental clarity.
Add 2-3 drops of included pure Cedarwood Oil or pure Orange Oil to a waterless diffuser to enjoy in the car on your daily commute.
Apply oils to the forehead, neck, upper chest, or pulse points to feel refreshed, reset, and ready to focus.
Inhale the aromas of these essential oils during meditation, prayer, or other spiritual practices to allow yourself to connect more deeply to the present moment.
Add to homemade soaps, candles, deodorants, bath bombs, massage oils, or any other DIY household product.
Focus Enhancing Room Spray
Enhance your focus and concentration naturally with the uplifting, grounding aroma of essential oils in this refreshing room spray.
20-30 drops of your favorite oil from the Concentration Essential Kit
4 oz. distilled water
Instructions: Add oil and water to a 4oz. spray bottle, shake well, and mist generously in your home office, study room, or any space where you'd like to feel more focused.
Always dilute pure essential oils in a carrier oil before topical application and perform a patch test. To patch test, apply a small drop to one area of the skin, then wait 15 minutes to see if irritation or allergic reaction occurs.
Caution: Some of the essential oils in this kit may temporarily increase sensitivity to sun exposure.
Kids Safety: Click here to learn more about essential oil safety and children.
Keep out of reach of children and pets. Do not use if pregnant or breastfeeding.
Practice safe diffusing:
- Diffuse in an open, well-ventilated area.
- Keep children and pets out of the direct line of mist.
- Diffuse in 30-60 minute intervals with ample break periods for safe and effective use.
Note: If an essential oil blend is prediluted with a carrier oil such as FCO or Jojoba Oil, use in diffusers is not recommended.
As part of our S.A.A.F.E. Promise™ to you, we offer GC/MS (Gas Chromatography/Mass Spectrometry) test results from a verified, third-party independent lab for every essential oil product in our lineup.
GC/MS tests verify the quality and purity of our oils, which guarantees you're using the safest, purest, and highest quality products on the market.
To see the GC/MS test results for each essential oil in your Concentration Kit, click here.
Concentration Essential Kit FAQ
What are the best essential oils for focus and concentration?

The best essential oils for focus and concentration include Orange, Cedarwood, Vetiver, Frankincense, Lavender, Lime, Clove Bud, Spruce, Pine, Myrrh, Peppermint, and Cinnamon Bark. In our Concentration Essential Kit, you'll find each of these aromas in a pure oil or an oil blend.

How do I use essential oils to improve concentration?

To use essential oils for concentration, select an essential oil or blend that helps you feel grounded, calmer, and more alert. Apply 1-2 drops of the oil to your forehead or upper chest, then breathe mindfully and encourage your awareness to tune out anything except the aroma of the oil. This can help you feel centered and focused more sharply on the task at hand. Essential oils for focus also allow you to relax, de-stress, and turn down the volume on anxious thoughts and distractions.

Can Focus & Concentration essential oils help with ADHD?

The symptoms of attention deficit hyperactivity disorder (ADHD) manifest differently in different individuals. However, many essential oils are being studied for use in the natural treatment and management of ADHD. Essential oils can help calm the central nervous system, relax the body, quiet anxious thoughts, and help encourage you to slow down and be more present.

Individuals with ADHD may also be able to themselves to concentrate better by reserving specific essential oils for tasks like working or studying. This may create a new neuropathway that associates the aroma with focus, so inhaling the essential oil can encourage the user to enter "concentration mode."

Can I use the essential oils in this Concentration Kit on skin?

Many of the essential oil blends in our Concentration Kit are already prediluted with a carrier oil and ready for immediate topical use. Others, such as Orange and Cedar, are pure essential oils that need to be diluted to avoid skin sensitivity.

However, please note that Orange Essential Oil and some of the oils in our Concentration Kit blends may temporarily increase photosensitivity and may increase the risk of sun damage. Use with caution.