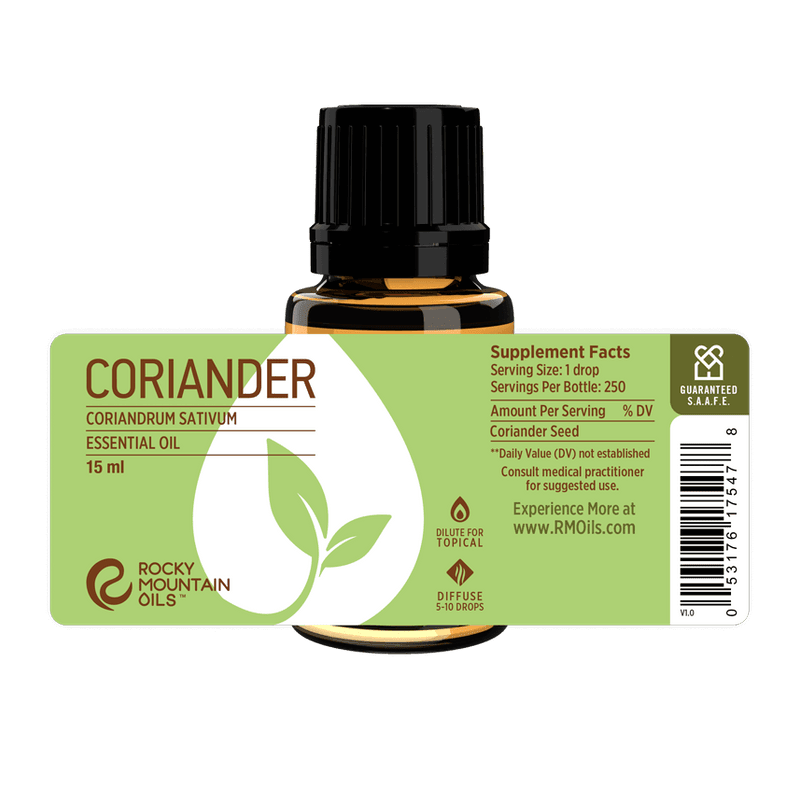 Coriander Essential Oil
GC/MS
TESTING
90 DAY
RETURNS
100% RECYCLED
PACKAGING
S.A.A.F.E
PROMISE
Heal, soothe, and balance your emotions with Coriander Essential Oil. Steam distilled from the seeds of the Coriander plant, this essential oil offers a grounding aroma that's woody, balsamic, and slightly spicy with a hint of earthy sweetness. It helps you feel calm and promotes mindfulness.
Also known as Cilantro or Chinese Parsley, you may be familiar with coriander seeds as an herb in your spice cabinet. As an essential oil, this ingredient offers anti-inflammatory benefits that make it an excellent choice for a wide variety of home remedies. Coriander oil is known to help naturally treat stomach aches, menstrual cramps, sore muscles, stiff joints, and respiratory illnesses. 
When you diffuse Coriander, you'll create an uplifting environment while purifying the air in your home. Coriander essential oil benefits include neutralizing odor-causing bacteria as well as germs and viruses that cause infection. Additionally, this essential oil acts as a natural expectorant that loosens phlegm and mucus. Try it for relief from coughs, stuffy noses, and sinus congestion.
There are also many benefits of Coriander oil for hair, skin, and nails. When diluted with a carrier oil or added to your personal care products, you can use Coriander essential oil topically to fade scars, reduce visible signs of aging, reverse sun damage, and more.
Coriander Essential Oil is part of the Relief and Mood collections.
---
The statements contained herein have not been evaluated by the Food and Drug Administration. Neither Rocky Mountain Oils nor its products are intended for the purpose of diagnosing, treating, curing or preventing any disease. If you are pregnant, nursing, taking medication, or have a medical condition, consult your physician before using these products.
Diffuse to help promote a happier mood while reducing stress, anxiety, and irritability. Coriander essential oil uses for aromatherapy also includes strengthening memory recall, lifting brain fog, and inspiring self-confidence.
Dilute with a carrier oil, then apply to the face as a natural emollient moisturizer that smooths, softens, and tones the skin while healing acne, eczema, and more.
Use to treat fungal infections like Athlete's Foot and toenail fungus.
Dilute with a carrier oil, then massage into the skin to reduce inflammation and relieve pain from arthritis, muscle injury, headaches, and more.
Use on the lower abdomen for relief from upset stomach, nausea, indigestion, gas and bloating, constipation, menstrual cramps, or other gastrointestinal issues.
Diffuse to eliminate odor-causing bacteria, germs, and environmental pollutants while promoting respiratory health and strengthening the immune system.
Coriander Hydrating Face Mist
Hydrate and soothe dry, inflamed skin with this DIY face mist that offers Coriander essential oil benefits for healing.
10 drops Coriander
1 cup Water
Instructions: Add oil and water to a fine-mist spray bottle, then shake to combine. Shake again before each use. Gently mist onto a clean face (with eyes closed), then allow your skin to absorb the spray and follow with your regular daily moisturizer.
Always dilute prior to topical application. Avoid contact with mucous membranes, eyes, and the inside of the mouth, nose, and ears. Do not ingest. Do not use while pregnant or breastfeeding.
Kids Safety: Safe to use topically with children ages 7 months and up. Dilute to a .5-1% dilution rate for topical application.
Tips for Safer Diffusing:
Diffuse in an open, well-ventilated area.
Keep children and pets out of the direct line of mist.
Diffuse in 30-60 minute intervals, with ample break periods for safe and effective use.
At Rocky Mountain Oils, your trust and confidence matter to us. As part of our S.A.A.F.E. Promise™, we offer third-party verified GC/MS (Gas Chromatography/Mass Spectrometry) test results from an independent lab for every essential oil and blend in our line.
GC/MS tests verify the purity and quality of our essential oils, so you can be sure you're using the safest, highest-quality essential oils available today.
GC/MS Test: Click Here
For batch-specific GC/MS tests, click here.
Coriander Essential Oil FAQ
What does Coriander essential oil smell like?

Coriander essential oil has a strong, peppery aroma that's herbal and slightly sweet, with woody undertones that present a hint of fruit. This aroma is generally considered bright and uplifting, and is known to promote a sense of joy and cheerfulness.

What are the benefits of Coriander oil for hair?

Coriander essential oil benefits for hair include stimulating new hair growth at the roots and strengthening hair follicles, which slows hair loss and promotes thicker, more voluminous hair. Coriander oil also controls dandruff and excess oil production, soothes dry and itchy scalps, de-tangles and de-frizzes, and repairs damage caused by harsh chemicals or environmental toxins. You can also mix a few drops of Coriander oil with baking soda or cornstarch to use as a deodorizing, de-greasing dry shampoo.

Can I put Coriander essential oil on my skin?

Before using Coriander essential oil on your skin, make sure to dilute it with a carrier oil and perform a patch test to confirm you are not allergic. To patch test, apply a tiny amount of oil to one area of the skin, then wait for approximately 15 minutes to make sure irritation or allergic reaction does not occur. In addition to using Coriander oil with carrier oils, you can also mix a few drops into your regular skin cleanser, moisturizer, or body lotion.

Is Coriander essential oil safe for dogs and cats?

Coriander essential oil is considered safe for dogs. However, always keep oil out of reach of pets and do not allow your dog to lick or ingest the oil. Before using Coriander oil on your dog, we recommend consulting a pet aromatherapist and speaking to your veterinarian.

When using essential oils for dogs, always monitor your pet closely for any signs of distress or behavioral changes. If you animal appears ill, discontinue use immediately and call your vet.

Coriander essential oil is not safe for cats. Do not diffuse near your cat's bed, food bowls, litter boxes, or anywhere your cat may knock over the diffuser or bottle and accidentally become exposed to the oil.