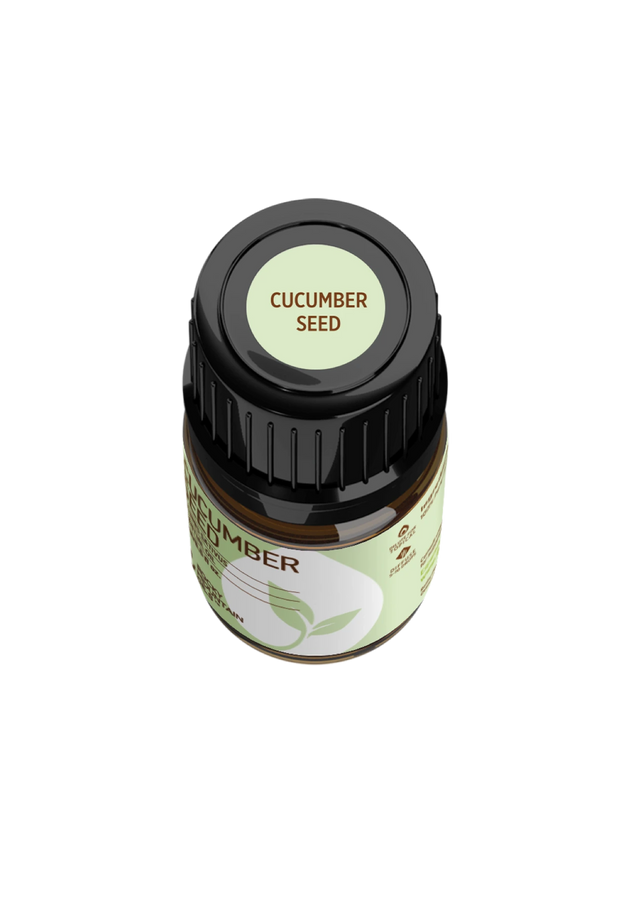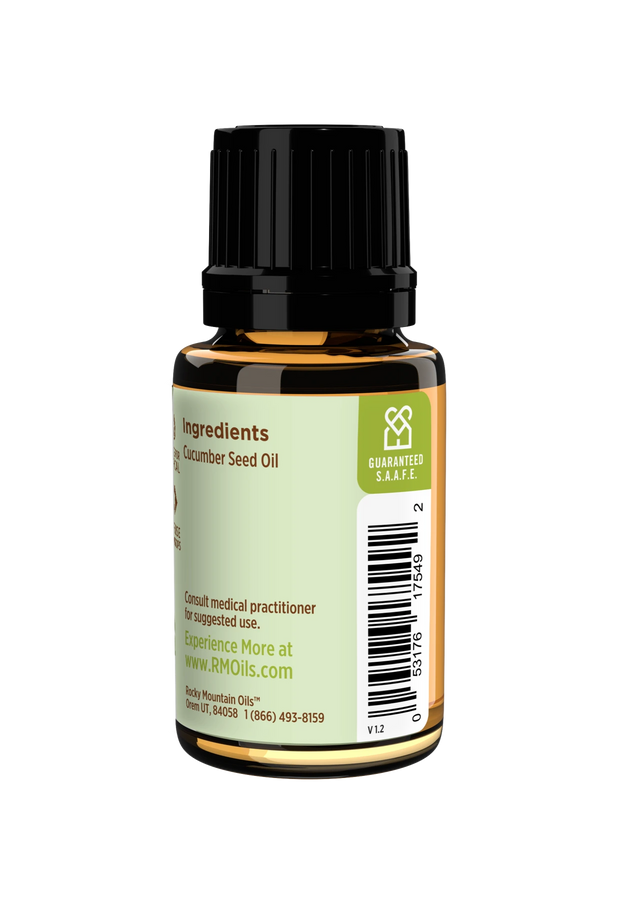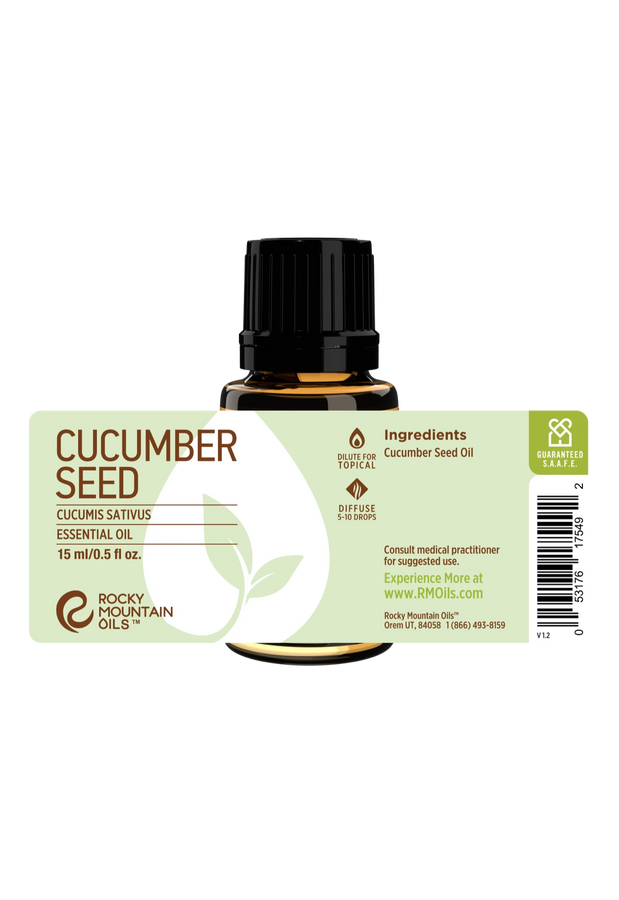 Cucumber Seed Oil
GC/MS
TESTING
90 DAY
RETURNS
100% RECYCLED
PACKAGING
S.A.A.F.E
PROMISE
Balance and hydrate your skin with the soothing, cooling properties of Cucumber Seed Essential Oil. Made by cold pressing cucumber seeds, this essential oil offers a gentle aroma that's herbal, earthy, and invigorating. It's highly sought-after for skincare and beauty, but offers a variety of other wellness and aromatherapy benefits.
Like many seed oils, Cucumber Seed essential oil is rich in omega fatty acids that help replenish moisturize and heal the skin. This essential oil has medicinal properties that reduce inflammation and redness while repairing cells damaged by too much sun exposure. WHen used topically with a carrier oil, Cucumber Seed helps you achieve a radiant, youthful glow.
Other Cucumber Seed oil benefits include its ability to act as a natural diuretic, which promotes kidney health and helps your body flush out toxins. Additionally, its anti-inflammatory properties help relieve sore muscles and stiff joints. It also supports gut health, immunity, and respiratory health.
Try diffusing Cucumber Seed oil to neutralize odor-causing bacteria and eliminate viruses, mold spores, fungi, allergens, or environmental pollutants. The grounding scent of Cucumber Seed oil also promotes mental clarity, deep concentration, and emotional stability.
Cucumber Seed Essential Oil is part of Rocky Mountain Oils Skin Care collection.
---
The statements contained herein have not been evaluated by the Food and Drug Administration. Neither Rocky Mountain Oils nor its products are intended for the purpose of diagnosing, treating, curing or preventing any disease. If you are pregnant, nursing, taking medication, or have a medical condition, consult your physician before using these products.
Dilute with a carrier oil or add a few drops to your regular facial cleanser or moisturizer for deeper hydration, healing, and anti-aging benefits.
Use with a carrier oil to heal sunburns, bug bites, or other minor injuries to the skin while antimicrobial benefits help prevent infection.
Massage into the lower abdomen for relief from stomach aches, gas, bloating, constipation, nausea, cramps, or other digestive issues while supporting gut health.
Apply to the soles of the feet to absorb anti-inflammatory benefits, increase circulation, and strengthen the immune system.
Add a few drops to a warm bath for a soothing muscle soak to release tension held in the body and help reduce inflammation in stiff joints or muscle injuries.
Diffuse to purify the air in your space, support respiratory health, and create a grounding atmosphere that promotes safety and stability.
Cooling Cucumber Face Mist
Hydrate and refresh your skin with this gentle, cooling face mist made with anti-inflammatory Cucumber Seed oil and invigorating, soothing Peppermint.
1 tablespoon Cucumber Seed oil
5 drops Peppermint
½ cup Distilled Water
2 tablespoons Witch Hazel
Instructions: Add all ingredients to a clean spray bottle with a fine-mist nozzle and shake well to combine. Shake again before each use. Spritz onto the face and neck as desired. Store in a cool, dark place.
Always dilute prior to topical application. Avoid contact with mucous membranes, eyes, and the inside of the mouth, nose, and ears. Do not ingest. Do not use while pregnant or breastfeeding.
Kids Safety: Safe to use topically with children ages 7 months and up. Dilute to a .5-1% dilution rate for topical application.
Tips for Safer Diffusing:
Diffuse in an open, well-ventilated area.
Keep children and pets out of the direct line of mist.
Diffuse in 30-60 minute intervals, with ample break periods for safe and effective use.
At Rocky Mountain Oils, your trust and confidence matter to us. As part of our S.A.A.F.E. Promise™, we offer third-party verified FAMES (Fatty Acid Methyl Esters) test results from an independent lab for every essential oil and blend in our line.
FAMES tests verify the purity and quality of our essential oils, so you can be sure you're using the safest, highest-quality essential oils available today.
FAMES Test: Click Here
For batch-specific FAMES tests, click here.
Cucumber Seed Oil FAQ
Is Cucumber Seed essential oil edible?

No. Cucumber Seed essential oil is for external use only and should not be ingested. Although we use the highest quality essential oils available anywhere on the market, essential oils are not recommended for internal use due to their high concentration. To enjoy the benefits of Cucumber Seeds in foods or beverages, we suggest visiting your local grocery store or farmer's market to buy fresh cucumber.

What are the benefits of Cucumber Seed oil for face?

When you use Cucumber Seed oil for face, it has cooling properties that reduce inflammation and redness while healing blemishes and skin conditions such as acne, psoriasis, and eczema. Cucumber Seed oil may also help stimulate collagen production and restore the skin's natural oil (sebum) balance. Over time, this essential oil will help give you brighter, more radiant and youthful-looking skin.

What are Cucumber Seed Oil benefits for hair?

Cucumber Seed oil benefits for hair include nourishing and hydrating the scalp, reducing excess shedding, strengthening follicles and stimulating new hair growth at the root, de-frizzing and de-tangling, soothing dry or itchy scalps, and controlling dandruff. You can also mix a few drops of Cucumber Seed essential oil with a tablespoon of baking soda or cornstarch to make a refreshing, bacteria-eliminating DIY dry shampoo.

What vitamins are in Cucumber Seed essential oil?

Cucumber Seed essential oil is a rich source of vitamins E, C, and K. It also contains B vitamins such as thiamine, riboflavin, niacin, and pantothenic acid. Together, these healing compounds help nourish skin, hair, and nails, while reducing inflammation and supporting digestive health.