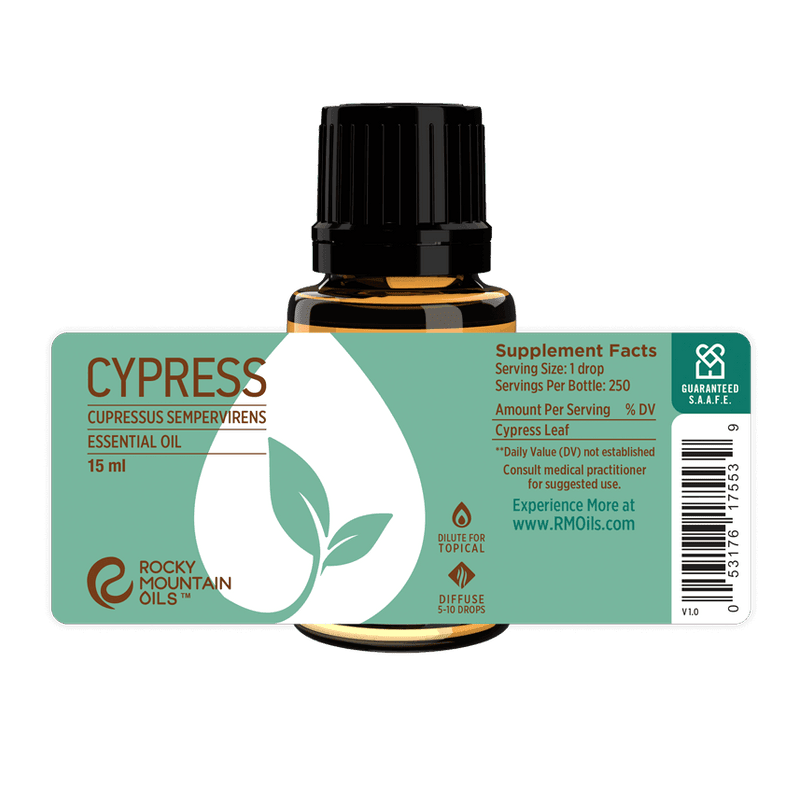 Cypress Essential Oil
GC/MS
TESTING
90 DAY
RETURNS
100% RECYCLED
PACKAGING
S.A.A.F.E
PROMISE
Ground and uplift with the clean, evergreen fragrance of Cypress Essential Oil. Also known as Mediterranean Cypress, this essential oil is steam distilled from the pine needles of the Cupressus sempervirens tree and evokes the warm embrace of a verdant forest. Its aroma is woody, earthy, and slightly smoky.
A rich source of anti-inflammatory compounds, Cypress essential oil can function as a topical antispasmodic that releases muscle tension while promoting cardiovascular health. It also has coagulant properties to control excess bleeding. This benefit of Cypress essential oil makes it a powerful healing agent for first-aid balms and other home remedies. 
When you diffuse Cypress in your home, office, or other space, you'll purify the air from germs and pollutants while creating a tranquil atmosphere that helps with stress and depression. Cypress aromatherapy uses include boosting memory recall, increasing focus and concentration, and helping with mood imbalances.
Enjoy Cypress essential oil to feel more connected with the earth while sanitizing your home. It's perfect for DIY products like homemade candles, soaps, bath bombs, skincare, haircare, and room sprays. The deep, woody scent of Cypress is also highly popular with men and makes a great selection for men's personal care products.
---
The statements contained herein have not been evaluated by the Food and Drug Administration. Neither Rocky Mountain Oils nor its products are intended for the purpose of diagnosing, treating, curing or preventing any disease. If you are pregnant, nursing, taking medication, or have a medical condition, consult your physician before using these products.
Dilute with a carrier oil, or add a few drops to your daily cleanser or moisturizer, to tone and brighten the skin, shrink pores, treat acne, and promote a more youthful complexion.
Diffuse to fill your home, office, car, or any space with tranquility and grounding energy while purifying the air of odor-causing bacteria, pollutants, allergens, and mold spores.
Use as a DIY massage oil or inhale to calm the central nervous system and help your body relax from fight-or-flight mode.
Apply topically with a carrier oil to promote blood flow, cardiovascular health, and naturally treat conditions like varicose veins and hemorrhoids. Cypress also helps with digestive issues and PMS symptoms when applied to the abdomen.
Add to DIY soaps, candles, deodorants, hand sanitizers, and home cleaning products to neutralize germs, repel insects, and spread fresh, calming fragrance.
Cypress Bath Soak
Soothe sore muscles, reduce stress, and feel deeply relaxed with this healing bath soak that offers the calming benefit of Cypress essential oil.
3-5 drops Cypress
1 cup Epsom Salt
Instructions: Mix oil and Epsom salt together, then draw a warm bath and pour the mixture into the running water. Gently stir with your hand to make sure the salt dissolves. Soak for 30-40 minutes as desired.
Botanical Name: Cupressus sempervirens
Country of Origin: India/France/Spain*
Extraction Method: Steam Distilled
Plant Part: Needels
Aroma: Herbal, Woody
Consistency: Thin
*Some of our oils have multiple countries of origin. To confirm which country your specific bottle of oil originates from, please click here to consult its GC/MS test.
Blends Well With: Cedarwood, Eucalyptus, Lavender, Lemon, Orange, Peppermint, Pine, Sandalwood, Ylang Ylang
Popular Cypress Blends: Tummy Rub, The Secret, Relieve Me, Skin Tone, Throat Chakra, Perspective, DNA Harmony
Always dilute and patch test prior to topical application. Avoid contact with mucous membranes, eyes, and the inside of the mouth, nose, and ears. Do not ingest. Do not use while pregnant or breastfeeding.
Kids Safety: Safe to use topically with children ages 7 months old and up. Dilute to a .5-1% dilution rate for topical application.
Tips for Safe Diffusing:
Diffuse in a well-ventilated area with plenty of airflow.
Diffuse in 30-60 minute intervals, with ample break periods for safe and effective use.
Keep children and pets out of the direct line of mist.
At Rocky Mountain Oils, your trust and confidence matter to us. As part of our S.A.A.F.E. Promise™, we offer third-party verified GC/MS (Gas Chromatography/Mass Spectrometry) test results from an independent lab for every essential oil and blend in our line.
GC/MS tests verify the purity and quality of our essential oils, so you can be sure you're using the safest, highest-quality essential oils available today.
GC/MS Test: Click Here
For batch-specific GC/MS tests, click here.
Cypress Essential Oil FAQ
What does Cypress essential oil smell like?

Cypress essential oil has a woody aroma that's smoky, dry, and earthy. It evokes a feeling of security and strength while calling to mind the quiet solemnity of a grove of sturdy trees. Although anyone can enjoy the aroma of Cypress, it's considered a masculine essential oil that is often used in men's colognes, beard oils, deodorants, and body washes. This scent is an excellent choice for nature fans and anyone who loves the outdoors.

Can I use Cypress oil for skin?

Yes, when properly diluted with a carrier oil, you can apply Cypress directly to the skin for anti-inflammatory healing benefits. The benefits of Cypress oil for skin include treating acne and blemishes, exfoliating dead skin cells, reducing the appearance of pores, fine lines, and wrinkles, and stimulating collagen production for a plumper and more youthful look. Try adding a few drops of Cypress to your regular cleanser or moisturizer to add more hydration.

Does Cypress essential oil help with bleeding?

Cypress essential oil is known to have natural coagulant properties that may promote blood clotting and help control excess bleeding. Try dabbing a small amount of Cypress (diluted with a carrier oil) to reduce bleeding in small wounds, such as paper cuts or razor nicks from shaving. However, if you are experiencing a major injury resulting in blood loss or have a medical condition such as hemophilia, please consult your doctor immediately before using essential oils.

Does Cypress keep bugs away?

Yes! Cypress trees are rich in compounds that naturally repel insects. In fact, many people use Cypress mulch in their yards and gardens as an organic insect repellent. By diffusing Cypress essential oil or using it topically with carrier oil, you can keep away pesky insects like mosquitoes, flies, ticks, fleas, and more.