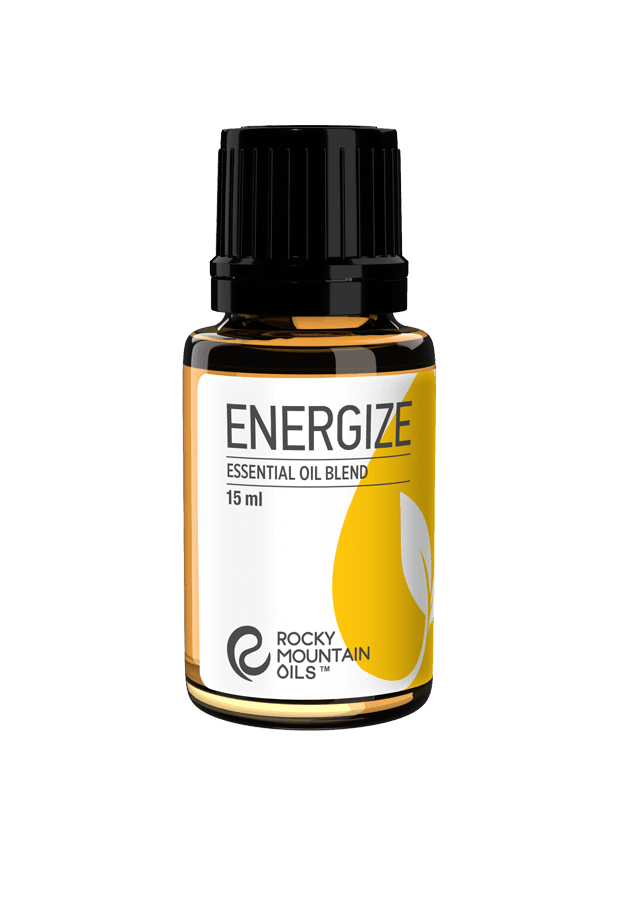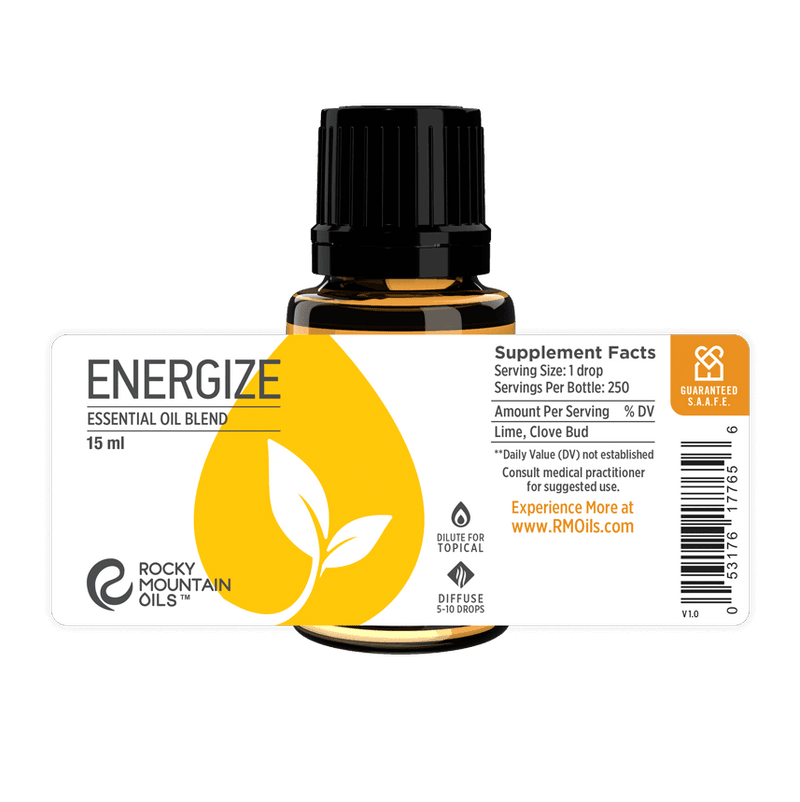 Energize Essential Oil Blend
GC/MS
TESTING
90 DAY
RETURNS
100% RECYCLED
PACKAGING
S.A.A.F.E
PROMISE
Recharge your batteries and feel invigorated with our Energize Essential Oil Blend. Energize is a vibrant combination of pure Lime and Clove Bud, two naturally energizing essential oils that put more pep in your step and help you feel motivated to take on the day.
Energize has a crisp, clean, slightly sharp aroma that's citrusy and spicy. Diffusing or inhaling this energy essential oil blend helps awaken your senses and stimulate the mind. It refreshes and revitalizes so you can boost your productivity, concentrate more clearly, and avoid afternoon slumps. 
Use it to clear brain fog, release anxious thoughts, and balance your circadian rhythm. It's an excellent blend for travelers who experience frequent jet lag or anyone who struggles with early mornings. Try diluting Energize with a carrier oil, then apply to the forehead, temples, or pulse points to surround yourself with its vibrant aroma. You can also keep a bottle in your briefcase, backpack, or purse and inhale as needed for a quick burst of essential oil for energy anytime you feel tired.
Thanks to the anti-inflammatory and antimicrobial properties of Lime and Clove Bud, this essential oil blend also helps purify the air and support the immune system. Use Energize to eliminate germs and keep colds and flus from slowing you down. It makes a great addition to DIY hand sanitizers, deodorants, room sprays, cleansers, linen sprays, and more.
---
The statements contained herein have not been evaluated by the Food and Drug Administration. Neither Rocky Mountain Oils® nor its products are intended for the purpose of diagnosing, treating, curing, or preventing any disease. If you are pregnant, nursing, taking medication, or have a medical condition, consult your physician before using these products. 
Dilute with a carrier oil, then apply to the forehead, temples, or pulse points to help you wake up and feel refreshed.
Diffuse in the mornings or afternoons when you need an energizing essential oil blend pick-me-up.
Use this blend to reduce mental fatigue, clear brain fog, and enhance focus for increased productivity and motivation.
Inhale or apply topically to help you resist caffeine cravings or sugar cravings.
Use in the winter to relieve seasonal affective disorder and feel more energized on dark, cold mornings.
Diffuse or apply topically to help reset your circadian rhythm when you experience jet lag or other disruptions to your daily routine.
Use for aromatherapy, DIY products, solar plexus chakra meditations, and more.
Awaken Your Mind Room Spray
Clear stagnant energy and invite refreshing, invigorating vibes into your space with this deodorizing room spray that clarifies the mind while uplifting your energy levels.
50 drops Energize Blend
20 drops Cinnamon Bark
4 ounces Distilled Water
Instructions: Combine all ingredients in a 4-ounce spray bottle. Shake well to combine, and shake again before each use. Liberally mist around the room as needed to help freshen the air and stimulate the mind.
Always dilute with a carrier oil and patch test prior to extensive use on the skin. Do not use while pregnant or breastfeeding. For external use only, do not ingest.
WARNING: This blend contains Clove Bud essential oil, which is considered a "hot" oil and can cause skin irritation, as well as Lime essential oil, which may temporarily increase photosensitivity. Avoid sun exposure if using topically.
Kids Safety: Safe for use on kids ages 10 years old and above. Dilute in a carrier oil to a .5-1% dilution rate and patch test prior to topical use on children. Click here to learn more about using essential oils safely with kids.
Practice Safe Diffusing:
- Diffuse in an open, well-ventilated area.
- Keep children and pets out of the direct line of mist.
- Diffuse in 30-60 minute intervals with ample break periods.
As part of our S.A.A.F.E. Promise™ to you, Rocky Mountain Oils provides verified third-party GC/MS (Gas Chromatography/Mass Spectrometry) test results from an independent lab for every essential oil product in our collection.
GC/MS tests verify the quality and purity of every Rocky Mountain Oils product, which guarantees you're using the safest and highest quality essential oils and essential oil blends on the market.
To view the GC/MS test results for your essential oil blend, click here.
Energize Essential Oil Blend FAQ
What essential oil gives energy?

If you're looking for the best essential oil for energy, try Lime or Clove Bud– or our Energize Blend, which combines them both! These two essential oils help stimulate the mind and body, reduce fatigue, and curb caffeine cravings. Try them in an energizing essential oil blend like Energize to get through early mornings or post-lunch afternoon slumps.

How do I use energizing essential oils?

We recommend using energizing essential oils topically or in a diffuser. To use topically, dilute them with a carrier oil such as FCO, then apply to the temples, forehead, or pulse points. For diffusing, add 3-4 drops to your favorite diffuser and diffuse for 30-60 minute intervals in a well-ventilated area. Bask in the uplifting, stimulating aroma of the essential oils and allow them to reinvigorate you when you need more energy.

Do essential oils help you wake up?

Yes, using an essential oil for energy can help you wake up earlier and shake off grogginess. Essential oils can also help with jet lag, seasonal affective disorder, or other situations that affect your circadian rhythm. When you need to reduce mental fatigue and feel recharged, an essential oil for energy is a great alternative to caffeinated beverages like coffee and energy drinks.

Can kids use essential oil for energy?

Yes, this energizing essential oil blend is safe for older kids ages 10 and up. Dilute in a carrier oil to a .5-1% dilution rate and patch test prior to topical use on children. For more information abous using essential oils with children, click here.