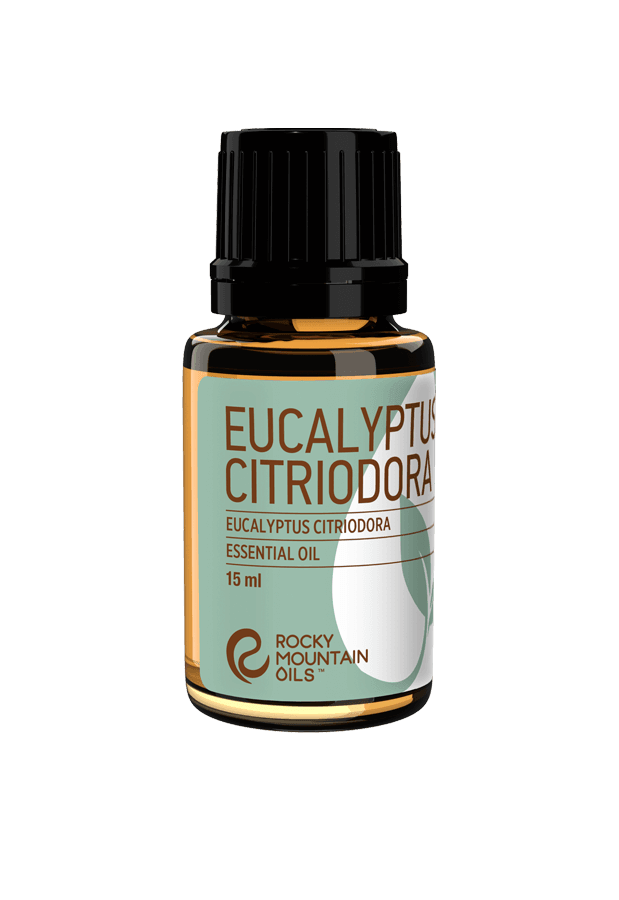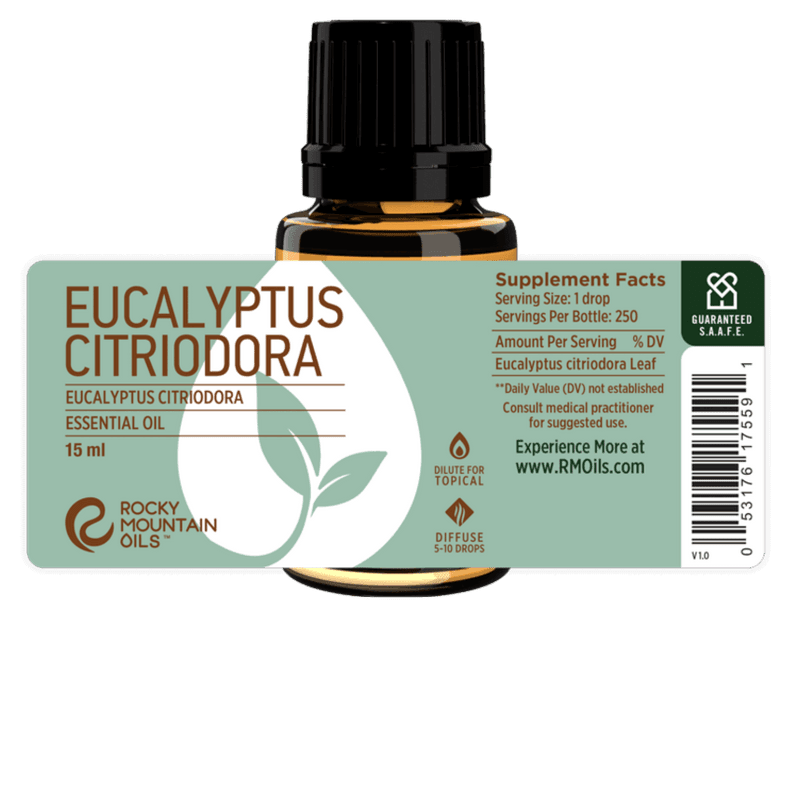 Eucalyptus citriodora Essential Oil - Eucalyptus Essential Oil
GC/MS
TESTING
90 DAY
RETURNS
100% RECYCLED
PACKAGING
S.A.A.F.E
PROMISE
Breathe easier and feel relief from stress and anxiety with Eucalyptus Citriodora Essential Oil. Steam distilled from the leaves of its namesake tree, this variety of Eucalyptus oil is bright, lemony, and slightly floral. It offers an invigorating aroma that heals and uplifts.
Eucalyptus citriodora essential oil uses include lung health and respiratory support. The cooling, menthol-like camphorous effect of this essential oil acts as a natural decongestant and expectorant. It loosens mucus and phlegm in the lungs while promoting blood flow to the airways to allow you to breathe easier. Try diffusing or inhaling Eucalyptus citriodora oil when experiencing asthma, allergies, colds, respiratory viruses, or bronchitis.
Eucalyptus Essential Oil boasts versatile properties, functioning as an effective antibacterial, antifungal, and insect-repelling agent. Incorporate a few drops of Eucalyptus citriodora into your DIY home care concoctions, such as soaps, detergents, and wood polish, to instill a refreshing, clean ambiance within your living space. This remarkable oil not only combats odor-causing germs but also addresses and prevents mold and mildew issues. Moreover, it establishes a natural barrier to deter bothersome insects like mosquitoes from infiltrating your surroundings.
When diluted with a carrier oil, Eucalyptus citriodora can be used as an anti-inflammatory, anti-aging skincare treatment for a younger-looking, radiant complexion. It can also be applied to the scalp to prevent and treat dandruff, restore moisture, and promote new hair growth.
---
The statements contained herein have not been evaluated by the Food and Drug Administration. Neither Rocky Mountain Oils nor its products are intended for the purpose of diagnosing, treating, curing or preventing any disease. If you are pregnant, nursing, taking medication, or have a medical condition, consult your physician before using these products.
Diffuse or inhale to help relieve respiratory issues like coughs, colds, and congestion. Helps naturally treat asthma, allergies, and other respiratory issues.
Dilute with a carrier oil and massage into inflamed or aching areas to relieve pain, stiffness, and swelling.
Mix 10-15 drops with 1 cup water, ¼ cup vinegar, and 5 drops lemon essential oil to create a DIY home cleaning spray that sanitizes and deodorizes.
Mix a few drops with water and spray around your home to repel insects, or apply directly to exposed skin and clothes before going outdoors.
Add to skincare and haircare products, or apply with a carrier oil, to hydrate, nourish, and repair damaged skin and hair.
Eucalyptus Aromatherapy Face Steam
Open congested airways and feel relief from colds, flu, and bronchitis while promoting healthier skin by inhaling this soothing steam.
3-5 drops Eucalyptus citriodora
Hot water
A clean bowl
A clean towel or cloth
Instructions: Add hot water and oil to a bowl, then loosely drape a towel or cloth over your head and lower your face until you are 6"-8" from the bowl. Gently breathe the steam for 5-10 minutes.
Botanical Name: Eucalyptus citriodora
Country of Origin: India/China*
Extraction Method: Steam Distilled
Plant Part: Leaf
Aroma: Spicy, Herbal, Lemony
Consistency: Thin
Blends Well With: Cedarwood, Coriander, Eucalyptus Radiata, Frankincense Serrata, Lavender, Pine, Ravintsara, Rosemary, Tea Tree
Popular Eucalyptus citriodora Blends: Immune Strength, Revitalize, Breathe Ease
*Some of our oils have multiple countries of origin. To confirm which country your specific bottle of oil originates from, please click here to consult its GC/MS test.
Always dilute prior to topical application. Avoid contact with mucous membranes, eyes, and the inside of the mouth, nose, and ears. Do not ingest. Do not use it while pregnant or breastfeeding.
Kids Safety: Safe to use topically with children ages 2 years old and up. Dilute to a .5-2% dilution rate for topical application.
Tips for Safer Diffusing:
Diffuse in an open, well-ventilated area.
Keep children and pets out of the direct line of mist.
Diffuse in 30-60 minute intervals, with ample break periods for safe and effective use.
At Rocky Mountain Oils, your trust and confidence matter to us. As part of our S.A.A.F.E. Promise™, we offer third-party verified GC/MS (Gas Chromatography/Mass Spectrometry) test results from an independent lab for every essential oil and blend in our line.
GC/MS tests verify the purity and quality of our essential oils, so you can be sure you're using the safest, highest-quality essential oils available today.
GC/MS Test: Click Here
For batch-specific GC/MS tests, click here.
Eucalyptus citriodora Essential Oil - Eucalyptus Essential Oil FAQ
What is the difference between Eucalyptus citriodora and Eucalyptus radiata?

There are multiple subspecies of Eucalyptus tree, but the two most popular varieties for essential oils are Eucalyptus citriodora and Eucalyptus radiata. Both Eucalyptus essential oils have anti-inflammatory properties, support respiratory health, and can be used as a topical analgesic to soothe pain. The primary difference between Eucalyptus citriodora and Eucalyptus radiata is the scent. Eucalyptus citriodora has a stronger, more lemony scent, while Eucalyptus radiata is softer, earthier, and more subtle.

Does Eucalyptus citriodora essential oil repel insects?

Yes, Eucalyptus citriodora essential oil benefits include repelling pesky insects like mosquitoes, flies, fleas, ticks, and bed bugs. This essential oil has natural compounds that keep insects from biting, functioning similarly to Citronella essential oil. It's a great addition to DIY bug off blends or it can be used as an alternative for people who are sensitive to Citronella.

How to use Eucalyptus citriodora oil for chest congestion?

To use Eucalyptus citriodora oil for chest congestion, dilute it with a carrier oil and apply directly to the upper chest, shoulders, neck, or forehead. Allow the soothing analgesic effect to increase blood flow to the affected area, while the crisp, cool aroma opens your airways. Eucalyptus citriodora essential oil also functions as a natural expectorant, which means it loosens mucus and phlegm to help relieve coughs and sinus congestion. You can also massage Eucalyptus citriodora oil into the soles of the feet to absorb immunity-boosting health benefits.

What are Eucalyptus citriodora essential oil benefits for mood?

Eucalyptus citriodora essential oil benefits for mood include relieving stress and anxiety, depression, loneliness, and stabilizing emotional imbalances. The naturally invigorating scent helps clear brain fog and mental fatigue while enhancing focus and concentration. It allows you to release feelings of insecurity and self-doubt, supports creativity, and inspires greater motivation.