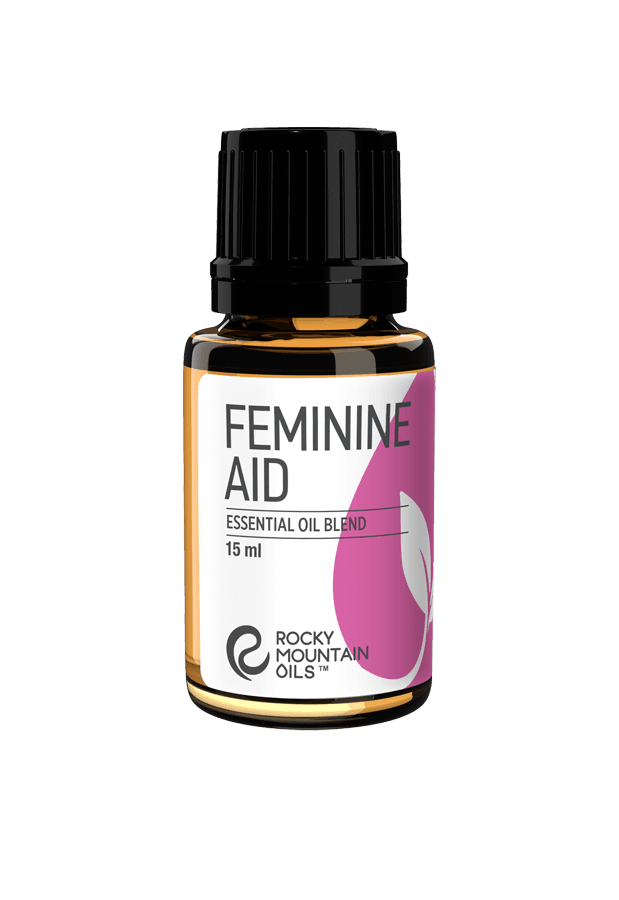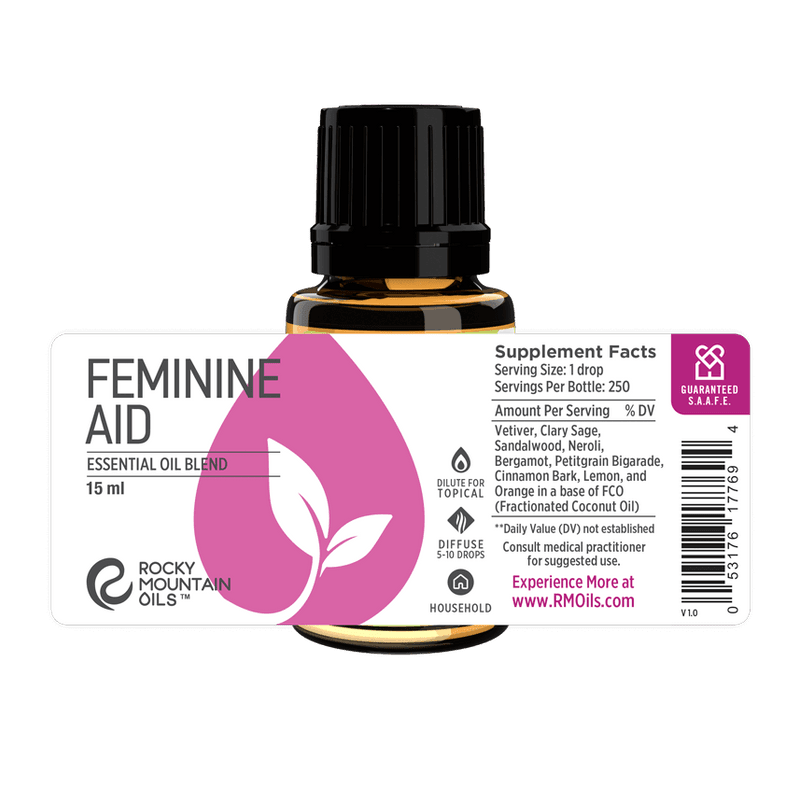 Feminine Aid Essential Oil Blend
GC/MS
TESTING
90 DAY
RETURNS
100% RECYCLED
PACKAGING
S.A.A.F.E
PROMISE
Balance your feminine energy and celebrate womanhood with our Feminine Aid Essential Oil Blend. Feminine Aid is a soft, elegant blend of floral aromas and healing oils designed to support the female body's unique needs and help you embrace your inner goddess. 
It's one of the most potent feminine essential oils blends, with Vetiver, Clary Sage, Sandalwood, Neroli, Bergamot, Petitgrain Bigarade, Cinnamon Bark, Lemon, and Orange oils prediluted in a base of Fractionated Coconut Oil. Because this blend is prediluted, it's ready for immediate topical use as a natural perfume or soothing massage oil. 
Feminine Aid offers a bright, alluring scent that's floral and citrusy, with just a hint of spicy sweetness. It's energizing, grounding, and helps you overcome mental and physical fatigue while balancing hormonal mood swings. Try it for PMS as well as perimenopause, menopause, or postmenopause symptoms.
Thanks to the anti-inflammatory properties of the essential oils, as well as the gentle warming effect of Cinnamon Bark, this blend is also a perfect way to relieve menstrual cramps, bloating, constipation, or other feminine discomforts. Feminine Aid also helps you connect with your lunar energy for healing meditations and energy work.
---
The statements contained herein have not been evaluated by the Food and Drug Administration. Neither Rocky Mountain Oils® nor its products are intended for the purpose of diagnosing, treating, curing, or preventing any disease. If you are pregnant, nursing, taking medication, or have a medical condition, consult your physician before using these products. 
Massage into the abdomen or lower back to relieve menstrual cramps, bloating, constipation, or other discomfort.
Rub 1-3 drops into the soles of the feet for anti-inflammatory and hormonal balancing benefits to assist with PMS, as well as perimenopause, menopause, and postmenopausal symptoms.
Add a drop to the neck, décolletage area, or wrists for a natural perfume that enhances feminine energy and promotes positivity.
Inhale as needed for quick relief from anxious thoughts or overwhelming stress.
Use for self-care rituals like baths, sensual massage, or meditation.
PMS Relief Massage Cream
When cramps, bloating, fatigue, or other PMS symptoms interrupt your day, get natural relief with this massage cream.
Instructions: Melt shea butter in a double boiler over low heat. Once melted, remove from heat and add the oils. Stir to combine. Pour mixture into a sealable container, and allow to cool completely. To use, massage into affected areas 2-3 times a day.

Balance Your Emotions Bath Soak
Try this essential oil bath soak to deepen your self-care ritual and create a moment of peace and stillness when your emotions feel out of balance.
5 drops Lavender
6 drops Feminine Aid
2 cups Epsom Salts
Instructions: Combine the oils and salts together in a sealable container. Add 1 cup of the salt mixture to a warm bath, and let the salts dissolve. Soak for 20-30 minutes to help restore emotional balance.
Always dilute with a carrier oil and patch test prior to extensive use on the skin. Do not use while pregnant or breastfeeding. Do not use near the eyes, nose, mouth, sensitive areas, or on broken skin or abrasions. For external use only. Do not ingest.
WARNING: This blend contains Cinnamon Bark, a "hot" oil that may cause skin irritation. You may need to add additional carrier oil when using topically. If sensitivity or irritation occurs, discontinue use and wash the skin with soap and water. Do not use with a heating pad.
Not recommended for diffusing.
As part of our S.A.A.F.E. Promise™ to you, Rocky Mountain Oils provides verified third-party GC/MS (Gas Chromatography/Mass Spectrometry) test results from an independent lab for every essential oil product in our collection.
GC/MS tests verify the quality and purity of every Rocky Mountain Oils product, which guarantees you're using the safest and highest quality essential oils and essential oil blends on the market.
To view the GC/MS test results for your essential oil blend, click here.
Feminine Aid Essential Oil Blend FAQ
What is the most feminine essential oil?

All women are unique, so the most feminine essential oil is whichever one helps you feel more attuned to your inner goddess. However, floral essential oils are generally considered more feminine due to their light, delicate, and bright aromas. Many citrus oils can also help women feel more feminine. We love the oils in our Feminine Aid Blend: Vetiver, Clary Sage, Sandalwood, Neroli, Bergamot, Petitgrain Bigarade, Cinnamon Bark, Lemon, and Orange essential oils.

What are the best essential oils for feminine hygiene?

Some of the best essential oils for femininity include Vetiver, Clary Sage, Sandalwood, Neroli, Bergamot, Petitgrain Bigarade, Cinnamon Bark, Lemon, and Orange oils. However, if you're looking for safe essential oils for feminine hygiene, be mindful that essential oils should never be used internally or on sensitive areas with mucus membranes, such as the genital region. If you're using essential oils topically, they should always be diluted with carrier oil before applying to the skin.

How do I use essential oils for PMS?

Feminine essential oils can help relieve many common PMS symptoms. For emotional imbalances, such as irritability and mood swings, simply inhale the aroma of Feminine Aid Blend or apply it to the neck and pulse points to breathe its relaxing, grounding, uplifting scent. For physical symptoms like cramps or bloating, massage the oil onto your abdomen for direct relief or rub it into the soles of your feet to absorb the anti-inflammatory healing properties of our Feminine Aid Blend.

Do feminine essential oil blends balance your hormones?

Research suggests that some essential oils may help balance feminine hormones such as estrogen and progesterone. Many essential oils contain powerful plant compounds called terpenes, which play a key role in physical health and may help support the endocrine system. Additionally, feminine essential oil blends offer aromatherapeutic benefits that can help you feel more emotionally and mentally balanced during your monthly feminine cycle.