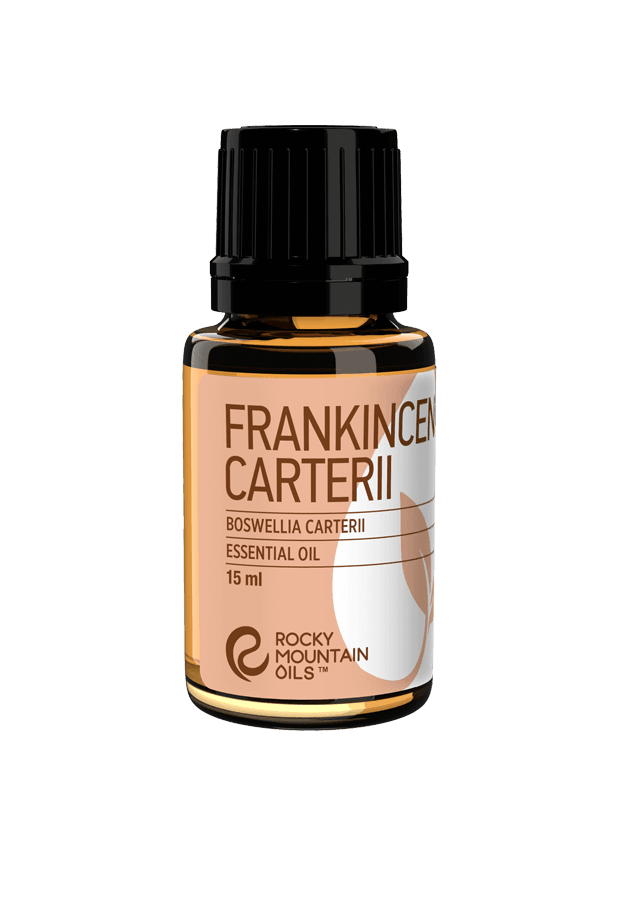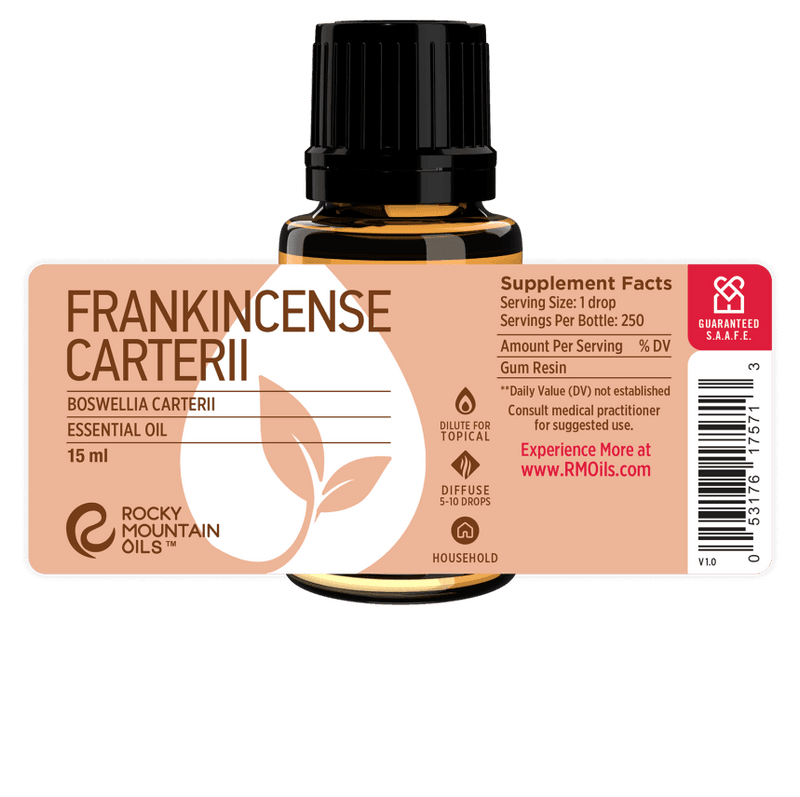 Frankincense, Carterii Essential Oil
GC/MS
TESTING
90 DAY
RETURNS
100% RECYCLED
PACKAGING
S.A.A.F.E
PROMISE
For glowing skin and grounding energy, there's nothing quite like Frankincense Carterii Essential Oil. Also known as Olibaum Oil, Frankincense is steam distilled from the resin of Boswellia trees and is a rich source of an anti-inflammatory healing compound called alpha-pinene. Frankincense Carterii is also high in d-limonene, which reduces muscle pain and stiff joints.
There are three types of Frankincense Essential Oil commonly used in aromatherapy and skincare: Frankincense Carterii, Frankincense Serrata, and Sacred Frankincense. Each type has a slightly different aroma and different benefits. This variety, Frankincense Carterii, offers a medium-strength woody aroma that's warm and balsamic, with a citrusy top note that's slightly spicy and sweet.
Frankincense Carterii is often used in skincare products to promote a brighter, more toned complexion. It's a natural astringent that helps control oily skin, reduce inflammation, and fades discoloration and scars. Try adding 1-3 drops to your daily cleanser or moisturizer, or dilute with a carrier oil like Jojoba Oil to use topically on adult skin.
Frankincense Carterii Essential Oil is also perfect for diffusing because it eliminates odor-causing bacteria and inspires a calm, tranquil atmosphere. Its earthy aroma helps you feel safe and supported while reducing feelings of loneliness, anxious thoughts, and grief. Many people also use Frankincense Carterii in aromatherapy to support mental focus and deeper meditation.
---
The statements contained herein have not been evaluated by the Food and Drug Administration. Neither Rocky Mountain Oils nor its products are intended for the purpose of diagnosing, treating, curing or preventing any disease. If you are pregnant, nursing, taking medication, or have a medical condition, consult your physician before using these products.
Dilute with a carrier oil or add 1-3 drops to your daily cleanser or moisturizer to improve the appearance of your skin, reduce fine lines and wrinkles, reduce oil and breakouts, and tone and brighten.
Diffuse or use in a room spray to promote greater calm and clarity for deeper concentration, focus, and meditation.
Uncap and inhale for quick relief from mood swings, anxiety, or feelings of overwhelm.
Blend with a carrier oil and apply to the bottoms of your feet to absorb anti-inflammatory and antioxidant compounds to naturally boost your immune system.
Dilute with carrier oil or hair conditioner and massage into your scalp to reduce oil and dandruff, and promote stronger hair follicles.
Add to DIY candles, soaps, deodorant, room sprays, bath bombs, or cleaning products for a grounding aroma that also sanitizes.
Apply to aromatherapy jewelry, mala beads, or wood rosaries.
Meditation Assist Blend
This special blend of oils for meditation will help calm your mind and bring stillness to your body so you can reach deeper levels of inner peace.
4 drop Frankincense, Carterii Essential Oil
3 drop Sandalwood Essential Oil
2 drop Cedarwood Essential Oil
2 tsp FCO (Fractionated Coconut Oil)
Instructions: Mix all oils together in an empy glass jar or 10ml roll-on bottle, then apply topically or inhale the aroma to assist in grounding the body and mind during meditation.
Non-toxic, but may irritate skin if oxidized. Always dilute with a carrier oil and patch test prior to extensive topical use. Do not use if pregnant or breastfeeding. Keep out of reach of children and pets.
Safe to use topically with children 2 years of age and older. Dilute to a 1-2% dilution rate for topical application. Click here to learn more about using essential oils for kids.
Safe Diffusing Tips:
Diffuse in an open, well-ventilated area.
Keep children and pets out of the direct line of mist.
Diffuse in 30-60 minute intervals with ample break periods.
Your trust and confidence are very important to us. As part of our S.A.A.F.E. Promise™, Rocky Mountain Oils offers GC/MS (Gas Chromatography/Mass Spectrometry) test results verified by a third-party, independent lab for every essential oil and essential oil blend in our catalog.
GC/MS tests verify the purity and quality of all Rocky Mountain Oils products, so you can be sure you're using the safest, highest-quality essential oils available on the market.
GC/MS Test: Click Here
For batch-specific GC/MS tests, click here.
Frankincense, Carterii Essential Oil FAQ
What is the difference between Frankincense Carterii, Frankincense Serrata, and Sacred Frankincense?

Frankincense Carterii (also known as Frankincense Boswellia Carterii) is one of three common varieties of Frankincense, along with Frankincense Serrata and Sacred Frankincense. The difference between this essential oil and the other varieties is that Frankincense Carterii is steam distilled from the Boswellia tree that grows in Somalia, while the other two types of Frankincense come from trees grown in Pakistan or Oman, respectively. Frankincense Carterii has a softer, more citrusy aroma and is more affordable than Sacred Frankincense due to its wider availability.

What are the benefits of Frankincense Carterii?

Frankincense Carterii essential oil benefits include skincare, haircare, aromatherapy, deodorizing, immunity boosting, supporting respiratory system health, sanitizing, reducing inflammation, promoting focus and concentration, and more.

How do I use Frankincense Carterii for skincare?

To use this oil for skincare, dilute with a carrier oil such as Jojoba Oil or FCO, then apply to the face with clean fingertips or a cotton pad. Gently rub the oil into your skin in small circles, then allow it to absorb. Use it as a base layer for makeup, SPF, or other daily skincare products. You can also add a few drops to your regular daily cleanser, toner, or moisturizer.

Is Frankincense Carterii Essential Oil safe for kids?

Yes, this essential oil is safe for kids ages 2 and up when properly diluted with a carrier oil to a 1-2% dilution rate. Click here to learn more about using essential oils for kids. Always perform a patch test on your child before extensive topical use. To patch test, apply a very small amount of oil to one area of the skin and wait for 15 minutes to see if sensitivity develops. Discontinue if irritation or allergic reaction occurs.