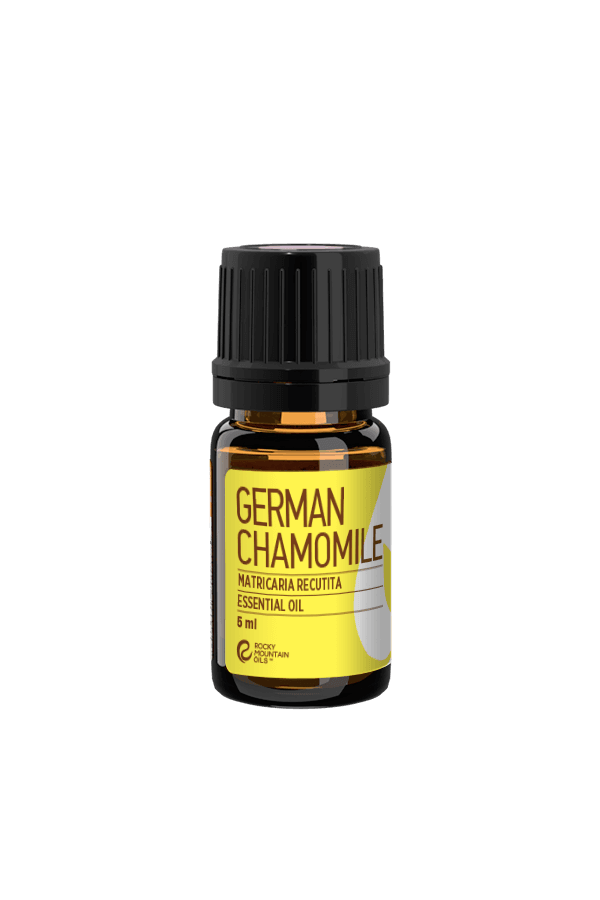 German Chamomile Essential Oil
GC/MS
TESTING
90 DAY
RETURNS
100% RECYCLED
PACKAGING
S.A.A.F.E
PROMISE
Soothe your mind, body, and soul with the calming aroma of German Chamomile Essential Oil. Steam distilled from the flower of the Matricaria recutita plant, chamomile has a rich history in traditional medicine that dates back to ancient Egypt. German Chamomile is a unique variety that offers specific benefits for respiratory and digestive health.
With a sweet, fruity scent that's herbal and slightly bitter, German Chamomile essential oil benefits include anti-inflammatory, antimicrobial, and antifungal properties. Diffusing this oil helps purify the air in your home, car, or office. It neutralizes odor-causing bacteria while eliminating allergens, mold spores, and other environmental pollutants for better breathing.
When diluted with a carrier oil, German Chamomile can be used topically to heal wounds, reduce redness and irritation, balance the skin's natural oil production, and promote a stronger immune system. This oil also helps with muscle cramps, gas, bloating, colds, coughs, and flu.
If you have trouble sleeping, try German Chamomile at night as a natural sleep aid that's effective and non-habit-forming. Diffuse this oil during your bedtime routine, combine it with a carrier oil for a relaxing massage, or add a few drops to a warm bath and let the gentle aroma carry you off to dreamland.
German Chamomile Essential Oil is part of Rocky Mountain Oils Relief, Skin Care, and Sleep collections.
---
The statements contained herein have not been evaluated by the Food and Drug Administration. Neither Rocky Mountain Oils nor its products are intended for the purpose of diagnosing, treating, curing or preventing any disease. If you are pregnant, nursing, taking medication, or have a medical condition, consult your physician before using these products.
Dilute with a carrier oil, then apply to the abdominal region for relief from stomach aches, gas, bloating, constipation, menstrual cramps, or other gastrointestinal issues.
Use for a DIY healing balm that soothes irritated skin, prevents infection, and helps heal minor cuts, burns, scrapes, and bug bites.
Diffuse to feel more relaxed, balance your mood, and create an uplifting and positive atmosphere.
Use as a nighttime massage oil or diffuse before bedtime to help you fall asleep faster and sleep more deeply without tossing and turning. Keep a bottle in your nightstand and if you wake up in the middle of the night, gently inhale to help fall back to sleep.
Diffuse or apply topically with a carrier oil to support your respiratory system, reduce chest congestion, and alleviate symptoms of asthma and allergies.
Essential Oil German Chamomile Face Mist
Try this soothing, anti-inflammatory face mist to tone and brighten your skin while hydrating and refreshing.
10 drops German Chamomile
1 cup Distilled Water
Instructions: Add oil and water to a clean spray bottle, then shake well to combine and gently mist onto your face (with eyes closed) to moisturize and clarify. Store in a cool, dark place and shake again before each use.
Botanical Name: Matricaria recutita
Country of Origin: Egypt/Hungary*
Extraction Method: Steam Distilled
Plant Part: Flower
Aroma: Sweet, Herbal, Floral
Consistency: Thick
*Some of our oils have multiple countries of origin. To confirm which country your specific bottle of oil originates from, please click here to consult its GC/MS test.
Blends Well With: Roman Chamomile, Cedarwood, Lavender, Lemon, Orange, Peppermint, Sandalwood
Popular German Chamomile Blends: Aligning, Lymph Support, Perspective, Balance
Always dilute prior to topical application. Avoid contact with mucous membranes, eyes, and the inside of the mouth, nose, and ears. Do not ingest. Do not use while pregnant or breastfeeding.
Kids Safety: Safe to use topically with children ages 6 months old and up. Dilute to a .5-1% dilution rate for topical application.
Tips for Safe Diffusing:
Diffuse in a well-ventilated area with plenty of air flow.
Diffuse in 30-60 minute intervals, with ample break periods for safe and effective use.
Keep children and pets out of the direct line of mist.
At Rocky Mountain Oils, your trust and confidence matter to us. As part of our S.A.A.F.E. Promise™, we offer third-party verified GC/MS (Gas Chromatography/Mass Spectrometry) test results from an independent lab for every essential oil and blend in our line.
GC/MS tests verify the purity and quality of our essential oils, so you can be sure you're using the safest, highest-quality essential oils available today.
GC/MS Test: Click Here
For batch-specific GC/MS tests, click here.
German Chamomile Essential Oil FAQ
What is the difference of Roman vs. German Chamomile essential oil?

Roman vs. German Chamomile essential oil differences arise because these oils are derived from different species of chamomile plants. Due to the different plant species as well as environmental properties where each plant is grown, these oils have slightly different aromas and different therapeutic benefits.

Roman Chamomile essential oil has a slightly sweeter smell, while German Chamomile is more herbaceous and floral. Both oils help you feel calmer, reduce anxiety, and work as effective natural treatments for insomnia. However, German Chamomile oil has slightly more anti-inflammatory compounds and is better for healing skin conditions like acne and psoriasis.

Does German Chamomile make you sleepy?

Yes, German Chamomile essential oil is a natural, non-habit-forming sleep aid. Diffusing this essential oil at bedtime, or using it with a carrier oil for a soothing chest rub, can help you fall asleep faster, sleep more soundly, and avoid waking up in the middle of the night. German Chamomile essential oil benefits for sleep come from its unique flavonoid composition, including a compound called apigenin, which produces a mild natural sedative effect in the brain.

How do you make German Chamomile essential oil?

German chamomile oil is extracted from the flowers of the German chamomile plant, also known as Matricaria chamomilla or Matricaria recutita. The flowers are steam-distilled to produce the essential oil.

During the steam distillation process, steam is passed through the flowers, which causes the oil to separate from the raw plant matter. The steam and oil vapors are then condensed, and the resulting mixture is collected in a receiving vessel. Finally, the oil is filtered from this condensed mixture into its purest essential form and collected in a bottle via decantation.

Is German Chamomile essential oil safe for pets?

German Chamomile essential oil is considered safe for topical use on dogs and cats when diluted with a carrier oil. However, as with any essential oil, it's important to make sure your pet does not ingest German Chamomile. Always monitor your pets closely when using this oil. If you observe any adverse reactions or behavior changes, discontinue use and contact your veterinarian immediately. Click here to read our blog article about essential oils and pet safety.