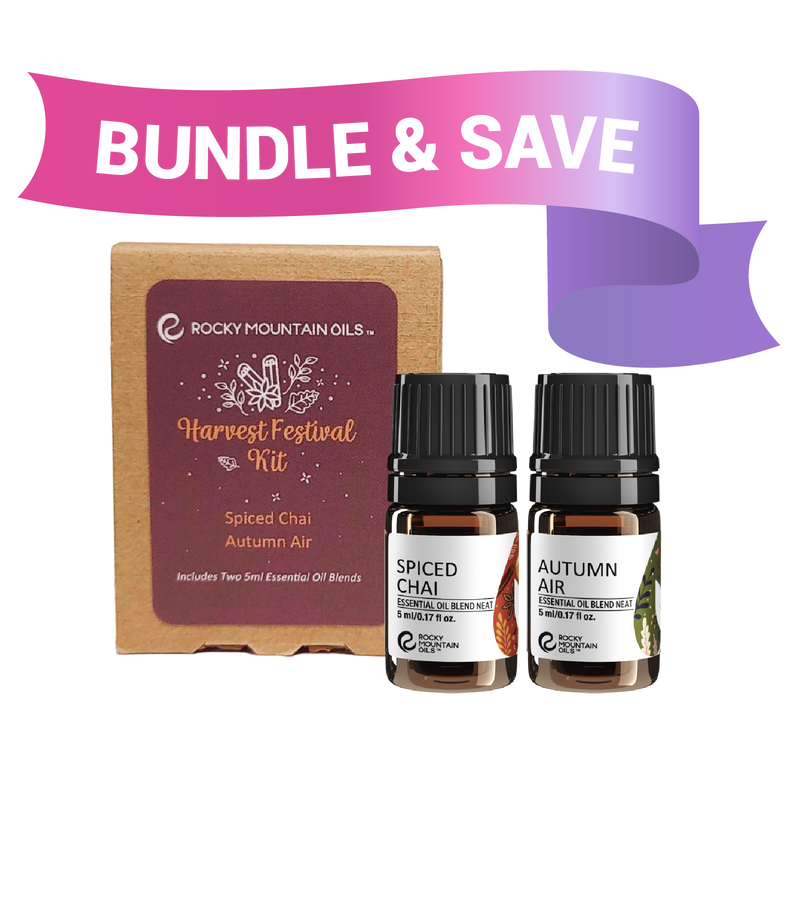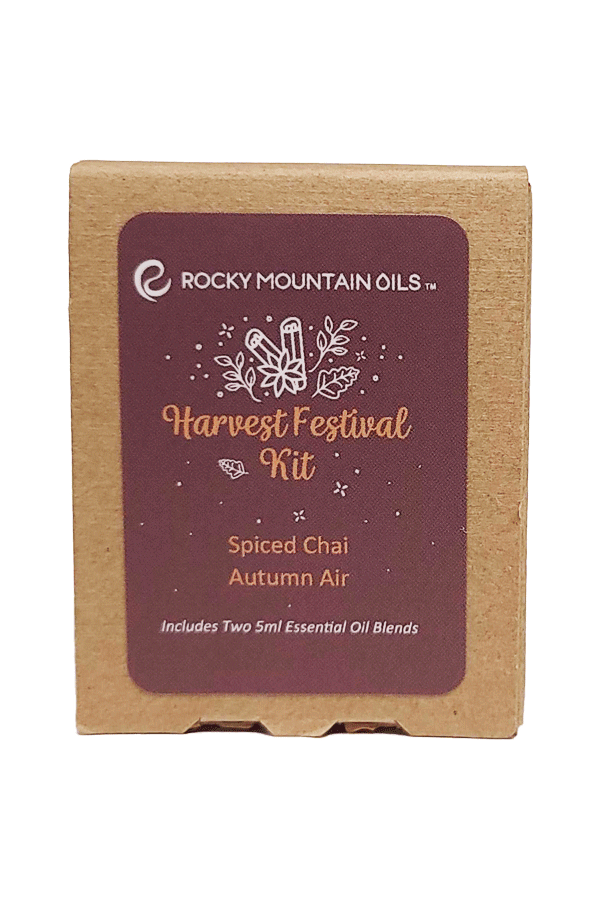 Harvest Festival Kit
90 DAY
RETURNS
100% RECYCLED
PACKAGING
S.A.A.F.E
PROMISE
Delight your senses with aromas of breathing in the crisp autumn air while drinking a piping hot chai tea. Our seasonal Harvest Festival Kit includes our two new seasonal blends; Spiced Chai and Autumn Air. These blends were formulated to bring the scents of the season right into the comfort of your own home.
Diffuse to evoke memories of chilly afternoons spent walking through fall markets, browsing pumpkins, and getting lost in corn mazes.
Spiced Chai: Warm, spicy, and decadent; Spiced Chai will soothe your soul and bring feelings of comfort. Autumn Air: Crisp, airy, and slightly spicy; Autumn Air will transform your living room into an autumn forest wonderland.
Each of Rocky Mountain Oils' signature essential oil blends is composed of a unique blend of 100% pure and natural essential oil elements.
The Harvest Festival Kit includes a 5ml Spiced Chai blend and a 5ml Autumn Air blend.
Autumn Air: Fir Needle, Cedarwood, Balsam of Peru, Elemi, Cardamom, Coffee, Tonka Bean
Spiced Chai: Coffee, Copaiba Balsam, Bergamot, Fenugreek, Cardamom, Balsam of Peru, Cinnamon Bark, Clove Stem, Nutmeg, Vanilla, Ginger (fresh), Ginger, Sichuan Pepper
Diffuse 5-10 drops to invite the scents of an autumn forest into your home
Add 1-2 drops to your personal diffuser to bring the scents of the season wherever you go
Apply topically with a carrier oil or to an aromatherapy necklace. Breathe in the fragrance to promote feelings of comfort and joy.
Your trust and confidence are very important to us. As part of our S.A.A.F.E. Promise™ to you, we provide GC/MS (Gas Chromatography / Mass Spectrometry) test results from a verified third-party, independent lab for each one of our essential oil products.
GC/MS tests verify the purity and quality of the oils we sell, so you can be sure you're using the highest quality oils available on the market today.
Click here for the GC/MS test results for your Spiced Chai & Autumn Air Essential Oil Blends.