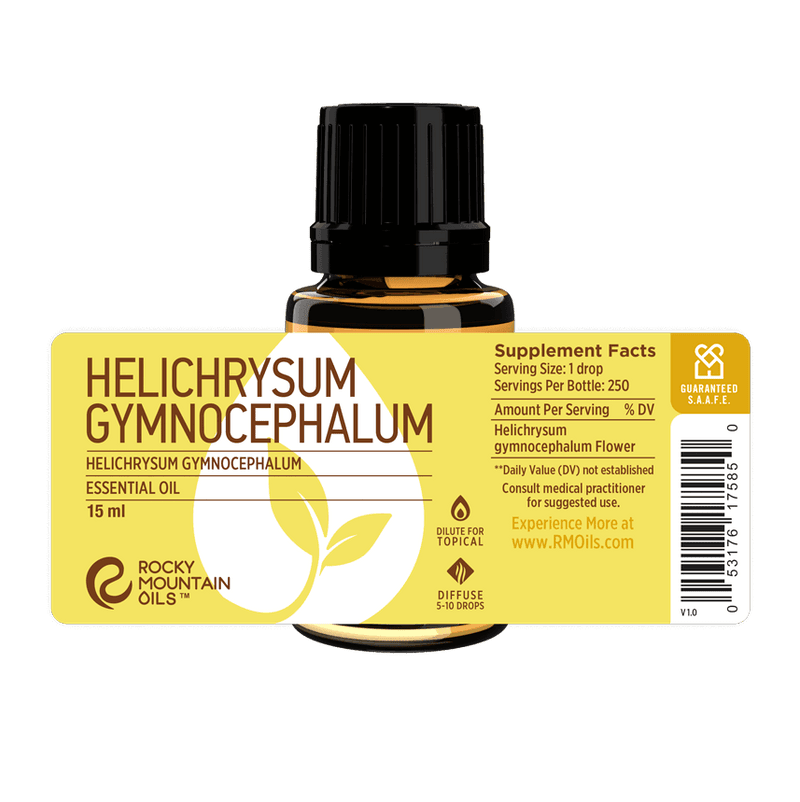 Helichrysum gymnocephalum Essential Oil
GC/MS
TESTING
90 DAY
RETURNS
100% RECYCLED
PACKAGING
S.A.A.F.E
PROMISE
Support your respiratory system and calm anxious nerves with Helichrysum gymnocephalum Essential Oil. Also known as Everlasting Flower, Helichrysum gymnocephalum is steam distilled from the leaves and flowers of its namesake plant, which is native to Madagascar and presents a medium-strength floral aroma that's sweet, earthy, and slightly menthol-like.
Helichrysum gymnocephalum benefits include pain relief and respiratory support. It's high in plant compounds called terpenes and flavonoids, which promote natural healing and reduce inflammation in the body. The menthol-like quality of this essential oil also gives it expectorant properties to loosen mucus and phlegm, which helps treat sinus and lung congestion.
To use this pure essential oil, dilute with a carrier oil like FCO or Almond Oil, then massage into the skin to ease pain from headaches, sore muscles, and stiff joints. To reduce acne, tone the skin, and exfoliate, apply it to the face with clean fingertips or a cotton pad, or add 1-3 drops to your daily moisturizer or cleanser.
You can also diffuse this essential oil to reduce stress, balance the central nervous system, and purify the air in your home, office, or car. Thanks to its antimicrobial properties, this essential oil neutralizes odor-causing bacteria and germs to help protect you against colds, flus, and other infections.
---
The statements contained herein have not been evaluated by the Food and Drug Administration. Neither Rocky Mountain Oils nor its products are intended for the purpose of diagnosing, treating, curing or preventing any disease. If you are pregnant, nursing, taking medication, or have a medical condition, consult your physician before using these products.


Dilute with a carrier oil and use as a massage oil to calm coughing and clear congestion in the lungs and sinuses, or apply to sore muscles for an analgesic effect.
Add 1-2 drops to your daily moisturizer to exfoliate, boost, collagen production and skin cell rejuvenation, and fade acne and blemishes. Also makes a great makeup remover and toner.
Diffuse to create a calming atmosphere, eliminate odor-causing bacteria in the air, remove allergens and pollutants, and boost the immune system.
Add 1-3 drops to a warm bath for a soothing soak to reduce inflammation and release tension.
Helichrysum gymnocephalum Exfoliating Face Scrub
Rejuvenate and exfoliate for youthful skin that glows with this all-natural DIY face scrub that utilizes Helichrysum gymnocephalum essential oil benefits to reduce inflammation and promote healing.
2 drops Helichrysum gymnocephalum
1 drop Lavender
1 drop Carrot Seed
1 tablespoon Baking Soda
1 1/2 teaspoons Water
Instructions: Mix all ingredients together in a small bowl, stirring until you achieve a pasty yet velvety texture. With clean fingers, apply the paste to your face, neck, and upper chest. Massage in slow, circular motions with featherlight pressure for approximately 10 minutes. Apply more paste as needed, then rinse in cool or lukewarm water. Use twice a week for fresh, glowing skin. Do not use on sunburned or irritated skin.
Botanical Name: Helichrysum gymnocephalum
Country of Origin: Madagascar
Extraction Method: Steam Distilled
Plant Part: Flowers and Leaves
Aroma: Sweet, Menthol
Consistency: Thin
Blends Well With: Basil, Black Cumin, Black Pepper, Cedarwood, Frankincense Serrata, Lavender, Lemon, Peppermint, Wintergreen
Popular Helichrysum gymnocephalum Blends: Migraine Support, Relieve Me, Sports Pro
For external use only. Do not ingest. Always dilute in a carrier oil and patch test prior to extensive topical use. Click here to learn more about dilution rates.
Safe to use topically with children ages 10 years old and above. Dilute to a 1-2% dilution rate for topical application and patch test before using continously. Click here to learn more about using essential oils for kids.
Tips for Safe Diffusing:
Diffuse in an open, well-ventilated area.
Keep children and pets out of the direct line of mist.
Diffuse in 30-60 minute intervals with ample break periods.
Your trust and confidence are very important to us. As part of our S.A.A.F.E. Promise™, Rocky Mountain Oils offers GC/MS (Gas Chromatography/Mass Spectrometry) test results verified by a third-party, independent lab for every essential oil and essential oil blend in our catalog.
GC/MS tests verify the purity and quality of all Rocky Mountain Oils products, so you can be sure you're using the safest, highest-quality essential oils available on the market.
GC/MS Test: Click Here
For batch-specific GC/MS tests, click here.
Helichrysum gymnocephalum Essential Oil FAQ
What effects does Helichrysum gymnocephalum have on mood?

Aside from its medicinal benefits, Helichrysum gymnocephalum uses include aromatherapy for a better mood. This essential oil promotes deeper sleep, calms anxiety attacks, and helps balance your emotions. If you frequently experience high levels of stress, the soothing aroma of this essential oil can help bring your body out of fight-or-flight mode and allow you to remain more centered. It also helps with depression, burnout, and mental fatigue.

What is the difference between Helichrysum Gymnocephalum essential oil and Helichrysum italicum?

Both oils are derived from the flowers and leaves of shrubs in the Asteraceae family. However, each variety has different plant compounds that offer slightly different medicinal benefits and aroma profiles. Helichrysum gymnocephalum has a sharper, more menthol-like scent that's better for respiratory support, while Helichrysum italicum has a deeper aroma and more anti-inflammatory benefits as a topical analgesic.

How do I use Helichrysum gymnocephalum oil?

To use Helichrysum gymnocephalum topically, dilute with a carrier oil and then massage into the chest to help relieve congestion and calming coughing. You can also use it in natural skincare to brighten, tone, and exfoliate, or massage into any area where you feel pain or discomfort. Additionally, this essential oil can be used in a diffuser or room spray to create a healing, relaxing atmosphere in your home, office, car, or any space.

Can kids use Helichrysum gymnocephalum?

This essential oil is safe for kids ages 10 and up when diluted with a carrier oil to a 1-2% dilution rate. Before topical use, always perform a patch test by applying a very small amount to one area of the skin. Wait for at least 15 minutes to ensure that irritation or allergic reaction does not occur. Click here for more information about essential oils and kid safety.