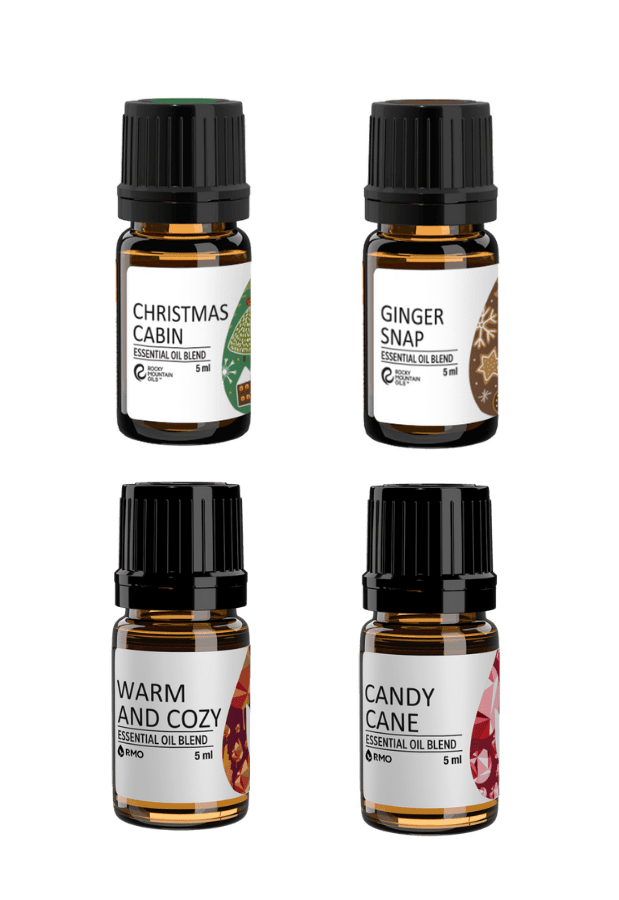 Holiday Blends Collection
90 DAY
RETURNS
100% RECYCLED
PACKAGING
S.A.A.F.E
PROMISE
This bundle includes:
Warm and Cozy - 
Warm and Cozy Essential Oil Blend is perfect to use while you gather the family together to create lasting holiday memories. Orange, Cinnamon Bark, and Clove Bud blend together to offer a warm yet spicy aroma that brings cheer and calls to mind memories of past holidays.
Candy Cane - 
Candy Cane Essential Oil Blend brings together Peppermint, Orange, Lavender, and Balsam of Peru to offer a sweet, peppermint-like aroma that magically transforms any room into a winter wonderland. Enjoy the icy mint aroma this blend has to offer. Take a deep breath, and let the invigorating aroma bring joy to children and adults alike.
Gingersnap - 
It's time to brush up on your baking skills because Christmas is almost here! Breathe in the sweet yet spicy scent of Gingersnap and fill your home with the delicious aroma of warm holiday treats baking in the oven. Surround yourself with family and friends this holiday season and use this delicious blend to get everyone's mouth watering in anticipation of your Christmas meal. Diffuse Gingersnap during the holiday to make your guests feel comforted and welcome for the holidays.
Christmas Cabin - 
Follow the footprints in the white snow all the way to your Christmas Cabin and treat yourself to a holiday getaway this winter. Breathe in the woodsy scents of nature, and experience the beauty and peace that the winter season brings. With a dash of vanilla and a sprinkle of woodsy aroma, enjoy this sweet blend and start the holiday season right. Use this blend to promote cheer and joy this holiday season and encourage the entire family to get into the Christmas spirit early.