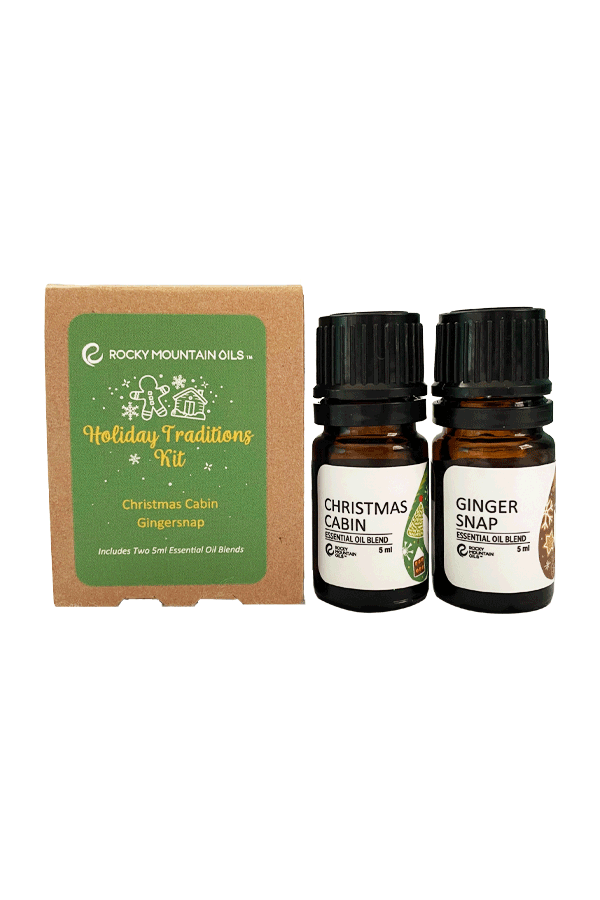 Holiday Traditions Kit
90 DAY
RETURNS
100% RECYCLED
PACKAGING
S.A.A.F.E
PROMISE
Celebrate the season with scents that will spark your holiday spirit! Our Holiday Tradition Limited Edition Kit includes our two newest seasonal blends; Gingersnap and Christmas Cabin. Diffuse these sensational holiday scents to create a joyful and comfortable environment for your family and friends. 
Christmas Cabin: Transport yourself to a holiday spent in a snowy cabin. Christmas Cabin features a warm, woodsy, and vanilla aroma that will bring holiday cheer and peace. 

Gingersnap: Sweet and spicy Gingersnap will fill your home with the delicious aroma of gingerbread cookies baking in the oven.
Add a few drops to your favorite diffuser and diffuse for a sweet and spicy aroma.
Mix with water and create a room spray to sweeten up your home for the holidays.
Diffusing Recommendations: Due to the thicker, darker essential oils in this blend, we recommend that you wipe your diffuser clean with a soft cloth after each use.
Diffuser Care and Maintenance:
When not in use, empty any remaining water, and dry the inside of the diffuser with a soft cloth to avoid buildup.
To remove possible buildup, dip a cotton swab in white vinegar and gently wipe out the inside of the diffuser. You can also diffuse a Klenzor Diffuser Cleaning Tablet.
Gingersnap: Fenugreek, Ginger, Lemon, Balsam of Peru, Cinnamon Bark, Clove Bud, Allspice Leaf, Tonka Bean, Vanilla

Christmas Cabin: Cedarwood (Himalayan), Fir Needle (Douglas), Cedarwood (Texan), Fir Needle (Balsam), Mint Bush, Balsam Fir (Absolute), Vanilla, Eucalyptus Dives, Tonka Bean
Your trust and confidence are very important to us. As part of our S.A.A.F.E. Promise™ to you, we provide GC/MS (Gas Chromatography / Mass Spectrometry) test results from a verified third-party, independent lab for each one of our essential oil products.
GC/MS tests verify the purity and quality of the oils we sell, so you can be sure you're using the highest quality oils available on the market today.
For batch-specific GC/MS test results, click here.
Not recommended for topical use. If you decide to use topically, dilute with a carrier oil before use.
Learn more about dilution rates. Learn more about kid safety here.
Practice Safe Diffusion:
Diffuse in an open and well-ventilated area
Keep children away from the direct line of mist
Diffuse in 30-60 minute intervals with ample break periods for safe and effective use