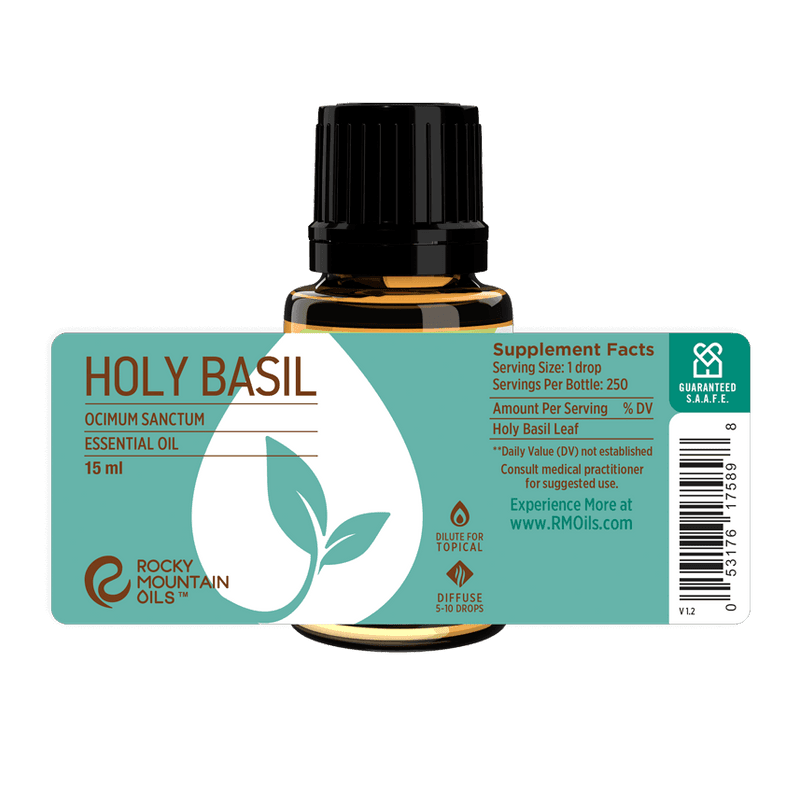 Holy Basil Essential Oil
GC/MS
TESTING
90 DAY
RETURNS
100% RECYCLED
PACKAGING
S.A.A.F.E
PROMISE
Heal your mind, body, and soul with the invigorating scent of Holy Basil Essential Oil. Also known as Tulsi, Tulasi, or Thulasi, Holy Basil offers a strong aroma that's spicy, sweet, and herbal, with hints of black licorice. It's a potent oil for aromatherapy, home remedies, and spiritual use.
Holy Basil is native to India, where it has been used for centuries in the ancient healing practice of Ayurveda. It contains a wide variety of medicinal plant compounds that are anti-inflammatory, antibacterial and antiviral, and antifungal. Holy Basil essential oil uses include reducing stress hormones like cortisol, promoting better digestion, and strengthening the immune system.
This essential oil also creates a sensual atmosphere and may enhance libido. Try diluting Holy Basil with your preferred carrier oil, then use it for a deep-tissue massage to release tension and spark romance with your partner. You can also add a few drops to a warm bath for a soothing, rejuvenating soak.
Diffuse Holy Basil essential oil to purify the air, reduce allergens and airborne pollutants, deter pesky insects like mosquitoes, and inspire a positive mood. Many people also use Holy Basil oil to enhance their personal spiritual practice. This oil is known to help with meditation, intuition, and personal wisdom.
---
The statements contained herein have not been evaluated by the Food and Drug Administration. Neither Rocky Mountain Oils nor its products are intended for the purpose of diagnosing, treating, curing or preventing any disease. If you are pregnant, nursing, taking medication, or have a medical condition, consult your physician before using these products.
Diffuse to help with insomnia, allowing you to fall asleep faster and sleep more deeply while reducing nightmares, tossing and turning, and morning grogginess.
Use Holy Basil to enhance meditation, yoga, energy work, and more. Dilute with a carrier oil and apply to the center of the forehead, heart center, or pulse points, or diffuse the aroma during your personal practices, and allow the aroma to deepen your spirituality.
Dilute with a carrier oil or add a few drops to your regular shampoo or conditioner to promote scalp health and new hair growth.
Dilute with a carrier oil and use topically to tone and brighten skin, heal acne and irritations, reduce fine lines and wrinkles, and stimulate collagen production.
Diffuse to reduce anxiety and depression, promote concentration, and create a tranquil atmosphere in your home, office, car, or any space.
Use as a natural insect repellant by diffusing on your patio, adding to DIY bug-off candles, or sprinkling oil along the threshold of your doors and windows to keep bugs outside.
Dilute with a carrier oil and massage into the soles of the feet to help boost the immune system, promote digestive health, and reduce inflammation.
Dilute with a carrier oil and use as a soothing analgesic massage oil to relieve pain, body aches, cramps, joint stiffness, and more.
Stimulating Scalp Oil
Try this DIY scalp oil and experience Holy Basil essential oil benefits to balance your scalp pH, reduce dandruff, and stimulate new hair growth.
3 drops Holy Basil essential oil
3 drops Rosemary essential oil
1 drop Lemon essential oil
1 teaspoon Castor oil
1 teaspoon Avocado oil
Instructions: Combine all ingredients in a clean, dark-colored glass bottle and shake well to combine. Before using, warm the bottle between your hands, then massage several drops into the scalp. Leave on for approximately 20 minutes, then shampoo and condition as usual. Use once a week to help reduce hair loss and promote thicker, fuller hair.
Always dilute prior to topical application. Avoid contact with mucous membranes, eyes, and the inside of the mouth, nose, and ears. Do not ingest. Do not use while pregnant or breastfeeding.
Kids Safety: Safe to use topically with children ages 2 years old and up. Dilute to a .5-2% dilution rate for topical application.
Tips for Safer Diffusing:
Diffuse in an open, well-ventilated area.
Keep children and pets out of the direct line of mist.
Diffuse in 30-60 minute intervals, with ample break periods for safe and effective use.
At Rocky Mountain Oils, your trust and confidence matter to us. As part of our S.A.A.F.E. Promise™, we offer third-party verified GC/MS (Gas Chromatography/Mass Spectrometry) test results from an independent lab for every essential oil and blend in our line.
GC/MS tests verify the purity and quality of our essential oils, so you can be sure you're using the safest, highest-quality essential oils available today.
GC/MS Test: Click Here
For batch-specific GC/MS tests, click here.
Holy Basil Essential Oil FAQ
What is the difference between Holy Basil and Basil essential oil?

Holy Basil and Basil are two different varieties of Basil plants. The essential oils derived from each plant offer different health benefits and different aromas.

Holy Basil oil enhances metabolism, promotes deeper meditative states, and stimulates hair growth. It has a warm, spicy, slightly sweet aroma with notes of licorice.

Basil oil, meanwhile, is used for its anti-inflammatory properties, cardiovascular benefits, and anti-aging skin benefits. Basil essential oil has a lighter aroma that's more herbal and minty.

Can you use Holy Basil essential oil for anxiety?

Yes! Holy Basil essential oil is very helpful for anxiety and stress. Inhaling the rich, calming aroma of Holy Basil can help turn the volume down on mental noise, allowing you to release worries and tension while focusing on the present moment. This essential oil also promotes self-confidence, better sleep, and can be used to reach deeper states of meditation.

Does Holy Basil essential oil help with weight loss?

Yes, Holy Basil essential oil benefits may include weight loss. Holy Basil leaves are a natural source of a plant compound called eugenol, which may help increase metabolism, prevent insulin resistance, and improve digestion. When used in conjunction with a healthy diet and exercise, using Holy Basil essential oil topically on the abdomen may assist with your weight loss goals.

Are there Holy Basil essential oil benefits for the brain?

Yes. Holy Basil essential oil contains antioxidants called flavonoids, as well as magnesium, which may help promote brain health. Holy Basil oil may improve memory, concentration, and mental clarity while reducing burnout, brain fog, and distractibility. Try diffusing Holy Basil essential oil while studying or working to improve your cognitive performance.