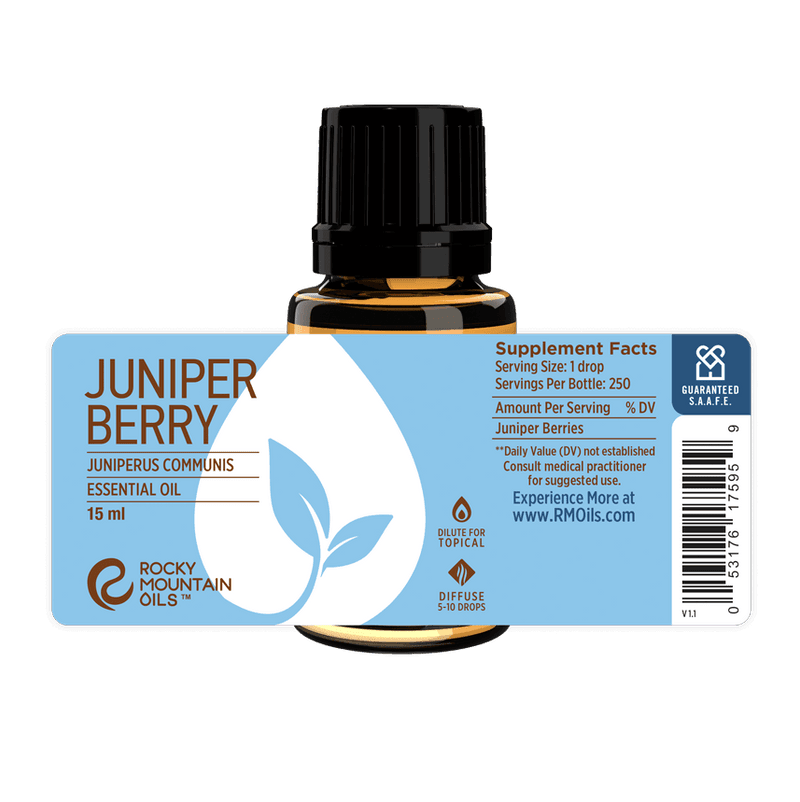 Juniper Berry Essential Oil
GC/MS
TESTING
90 DAY
RETURNS
100% RECYCLED
PACKAGING
S.A.A.F.E
PROMISE
Feel cleansed and invigorated with Juniper Berry Essential Oil. This essential oil has a woody aroma that's also fruity, sweet, and herbal. It helps you let go of stress and anxiety while lifting your spirits and enhancing concentration.
Steam distilled from the fruit of the Juniper bush, Juniper Berry essential oil uses include skincare, haircare, home cleaning products, and holistic health. It's a natural diuretic that supports the body's detoxification process, which promotes kidney health and may reduce certain kinds of infections.
Juniper Berry oil is also rich in natural anti-inflammatory compounds. When used topically, this essential oil can alleviate pain, sore muscles, and stiff joints. It may also help naturally treat conditions like gout, cellulitis, and rheumatism. Diffusing Juniper Berry essential oil also supports respiratory health and digestive health.
Try adding a few drops of this essential oil to your favorite DIY cleaning products to sanitize surfaces, eliminate germs, mold, and fungus, and leave behind a sweet earthy scent that inspires joy. Juniper Berry essential oil is also an excellent choice for meditation, yoga, and energy work.
Juniper Berry Essential Oil is part of Rocky Mountain Oils Relief and Skin Care collections.
---
The statements contained herein have not been evaluated by the Food and Drug Administration. Neither Rocky Mountain Oils nor its products are intended for the purpose of diagnosing, treating, curing or preventing any disease. If you are pregnant, nursing, taking medication, or have a medical condition, consult your physician before using these products.
Diffuse to create a relaxing yet inspiring atmosphere, while purifying the air in your space against airborne microbes, mold spores and fungi, allergens, or other environmental pollutants that affect breathing.
Dilute with a carrier oil, then apply topically to reduce skin irritation and soothe sore muscles.
Use topically on the lower back to treat gastrointestinal distress, support urinary health and kidney function, and absorb detoxifying benefits.
Dilute with a carrier oil or add a few drops to your shampoo or conditioner to balance the scalp, reduce dandruff and excess oil, and promote shinier, more voluminous hair.
Diffuse to help with chest congestion and sinus pressure while experiencing respiratory illness.
Add a few drops to a warm bath to soak away stress while relieving tension held in the body.
Use for concentration and focus during work sessions, studying, or meditation.
Juniper Berry Face Mist
Try this calming, brightening face mist to feel refreshed and promote a natural glow while absorbing Juniper Berry essential oil benefits for skin.
10 drops Juniper Berry essential oil
1 cup Distilled Water
Instructions: Add oil and water to a clean, fine-mist spray bottle. Shake well to combine and shake again before each use. Mist generously onto the face (with eyes closed) as desired.
Botanical Name: Juniperus communis
Country of Origin: India/Albania/Serbia*
Extraction Method: Steam Distilled
Plant Part: Fruit
Aroma: Woody, Sweet, Fruity, Herbal
Consistency: Thin
*Some of our oils have multiple countries of origin. To confirm which country your specific bottle of oil originates from, please click here to consult its GC/MS test.
Blends Well With: Eucalyptus, Jasmine, Lavender, Lemon, Rose, Sandalwood, Ylang Ylang
Popular Juniper Berry Blends: Tummy Rub, Falling Rain, Fortify, Heart Health
Always dilute prior to topical application. Avoid contact with mucous membranes, eyes, and the inside of the mouth, nose, and ears. Do not ingest. Do not use while pregnant or breastfeeding.
Kids Safety: Safe to use topically with children ages 2 years old and up. Dilute to a .5-2% dilution rate for topical application.
Tips for Safer Diffusing:
Diffuse in an open, well-ventilated area.
Keep children and pets out of the direct line of mist.
Diffuse in 30-60 minute intervals, with ample break periods for safe and effective use.
At Rocky Mountain Oils, your trust and confidence matter to us. As part of our S.A.A.F.E. Promise™, we offer third-party verified GC/MS (Gas Chromatography/Mass Spectrometry) test results from an independent lab for every essential oil and blend in our line.
GC/MS tests verify the purity and quality of our essential oils, so you can be sure you're using the safest, highest-quality essential oils available today.
GC/MS Test: Click Here
For batch-specific GC/MS tests, click here.
Juniper Berry Essential Oil FAQ
What is the difference between Juniper and Juniper Berry essential oil?

Juniper essential oil is created from the needles and bark of the Juniper plant, while Juniper Berry essential oil is steam distilled from the berries. While each essential oil offers similar benefits for aromatherapy and holistic health, they have very different aromas. Juniper oil is woody and earthy, while Juniper Berry oil is sweet and fruity.

Does Juniper Berry essential oil help with UTI's?

Yes. Juniper Berry essential oil contains bioactive compounds that make it a natural diuretic, which helps promote fluid secretion and kidney health. If you experience frequent urinary tract infections (also known as UTI's), try diluting Juniper Berry oil with a carrier oil and massaging it into the lower abdomen to absorb these diuretic benefits.

What are some Juniper Berry essential oil benefits for skin?

Juniper Berry essential oil benefits for skin include reducing redness and discoloration, shrinking pores, clearing dead skin, and promoting natural collagen production. Juniper Berry oil may also reduce acne breakouts, eczema, and psoriasis. Try mixing Juniper Berry essential oil with Fractionated Coconut Oil and sea salts to make a sweet-smelling face scrub to cleanse, exfoliate, tighten, and inspire a youthful glow.

Is Juniper Berry oil safe for pets?

No. Juniper Berry essential oil is not considered safe for pets. When diffusing this essential oil, do not place your diffuser near your pet's bed or food bowls, and do not allow your pet near the diffusion mist. If using Juniper Berry oil in cleaning products, thoroughly clean all surfaces and make sure there is no residual oil where your pet may accidentally ingest it.