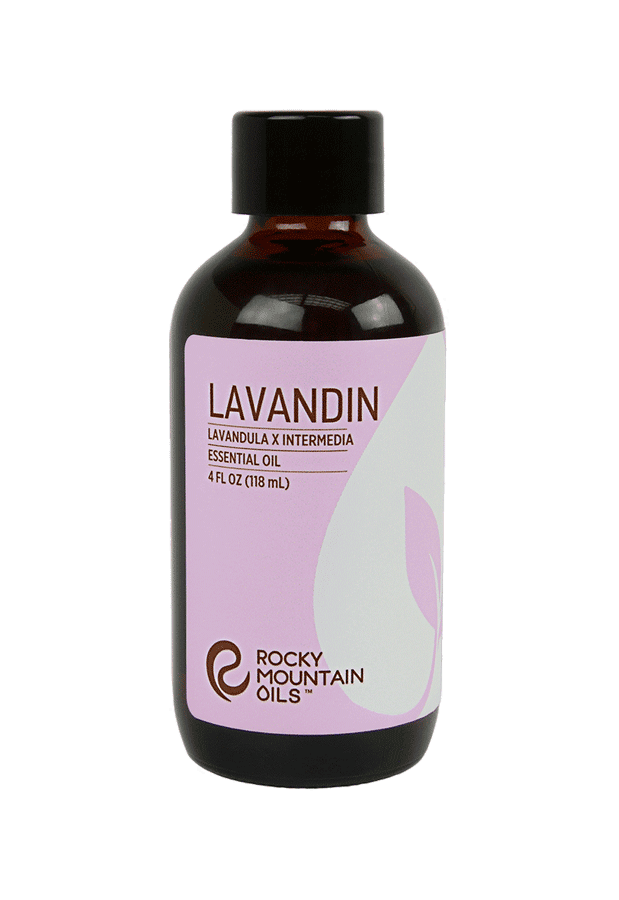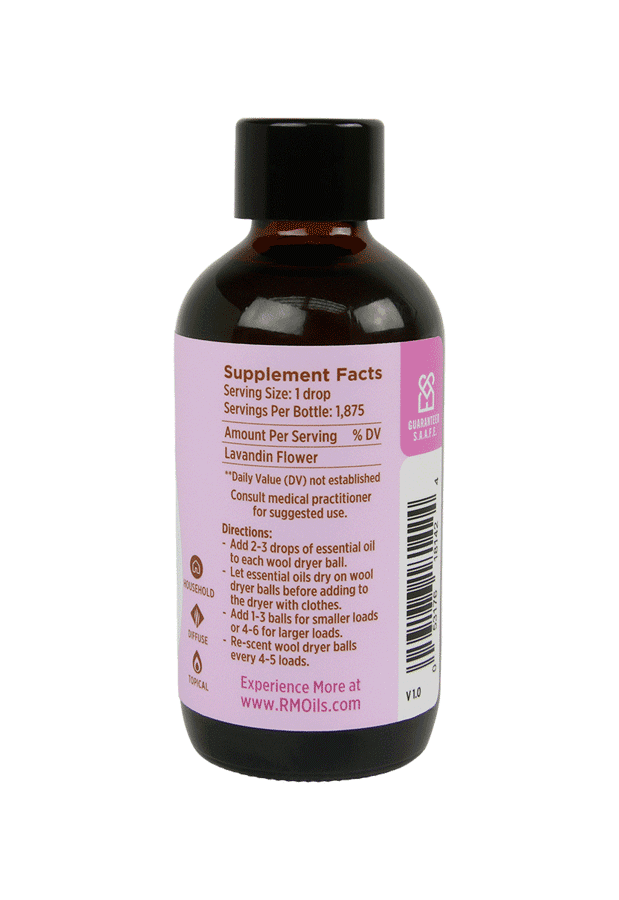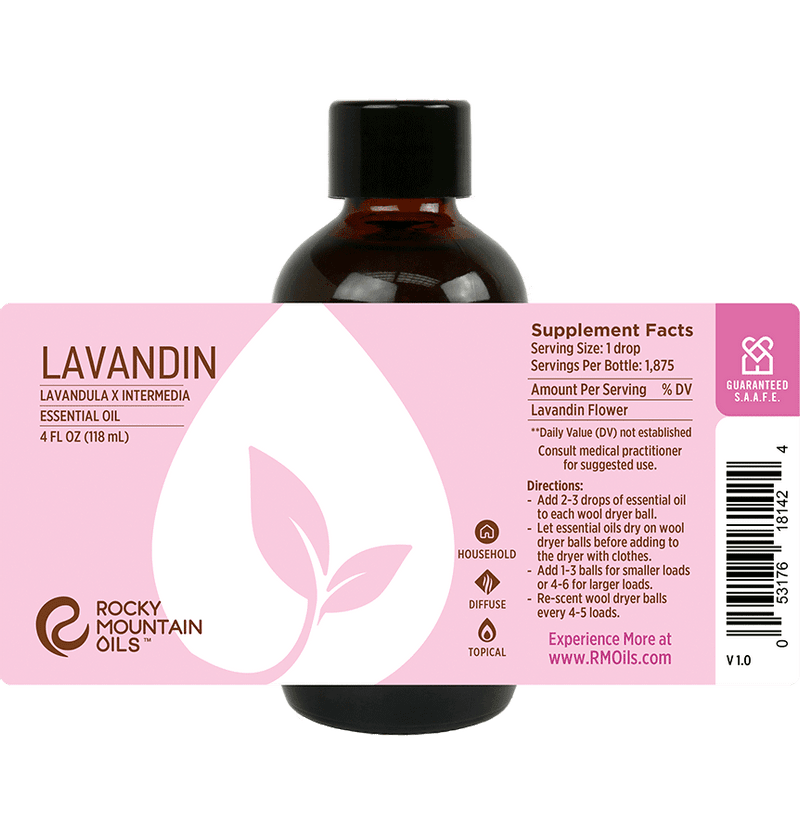 Lavandin Essential Oil Blend
GC/MS
TESTING
90 DAY
RETURNS
100% RECYCLED
PACKAGING
S.A.A.F.E
PROMISE
Enjoy a deeply relaxing floral aroma that freshens and uplifts with Lavandin Essential Oil. Also known as Lavandin "Grosso," Lavandin Essential Oil is closely related to Lavender and shares a similar scent profile. It's earthier and more camphorous than Lavender, which makes it an excellent essential oil to blend with brighter scents like citrus oils.
This essential oil is steam distilled from the flower of the Lavandin plant, which is a naturally occurring hybrid of English Lavender and Spike Lavender. First cultivated via cross-pollination in the 1920's, Lavandin originates in the Mediterranean and offers many of the same healing benefits as other Lavender varieties.
Lavandin Essential Oil benefits are anti-inflammatory, antimicrobial, and antifungal. Use Lavandin with a carrier oil to help prevent infections, promote faster healing of small wounds, and treat skin conditions like acne. It's also deeply moisturizing and makes a great natural fragrance for haircare products. 
---
The statements contained herein have not been evaluated by the Food and Drug Administration. Neither Rocky Mountain Oils nor its products are intended for the purpose of diagnosing, treating, curing or preventing any disease. If you are pregnant, nursing, taking medication, or have a medical condition, consult your physician before using these products.
Dilute in a carrier oil and use it as a natural toner to brighten and smooth skin while healing acne, blemishes, and other irritation. Lavandin Oil may help reduce breakouts and minimize the appearance of fine lines and wrinkles.
Use to reduce inflammation, prevent infection, and promote faster healing of small cuts, burns, and bruises.
Inhale or diffuse to feel more grounded and uplifted while calming anxious thoughts.
Diffuse, inhale, or mix with a carrier oil and apply to the chest before bedtime for help falling asleep faster and sleeping more deeply.
Add 1-3 drops to a wool dryer ball and use to freshen laundry.
Add to DIY household cleaners, room sprays, hand sanitizers, and other products to neutralize germs and odor-causing bacteria.
Use to feel more relaxed and reduce distractibility, which helps you attain deeper levels of focus and meditation.
Diffuse to promote respiratory health and immunity.
Lavandin Sleepytime Linen Spray
For fresher linens that can help you sleep better, without harsh chemicals that cause irritation or sensitivity, try this Lavandin Sleepytime Linen Spray.
5 drops Lavandin essential oil
5 drops Vetiver essential oil
3 drops Orange essential oil
1 tsp witch hazel
1 oz. distilled water
Instructions: In a 2oz glass spray bottle, combine the essential oils, witch hazel, and distilled water. Shake well to combine and shake again before each use. Spray on linens and pillows before bedtime for a soothing, relaxing aroma that helps you fall asleep faster and sleep more deeply.
Using Lavandin for Fresher Laundry
Add 3 drops of Lavandin to a wool dryer ball. Let the essential oil dry on the ball, then use the ball in the dryer with your laundry. Place 1-3 balls in a small load or 4-6 balls in a large load. Add more essential oils every 4-5 loads, or as desired, for fresher-smelling laundry.
Dilute in a carrier oil and patch test before extensive use on the skin. To perform a patch test, apply a small amount of oil to one area of the skin, then wait 15 minutes to make sure irritation or allergic reaction does not occur.
Kids Safety: Safe for children ages 2 and up when properly diluted to a .5-1% dilution rate. Click here to learn more about using essential oils safely for topical application on kids.
Practice Safe Diffusion
Diffuse in an open, well-ventilated area.
Keep children and pets out of the direct line of mist.
Diffuse in 30-60 minute intervals.
Your trust and confidence are very important to us. As part of our S.A.A.F.E. Promise™ to you, Rocky Mountain Oils provides verified third-party GC/MS (Gas Chromatography/Mass Spectrometry) test results from an independent lab for every essential oil product in our collection.
GC/MS tests verify the quality and purity of every Rocky Mountain Oils product, which guarantees you're using the safest and highest quality essential oils and essential oil blends on the market.
GC/MS Test: Click Here
To view batch-specific GC/MS test results, click here.
Lavandin Essential Oil Blend FAQ
What's the difference between Lavandin and Lavender?

Lavendin is a naturally occurring hybrid of standard Lavender (also known as English Lavender) and Spike Lavender, a Mediterranean variety that has a stronger, earthier scent. Lavandin contains more camphor than Lavender, which means it is more pungent and herbaceous. Lavandin is also more widely available. As a result, it is a more cost-effective option for individuals who use essential oils in cleansers, deodorants, soaps, candles, bath bombs, or other DIY products.

What are some common Lavandin Oil uses?

Lavandin Oil uses include diffusing, DIY room sprays and deodorizers, laundry refreshers (great for use on wool dryer balls), natural cleaners, haircare, skincare, bath soaks, treating minor cuts and abrasions, uplifting depression, calming anxiety, meditation, and more.

What are the benefits of using Lavandin Essential Oil?

Lavandin is a cicatrisant, which means it contains natural healing compounds for wound care and topical irritation. Some of the best Lavandin Essential Oil benefits for skincare include a more toned and even skin tone, healing blemishes like acne, fading scars, and smoothing uneven surfaces like cellulite. It's also great for haircare, deodorizing, sanitizing, diffusing, relieving anxiety and depression, promoting better sleep, and makes a perfect natural fragrance for DIY cleaning products or laundry detergents.

What does Lavandin Oil smell like?

Lavandin Oil smells like a deeper, earthier Lavender. Its aroma is floral, herbal, and slightly sweet, but with a rich camphorous undertone that sets it apart. The strong scent of Lavandin makes it an excellent essential oil for diffusing, blending, or using in homemade soaps, bath bombs, and candles.

Is Lavandin the same as Spike Lavender?

No. However, Lavandin is a naturally occurring hybrid of standard Lavender (also known as English Lavender) and Spike Lavender, which is a more pungent variety that's native to the Mediterranean region. Due to its hybridization, the aroma of Lavandin is richer and earthier than standard Lavender yet not as strong as Spike Lavender.