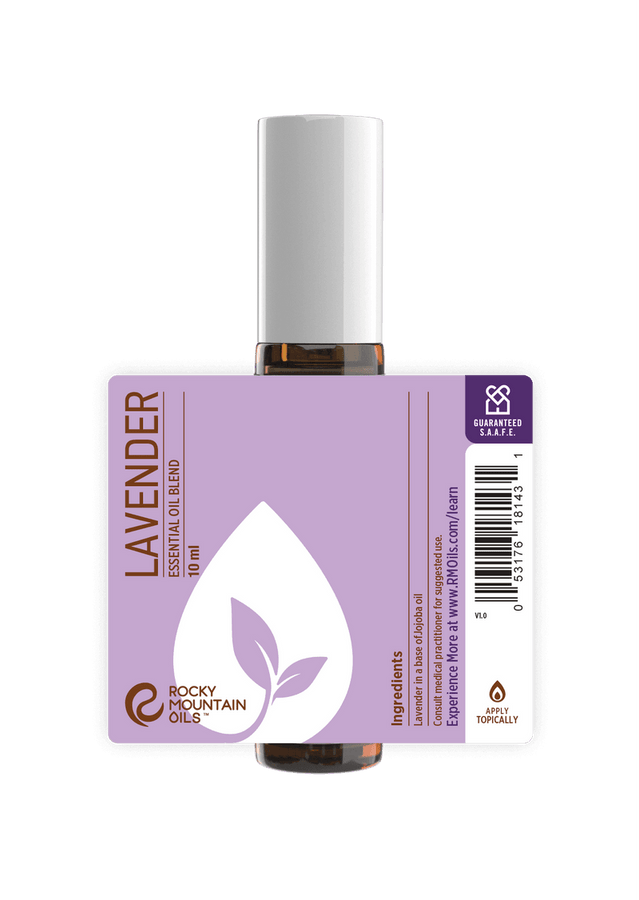 Lavender Roll-on
GC/MS
TESTING
90 DAY
RETURNS
100% RECYCLED
PACKAGING
S.A.A.F.E
PROMISE
Lavender has been treasured for thousands of years across many cultures for its desired aroma and multitude of therapeutic benefits. Well-known for its calming and soothing properties, Lavender can be diffused, applied topically, or used around the home to balance everyday tension and stress, relax the mind and body, and promote restful sleep. 
Enjoy the calming serenity of Lavender Essential Oil in this convenient Roll-on. Our Lavender 10mL Roll-on is pre-diluted to a 5% dilution rate in a base of nourishing Jojoba Oil, making it ready for immediate topical use.
Lavender is one of the best essential oils due to its deeply relaxing aromatherapy effects and its natural healing properties. The medium-strength aroma of this Lavender Roll-on is floral, herbaceous, sweet, and slightly woody. It is steam distilled from the flowers of the Lavandula angustifolia plant, sourced directly from the French countryside.
Use this Lavender Roll-on for sleep, stress, irritated skin, muscle aches, insect bites, and more. Lavender Essential Oil contains natural anti-inflammatory compounds which may help with chronic pain. It also possesses antifungal and antibacterial properties to help protect against illness.
Lavender is recommended to help with mood imbalances. Apply this Roll-on to pulse points, or simply breathe in the grounding scent, to reduce anxiety and create peace whenever you need a break from the stressors of life.
---
The statements contained herein have not been evaluated by the Food and Drug Administration. Neither Rocky Mountain Oils® nor its products are intended for the purpose of diagnosing, treating, curing, or preventing any disease. If you are pregnant, nursing, taking medication, or have a medical condition, consult your physician before using these products.
Lavender Roll-on Uses
A Lavender Roll-on is prediluted for topical use, making it one of the most convenient ways for busy professionals, parents, and travelers to enjoy the benefits of lavender essential oil on-the-go.
Apply to wrists, forehead, neck, or other areas as needed.
Lavender Roll-on uses include helping people cope with daily stress and feel calmer before important meetings, exams, or other sources of anxiety.
Apply before bedtime to fall asleep faster and sleep more deeply. For people who often wake up in the middle of the night, keep in your nightstand to use to fall back to sleep.
Roll onto sore or aching muscles and stiff joints for natural pain relief.
Dab onto pulse points to feel more grounded and refreshed for yoga and meditation.
Botanical Name: Lavandula angustifolia
Country of Origin: France
Extraction Method: Steam Distilled
Plant Part: Flower
Aroma: Floral, Sweet, Herbal
Consistency: Thin
Blends Well With: Ylang Ylang, Geranium, Blend of Rose, Sandalwood, Lemon, Orange, Bergamot FCF, Grapefruit, German Chamomile, and Roman Chamomile.
Generally non-irritating and non-sensitizing.
It is always recommended to patch test before committing to topically applying. Patch test by applying the oil to a small section of your skin and leaving it for about 15 min. Check for any skin irritations or allergic reactions before committing to topical use.

Click here for dilution rates.
Your trust and confidence is very important to us. As part of our S.A.A.F.E. Promise™ to you, we provide GC/MS (Gas Chromatography / Mass Spectrometry) test results from a verified third party, independent lab for each one of our essential oil products.

GC/MS tests verify purity and quality of the oils we sell, so you can be sure you're using the highest quality oils available on the market today.

GC/MS Test: Click Here

For batch specific GC/MS test click here.
Lavender Roll-on FAQ
What are the benefits of using a lavender roll-on?

A Lavender Essential Oil Roll-On is great for stress and anxiety, insomnia, aromatherapy, meditation, yoga, relaxing warm baths, haircare, skincare, home cleaning products, balancing the central nervous system, may help prevent and heal adrenal fatigue, and more.

How do you use a lavender roll-on for sleep?

To use a Lavender Roll-on for sleep, apply a light dab to your pulse points, neck, or feet a few minutes before bedtime.

You may also benefit from using this essential oil roll-on with a yoga nidra or "yoga sleep" meditation. Simply breathe in the gentle floral aroma of lavender as you lie in bed. Then, from your toes to your head, imagine the lavender oil gently relaxing each muscle in your body and carrying you off to deep, healing sleep.

Does lavender roll-on essential oil help with anxiety?

Yes! Lavender Essential Oil Roll-ons are a popular choice for anyone who wishes to naturally treat anxiety. Studies indicate that using lavender essential oil may help reduce anxious thoughts by calming the body's fight-or-flight response. It may also help ease symptoms of postpartum depression.

Where do you use lavender roll-on?

Use a lavender roll-on topically on your wrists, collarbone, neck, ankles, and feet, or apply directly to sore muscles. However, we recommend patch testing before committing to topical use. To patch test, apply a small dab to one area of the skin and wait approximately 15 minutes to ensure you do not experience irritation.

Is lavender essential oil roll-on safe to use on kids?

Yes. This Lavender Essential Oil Roll-on is safe for topical use with children ages 6 months and older. Try it to calm tantrums, soothe tummy aches, and help your child sleep more peacefully.