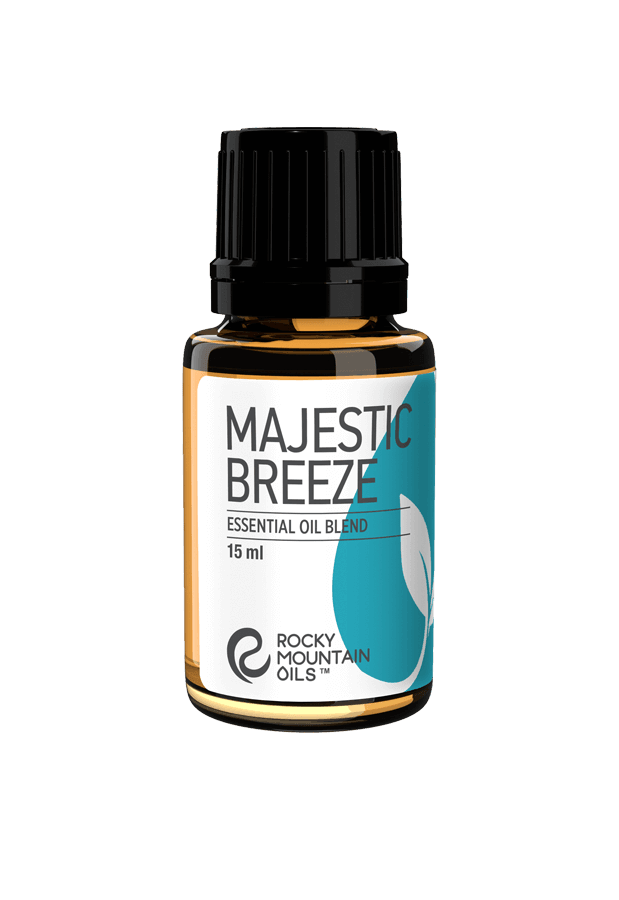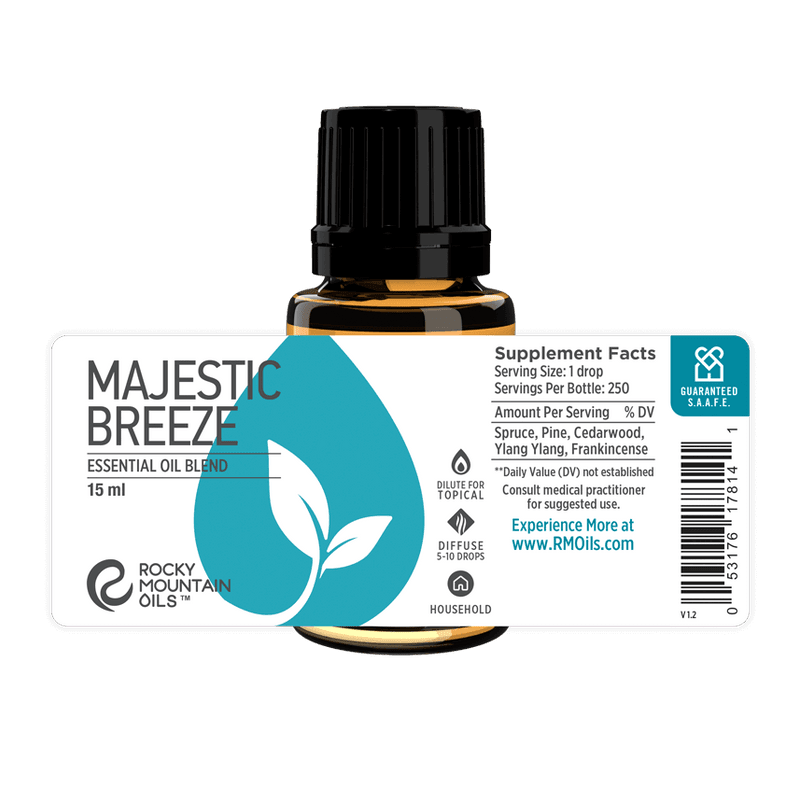 Majestic Breeze Essential Oil Blend
GC/MS
TESTING
90 DAY
RETURNS
100% RECYCLED
PACKAGING
S.A.A.F.E
PROMISE
Fill your home with the evergreen scent of clean, crisp mountain air with Majestic Breeze. This blend combines some of the best essential oils for grounding and anxiety: Spruce, Pine, Cedarwood, Ylang Ylang, and Frankincense Serrata.
With a fresh, piney aroma that's deep and earthy, it's a popular blend for men as well as anyone who feels inspired by nature. Majestic Breeze is designed to help you feel more rooted so you can allow troubled thoughts to drift away like leaves on the wind. It helps balance emotions, reduces anger and aggression, and can be used as an essential oil for mental health issues like anxiety and depression.
It's also an excellent essential oil for air purifier. Thanks to the antibacterial, antiviral, and antifungal properties of these essential oils, Majestic Breeze neutralizes odor-causing bacteria in the air as well as allergens and pollutants. Diffuse this blend to create a fresh, clean environment in your home, office, car, or any space that feels stagnant.
You can also dilute this blend with a carrier oil for topical application. It is anti-inflammatory and helps soothe sore muscles and stiff joints, treats skin conditions like acne, and promotes new hair growth. Men will enjoy using this blend as a masculine cologne or beard oil.
Diffuse this blend of essential oils for grounding and anxiety relief, as well as other emotional imbalances like anger and mood swings.
Use to help calm coughing and relieve chest congestion by diffusing, rubbing onto the chest with a carrier oil, or using in a personal aroma inhaler.
Dilute with a carrier oil like Fractionated Coconut or Jojoba, then apply to the face to tone, brighten, and reduce blemishes like acne. It can also be used topically as a soothing, anti-inflammatory massage oil.
Meditate with this blend to clear the mind of negative thoughts, feelings of inferiority, and anxiety, and to promote mental clarity and concentration.
Add to DIY household cleaners and deodorizers, candles, soaps, room sprays, laundry detergents, and more.
This blend also makes a great cologne or beard oil for men.
Majestic Breeze Carpet Freshener
Bring your carpets and rugs back to life with this all-natural carpet refresher that absorbs odors and leaves behind a bright, clean, woody scent.
100 drops Majestic Breeze
20 drops Orange
1/2 cup Baking Soda
Instructions: Mix all ingredients together in a Ziploc or sealable silicone bag. Seal the bag, then massage it with your hands until the essential oils are thoroughly blended into the baking soda. Pour into a glass jar and seal until ready for use. To use, sprinkle over your carpet, leave for 10-15 minutes, then vacuum.
Always dilute with a carrier oil and patch test prior to extensive use on the skin. To patch test, apply a very small amount of oil to one area of the skin and wait 15 minutes to confirm that irritation or allergic reaction does not occur.
Do not use it while pregnant or breastfeeding. Do not use near the eyes, nose, mouth, sensitive areas, or on broken skin or abrasions. For external use only. Do not ingest.
Safe to use on skin for kids ages 10 and up. Dilute to a .1-.5% dilution rate and patch test before using topically. Click here to learn more about using essential oils and child safety.
Safe Diffusing Tips:
Diffuse in an open, well-ventilated area.
Keep children and pets out of the direct line of mist.
Diffuse in 30-60 minute intervals with ample break periods.
Your trust and confidence matter to us. As part of our S.A.A.F.E. Promise™ to you, Rocky Mountain Oils provides verified third-party GC/MS (Gas Chromatography/Mass Spectrometry) test results from an independent lab for every essential oil product in our collection.
GC/MS tests verify the quality and purity of every Rocky Mountain Oils product, which guarantees you're using the safest and highest quality essential oils and essential oil blends on the market.
To view the GC/MS test results for your essential oil blend, click here.
Majestic Breeze Essential Oil Blend FAQ
What is the best essential oil for mental health?

When it comes to the best essential oil for mental health, there are several varieties to consider. Some of our favorites include Spruce, Pine, Cedarwood, Ylang Ylang, and Frankincense Serrata. We've included these oils in our refreshing, relaxing Majestic Breeze Blend, which helps reduce anxiety, depression, and mental fatigue.

Can you use essential oils for anger?

Yes, research indicates that aromatherapy and essential oils help reduce anger and aggression. Due to their relaxing effect, some of the best essential oil for anger can calm the central nervous system and make you less reactive. When you feel angry, try diffusing Majestic Breeze or uncap and inhale. Take several slow, deep breaths and allow the soothing aroma to quell your anger.

Can you use essential oils to clean air?

Due to their antimicrobial properties, an essential oil for air purifier will help clean the air in your home, office, or other space. Diffusing essential oils to clean air helps reduce environmental pollutants, allergens, and odor-causing bacteria. However, always remember to diffuse essential oils in a room with plenty of ventilation and airflow and take breaks from diffusing after 30-60 minutes.

What are the health benefits of Majestic Breeze Essential Oil Blend?

Majestic Breeze offers a variety of health benefits for immunity, anti-inflammation, and respiratory health. With evergreen oils like Spruce, Pine, and Cedarwood, this oil blend acts as a natural expectorant to reduce coughing and congestion. It also contains Ylang Ylang and Frankincense Serrata for skincare benefits like reducing acne, fading scars, and soothing inflammation.