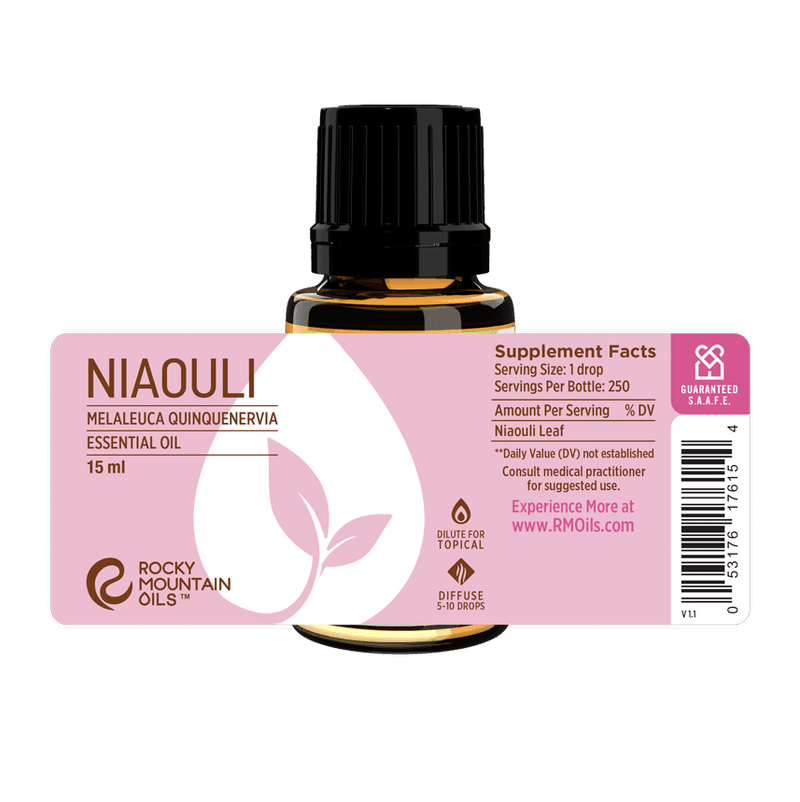 Niaouli (Melaleuca) Essential Oil
GC/MS
TESTING
90 DAY
RETURNS
100% RECYCLED
PACKAGING
S.A.A.F.E
PROMISE
Feel cleansed, refreshed, and support your body's healing abilities with Niaouli (Melaleuca) Essential Oil. Rocky Mountain Oils' Niaouli Oil, also known as Melaleuca Oil, is one of nature's best antiseptic agents. It sanitizes, soothes, and balances with the medicinal power of plants.
With a medium-strength aroma that's sharp, citrusy, cooling, and slightly sweet, Niaouli Essential Oil stimulates the senses with an herbaceous middle fragrance note that conveys its holistic healing potential. Use Niaouli Oil for preventing infection and treating small wounds, as well as fungal infections such as athlete's foot.
This 100% pure Niaouli or Melaleuca Essential Oil is steam distilled from the leaves of the Australian Melaleuca quinquenervia tree, also known as the Broad-Leaved Paper Bark Tree or Punk Tree. It has been used for generations in indigenous traditional medicine as well as home remedies and aromatherapy.
Try using Niaouli Essential Oil in a deep-condition hair mask, add to DIY kitchen and bathroom cleaners, dilute in a carrier oil for topical use, or use in a diffuser to clarify and uplift.
---
The statements contained herein have not been evaluated by the Food and Drug Administration. Neither Rocky Mountain Oils nor its products are intended for the purpose of diagnosing, treating, curing or preventing any disease. If you are pregnant, nursing, taking medication, or have a medical condition, consult your physician before using these products.
Niaouli (Melaleuca) Essential Oil Uses
Niaouli Melaleuca Oil uses include natural haircare, skincare, antiseptic cleaning products, hand sanitizing, and treatment of minor wounds such as cuts, scrapes, and insect bites.
Diffuse or mist near windows and doorways to deter mosquitoes, spiders, ants, and other insects. When properly diluted, Niaouli Essential Oil can also be applied to skin to keep bugs from biting.
Helps release muscle tension and release stress held in the body. Soothes aching feet, stiff joints, and back pain.
A rich source of plant compounds called terpenoids, which act as natural anti-inflammatory agents and have antioxidant properties to promote healing.
Supports better breathing, may help reduce fevers, and discourages viral and bacterial infections. Add to kitchen and bathroom cleaning products to naturally sanitize germs.
Aromatherapy benefits of Niaouli Essential Oil includes balancing emotions and focusing the mind. Great for yoga and breathwork.
Niaouli (Melaleuca) Essential Oil Recipes
Rest Those Feet Cream
Relax aching, tired feet and let go of stress with this soothing and deeply moisturizing cream.
10 drops Peppermint
7 drops Lemon
9 drops Niaouli
5 drops Sage
4 drops Spruce
1 teaspoon FCO
2 capsules Evening Primrose Oil
1 cup Shea Butter
Instructions: Melt shea butter and add FCO. Next, blend in essential oils. Pour into an open container and allow to cool completely, then seal the container for storage in a cool, dry place. Massage into feet as needed.

Invigorating Scalp Massage
Enjoy all the Niaouli Essential Oil benefits for hair with this DIY massage oil to help control dandruff, stimulate new hair growth, and add luxurious shine.
Instructions: Combine all ingredients and give yourself a thorough scalp massage, beginning at the crown and working your way all around your scalp in small circles.
Botanical Name: Melaleuca quinquenervia
Country of Origin: Australia
Extraction Method: Steam Distilled
Plant Part: Leaf
Aroma: Menthol, Sweet, Herbal
Consistency: Thin
Blends Well With: Basil, Cedarwood, Cinnamon Bark, Clove Bud, Eucalyptus, Frankincense, Nutmeg, Peppermint, Sandalwood
Dilute before applying topically.

Click here for dilution rates.
---
Kids Safety: Safe to use topically with children 10 years of age and older. Dilute to a 1-2% dilution rate for topical application.
Practice safe diffusing:
- Diffuse in an open, well-ventilated area.
- Keep children out of the direct line of mist.
- Diffuse in 30-60 minute intervals with ample break periods for safe and effective use.
Your trust and confidence is very important to us. As part of our S.A.A.F.E. Promise™ to you, we provide GC/MS (Gas Chromatography / Mass Spectrometry) test results from a verified third party, independent lab for each one of our essential oil products.

GC/MS tests verify purity and quality of the oils we sell, so you can be sure you're using the highest quality oils available on the market today.

GC/MS Test: Click Here

For batch specific GC/MS test click here.
Niaouli (Melaleuca) Essential Oil FAQ
What is niaouli oil good for?

Niaouli Oil benefits include boosting the immune system, relieving coughs and congestion, sinus headaches, skincare, haircare, aromatherapy for cleansing and uplifting energy, insect deterrent, homemade DIY cleaning products, killing bacteria in laundry, and more. It is naturally antibacterial and astringent.

Is niaouli essential oil the same as melaleuca essential oil?

Yes, Niaouli Essential Oil is also known as Melaleuca Essential Oil. This essential oil is steam distilled from the camphoraceous leaves of the Melaleuca quinquenervia tree in Australia, also known as the Broad-Leaved Paper Bark Tree or Punk Tree.

What is the difference between niaouli oil and tea tree oil?

Niaouli Oil and Tea Tree Oil are both in the Melaleuca Oil family. Tea Tree Oil has a stronger, sharper aroma and may not be suitable for people with very sensitive skin. The scent of Niaouli Oil is softer, sweeter, and more citrusy than Tea Tree Oil. People who are irritated by Tea Tree Oil may prefer using Niaouli Oil. Each of these Melaleuca Oils help heal skin, support respiratory health, help treat dandruff, soothe bug bites, and can be used in DIY cleaning products.

What are some niaouli essential oil benefits for hair?

Niaouli Essential Oil Benefits for hair include managing dryness, promoting volume and shine, dandruff control, and stimulating new hair growth. Niaouli Oil cleanses the scalp, balances scalp pH, and may help fortify hair follicles to prevent breakage.

To use in hair, add 1-2 drops to your regular shampoo or conditioner, or make a deep conditioning hair mask at home by mixing 5-10 drops Niaouli Essential Oil in 1 tablespoon of coconut oil. Massage into the scalp and let sit for 10 minutes before rinsing out.

Can I use niaouli essential oil on kids?

Niaouli Essential Oil is not recommended for children under 10. Before topical use on kids, always dilute in a carrier oil to a .5-1% dilution rate and do a patch test. For more information about safely using Niaouli, Melaleuca, and other essential oils with children, click here.