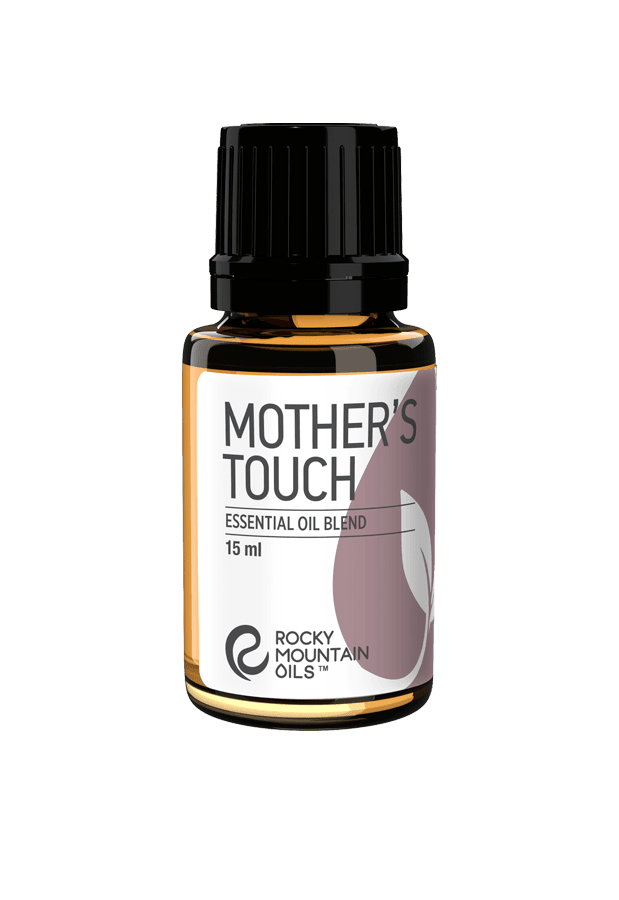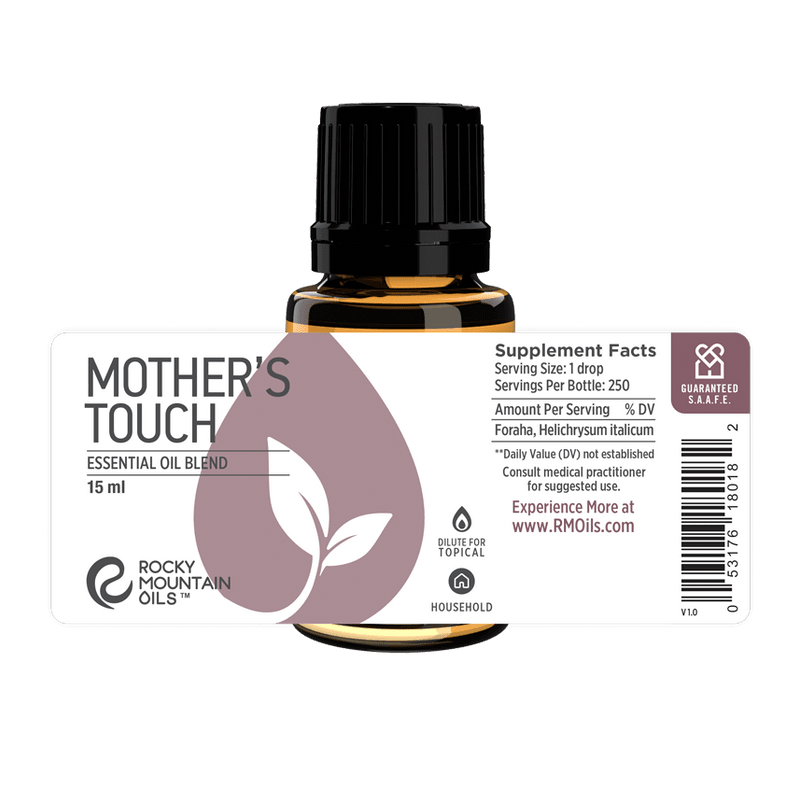 Mother's Touch
GC/MS
TESTING
90 DAY
RETURNS
100% RECYCLED
PACKAGING
S.A.A.F.E
PROMISE
You're never too old to be soothed by a Mother's Touch. Our Mother's Touch Essential Oil Blend is a gentle yet powerful healing oil that treats irritation, skin conditions, and minor wounds with pure, natural ingredients and loving care inspired by moms. It's a perfect blend of essential oils for cuts and scrapes to keep in your medicine cabinet.
This blend combines Foraha (Tamanu) and Helichrysum italicum, two of the best essential oils for rashes, skin irritation, and topical healing. These ingredients are rich in natural anti-inflammatory compounds that support the body's ability to repair cells, while antimicrobial benefits help prevent infection. Whether you have a small cut or a sore back, Mother's Touch can provide relief.
With a sweet and comforting aroma that's herbal, nutty, and slightly earthy, Mother's Touch also supports your central nervous system. It calms emotional imbalances and supports nerve function. If you or someone in your family is feeling anxious, inhaling Mother's Touch will bring immediate relief from the adrenaline rush of being fight-or-flight mode. It's great for soothing little ones who feel big emotions over a scraped knee or a bumped head.
Mother's Touch also lightens and fades the appearance of scar tissues and blemishes, while toning and brightening skin. Try it as part of your daily skincare routine or use it for gua sha and jade rollers.
---
The statements contained herein have not been evaluated by the Food and Drug Administration. Neither Rocky Mountain Oils® nor its products are intended for the purpose of diagnosing, treating, curing, or preventing any disease. If you are pregnant, nursing, taking medication, or have a medical condition, consult your physician before using these products. 
Dilute with a carrier oil such as FCO, Jojoba Oil, or Almond Oil, then apply topically and massage into the skin.
Use as a natural analgesic to soothe muscle pain, ease stiff joints, reduce cramps, and help tension leave the body.
Apply to the soles of the feet to absorb anti-inflammatory and immunity boosting benefits.
Dab a few drops on the skin to heal acne, psoriasis, skin tags, eczema, and other blemishes. In lieu of a carrier oil, you can also add a few drops to your daily cleanser or moisturizer.
Use to lighten and diminish the appearance of scar tissue.
Use to calm itchy bug bites, rashes, or other irritation.
Scar-Reducing Blend
Looking to reduce the appearance of an old or new scar? Try this healing blend to fade redness, smooth the skin, and encourage new cell growth.
10 drops Mother's Touch
7 drops Sacred Frankincense
1 tsp Vitamin E Oill
Carrier oil of your choice
Instructions: Add the first three ingredients to an empty 10ml roll-on bottle. Then fill the rest of the bottle with your preferred carrier oil. Attach the rollerball and cap, then shake the bottle to combine all ingredients. Apply to scars 2-3 times a day. Store in a cool, dry place away from direct sunlight.
Dilute with a carrier oil prior to topical use. Avoid contact with mucous membranes, eyes, and the inside of the mouth, nose, and ears. Do not ingest. Do not use while pregnant or breastfeeding.
Kids Safety: Safe to use topically with children ages 7 months and older. Dilute to a .5-1% dilution rate for topical application.
Allergy Warning: This blend contains the tree nut Foraha (tamanu).
Practice safe diffusing:
Diffuse in an open, well-ventilated area.
Keep children and pets out of the direct line of mist.
Diffuse in 30-60 minute intervals, with ample break periods for safe and effective use.
At Rocky Mountain Oils, your trust and confidence matter to us. As part of our S.A.A.F.E. Promise™, we offer third-party verified GC/MS (Gas Chromatography/Mass Spectrometry) test results from an independent lab for every essential oil and blend in our line.
GC/MS tests verify the purity and quality of our essential oils, so you can be sure you're using the safest, highest-quality essential oils available today.
For batch-specific GC/MS tests, click here.
Mother's Touch FAQ
What does Foraha (Tamanu) oil smell like?

Foraha oil, also known as Tamanu oil, is cold pressed from the nut of the Calophyllum inophyllum plant that grows in tropical Asia. This essential oil has a rich, sweet, nutty smell that's slightly creamy and reminiscent of pecans. According to some, Foraha (Tamanu) oil even smells like butter pecan ice cream!

What does Helichrysum italicum oil smell like?

Helichrysum italicum oil offers a deep aroma that's both herbal and floral. Its scent can be described as earthy and often draws comparison to fennel seed or black licorice. This essential oil is warm, rich, slightly sweet, and has smooth notes of wood and butter.

Can you use essential oils for rashes?

Yes! When properly diluted with carrier oil, Mother's Touch makes an excellent essential oil for skin rash. The anti-inflammatory properties of this oil will soothe redness and inflammation while encouraging skin cells to heal faster, while antimicrobial benefits help prevent infection. You can also try this essential oil for skin irritation like eczema, psoriasis, sunburn, and more.

Is it safe to use essential oils for cuts and scrapes?

Not all essential oils are safe for cuts and scrapes, as some may cause irritation. However, Mother's Touch essential oil blend contains Foraha (Tamanu) oil and Helichrysum italicum oil, which are both safe for topical treatment of minor cuts and scrapes as well as bruises and burns.