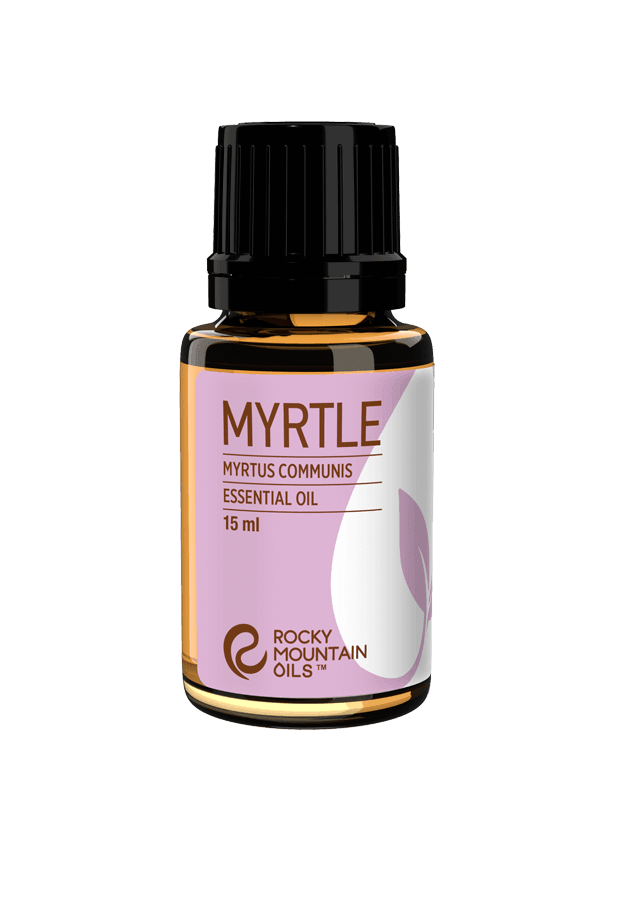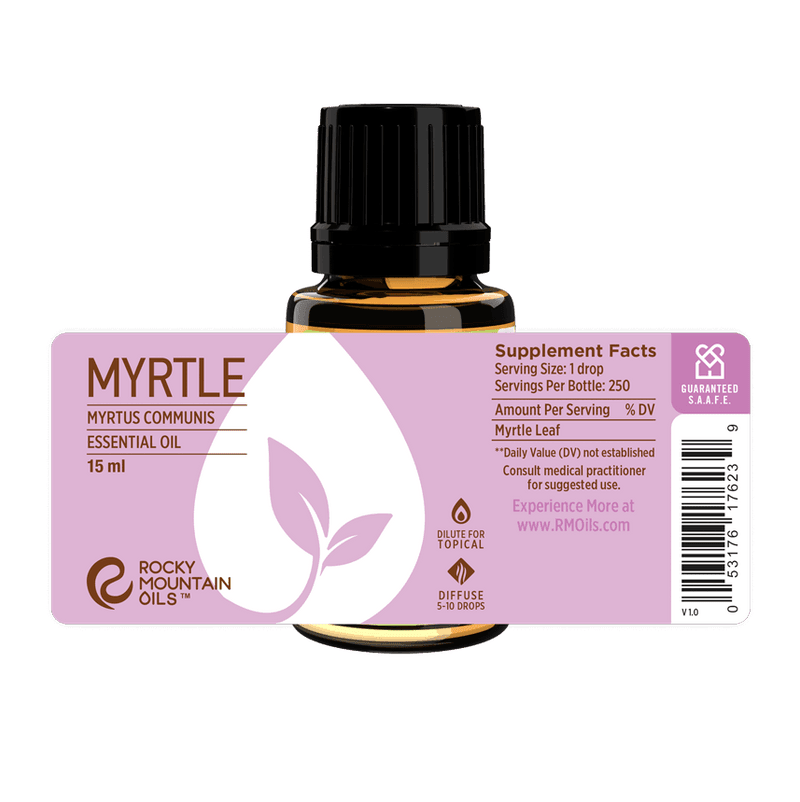 Myrtle Essential Oil
GC/MS
TESTING
90 DAY
RETURNS
100% RECYCLED
PACKAGING
S.A.A.F.E
PROMISE
Purify and uplift with the clean, vibrant energy of Myrtle Essential Oil. With a fresh, invigorating aroma that's floral, earthy, and slightly sweet, Myrtle is known for its immunity-boosting medicinal properties and natural beauty benefits. 
When using Myrtle oil for skin, you'll quickly notice improvements in skin tone, texture, and elasticity. Myrtle essential oil is naturally astringent and exfoliating. It helps deep-clean pores and removes dead skin cells, replenishing the skin's natural moisture barrier and reducing acne, blemishes, hyperpigmentation, and signs of aging.
Myrtle essential oil benefits for aromatherapy include reducing stress and creating a calm, tranquil atmosphere to promote better focus and concentration. When diffused or inhaled, the scent of Myrtle delivers a burst of steady energy that uplifts without causing jitters or crashes. If you're trying to quit caffeine, Myrtle makes an excellent alternative to coffee and energy drinks.
Other Myrtle essential oil uses include reducing pain and joint stiffness, promoting better organ and nerve function, and boosting the immune system. Myrtle oil is also anti-inflammatory and functions as a natural expectorant to support lung health. When you feel chest or sinus congestion, try using Myrtle essential oil for a soothing balm to reduce congestion and promote better breathing.
---
The statements contained herein have not been evaluated by the Food and Drug Administration. Neither Rocky Mountain Oils nor its products are intended for the purpose of diagnosing, treating, curing or preventing any disease. If you are pregnant, nursing, taking medication, or have a medical condition, consult your physician before using these products.
Diffuse or use in a room spray to neutralize odor-causing bacteria, infectious germs, allergens, pollutants, or other environmental particle that can affect breathing.
Use to promote emotional balance and stability while relieving anxious thoughts, worries, anger, and irritability.
Dilute with a carrier oil, then massage into the soles of the feet, upper chest, pulse points, or arms and legs to support the immune system, reduce inflammation, balance hormones, and promote better digestion.
Inhale or use as a chest rub to calm coughing and open the airways when experiencing upper respiratory illnesses or bronchitis.
Add a few drops to a warm bath to soothe sore, tired muscles and help release stressful thoughts.
Myrtle Oil Immunity Boost Diffuser Blend
Try this DIY diffuser blend to fill your space with Myrtle essential oil benefits for immunity.
3 drops Myrtle
3 drops Frankincense Serrata
3 drops Lemon
Instructions: Add all oils to your favorite diffuser, then mist for 30-60 minutes in a well-ventilated area to deodorize and purify the air in your home, office, car, or other space.
Botanical Name: Myrtus communis
Country of Origin: Tunisia/Morocco*
Extraction Method: Steam Distilled
Plant Part: Resin
Aroma: Fresh, Woodsy, Floral, Earthy
Consistency: Medium to Thick
Blends Well With: Eucalyptus, Lavender, Lemon, Orange, Ravintsara, Rosemary
Popular Myrtle Blends: Purify, Breathe Ease, Lymph Support, Lucky Dragon, DNA Harmony
*Some of our oils have multiple countries of origin. To confirm which country your specific bottle of oil originates from, please click here to consult its GC/MS test.
Always dilute prior to topical application. Avoid contact with mucous membranes, eyes, and the inside of the mouth, nose, and ears. Do not ingest. Do not use while pregnant or breastfeeding.
Kids Safety: Safe to use topically with children ages 6 years old and up. Dilute to a 1-2% dilution rate for topical application.
Tips for Safer Diffusing:
Diffuse in an open, well-ventilated area.
Keep children and pets out of the direct line of mist.
Diffuse in 30-60 minute intervals, with ample break periods for safe and effective use.
At Rocky Mountain Oils, your trust and confidence matter to us. As part of our S.A.A.F.E. Promise™, we offer third-party verified GC/MS (Gas Chromatography/Mass Spectrometry) test results from an independent lab for every essential oil and blend in our line.
GC/MS tests verify the purity and quality of our essential oils, so you can be sure you're using the safest, highest-quality essential oils available today.
GC/MS Test: Click Here
For batch-specific GC/MS tests, click here.
Myrtle Essential Oil FAQ
What does Myrtle essential oil smell like?

Myrtle has a fresh, woody, herbal aroma that's floral, sweet, and slightly earthy. Some people also find its aroma slightly camphorous. When diffused or inhaled, Myrtle essential oil evokes a feeling of balance and calls to mind a quiet, cozy space or a tranquil meadow.

Can I use Myrtle oil for skin?

Yes! You can use Myrtle oil for skin when properly diluted with a carrier oil or added to your regular cleanser, toner, or moisturizer. Myrtle essential oil also makes an excellent makeup remover, exfoliant, and an uplifting base for gua sha or jade rollers. Try blending Myrtle with Fractionated Coconut Oil to make a deep hydrating mask that reduces redness, acne, and shrinks pores.

What are Mytrle essential oil benefits for mental health?

Myrtle essential oil uses for mental health include reducing anxiety and depression, promoting better quality sleep, and enhancing focus and concentration. If you find yourself experiencing brain fog or mental fatigue, the uplifting scent of Myrtle can help bring your attention back to the task at hand and function more efficiently. Myrtle is also said to improve memory, creativity, and motivation.

Is Myrtle oil safe for dogs and cats?

Myrtle essential oil may be safe for dogs when used under the guidance of a veterinarian or pet aromatherapist. It is not safe for cats. When using Myrtle oil, make sure your pet does not ingest it or lick any surfaces which may have oily residue. Always diffuse in a well-ventilated area away from your pet's food and water bowls, bed or crate, or litter box. If you are using Myrtle and notice changes in your pet's behavior or signs of distress, discontinue use immediately and contact your veterinarian.