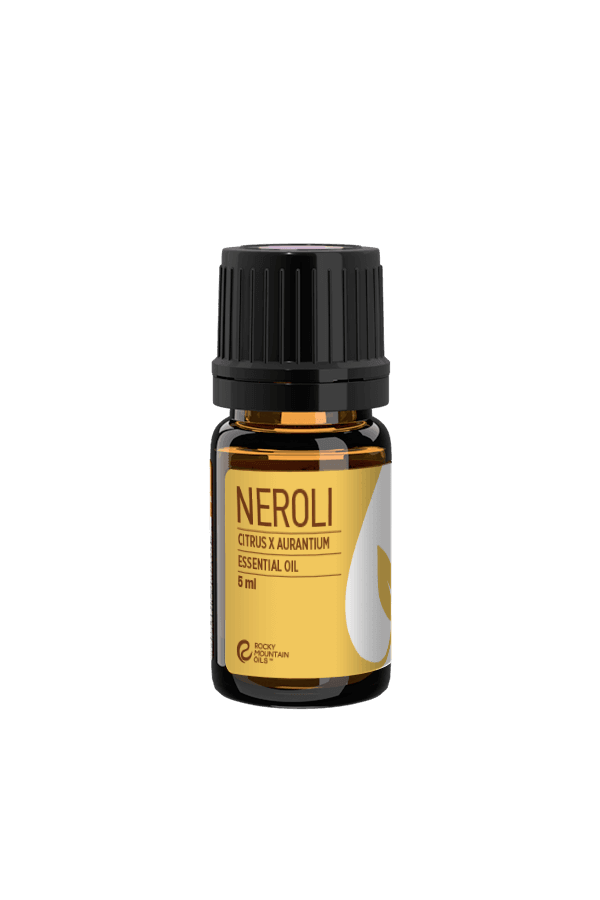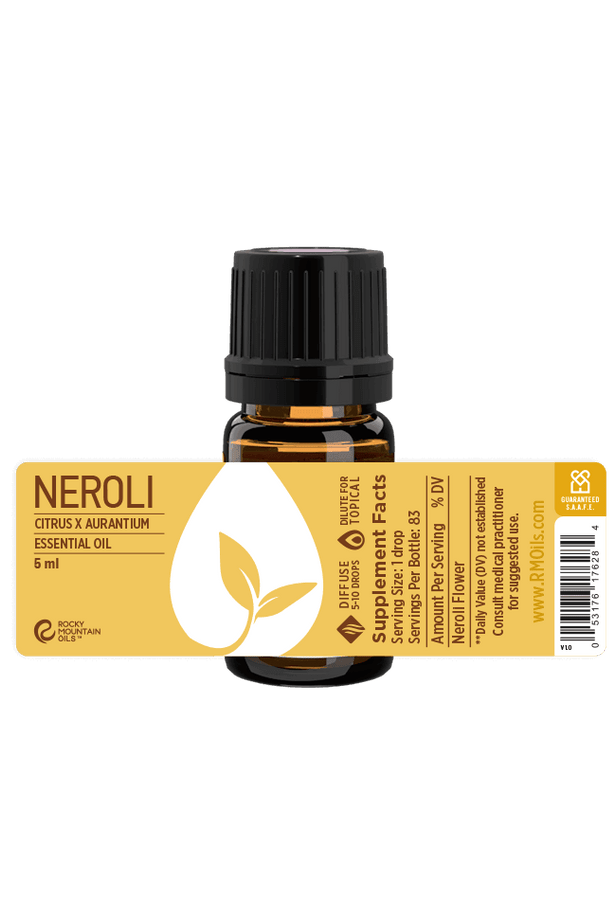 Neroli Essential Oil
GC/MS
TESTING
90 DAY
RETURNS
100% RECYCLED
PACKAGING
S.A.A.F.E
PROMISE
Spark more joy and indulge the senses with the uplifting aroma of Neroli Essential Oil. Also known as Bitter Orange, Orange Blossom, or Sour Orange, Neroli oil is steam distilled from the delicate flowers of the Bitter Orange Tree. It offers a delicate citrusy aroma that's floral and herbal.
Rich in antioxidants like limonene and Vitamin C, Neroli essential oil benefits include natural skincare, haircare, and wound healing. It helps stimulate collagen production and elasticity, which plumps and tightens skin, while fading scars and reducing the appearance of fine lines and wrinkles. It also nourishes the scalp, strengthens hair follicles, prevents infections, and decreases the healing time of small cuts and abrasions.
Try diffusing this essential oil to release anxiety and tension. Studies suggest that inhaling Neroli helps create more serotonin in the brain, which reduces stress while promoting feelings of happiness and safety. This essential oil is also used in home remedies to treat PMS and hormonal imbalances, stimulate libido, lower blood pressure, and help treat insomnia.
Neroli blends well with other citrus oils as well as floral oils and earthy, woody aromas like Sandalwood and Cedarwood. It also makes a wonderful diffuser scent all on its own! Fill your home with the bright yet gentle scent of Neroli to feel more grounded while promoting clarity, tranquility, and good cheer.
Neroli Essential Oil is part of our Skin Care and Mood collections.
---
The statements contained herein have not been evaluated by the Food and Drug Administration. Neither Rocky Mountain Oils nor its products are intended for the purpose of diagnosing, treating, curing or preventing any disease. If you are pregnant, nursing, taking medication, or have a medical condition, consult your physician before using these products.
Diffuse to reduce stress and anxiety while enhancing focus and concentration with natural energy. The aroma of this essential oil can also help you feel more centered and stabilize emotional imbalances.
Use in the evening to help you fall asleep faster and sleep more deeply.
Dilute with your favorite carrier oil, then apply to the skin to treat acne, moisturize, balance skin pH, and attain a clearer, smoother complexion. It also helps reduce the appearance of scars, fine lines, and wrinkles.
Use with a carrier oil or add a few drops to your regular shampoo or conditioner for a nourishing scalp treatment that treats dandruff, dry scalp, and encourages new hair growth.
Diffuse or use with a carrier oil on the temples and forehead to soothe headaches and migraines.
Use in a DIY massage oil to reduce inflammation, release tension in the body, and stimulate libido.
Neroli Room Spray
Fill your home with all the benefits of Neroli essential oil while eliminating odor-causing bacteria and freshening the air with this DIY room spray.
10 drops Neroli essential oil
1 cup Distilled Water
5 drops Witch Hazel
Instructions: Add all ingredients to a spray bottle and shake well to combine. Shake again before each use. Mist generously into the air or use as a linen spray on pillows, sheets, and soft furniture.
Botanical Name: Citrus x aurantium
Country of Origin: Tunisia/Egypt*
Extraction Method: Steam Distilled
Plant Part: Flower
Aroma: Sweet, Floral, Herbal
Consistency: Thin
Blends Well With: Cedarwood, Roman Chamomile, Geranium, Jasmine, Lavender, Rose, Sandalwood, Ylang Ylang
Popular Neroli Essential Oil Blends: Skin Care, Feminine Aid, Balance, Mind Alive
*Some of our oils have multiple countries of origin. To confirm which country your specific bottle of oil originates from, please consult its GC/MS test by clicking here.
Always dilute prior to topical application. Avoid contact with mucous membranes, eyes, and the inside of the mouth, nose, and ears. Do not ingest. Do not use while pregnant or breastfeeding.
Kids Safety: Safe to use topically with children ages 7 months and up. Dilute to a .5-1% dilution rate for topical application. Click here to learn more about essential oils and child safety.
Practice safe diffusing:
Diffuse in an open, well-ventilated area.
Keep children and pets out of the direct line of mist.
Diffuse in 30-60 minute intervals, with ample breaks in between.
At Rocky Mountain Oils, your trust and confidence matter to us. As part of our S.A.A.F.E. Promise™, we offer third-party verified GC/MS (Gas Chromatography/Mass Spectrometry) test results from an independent lab for every essential oil and blend in our line.
GC/MS tests verify the purity and quality of our essential oils, so you can be sure you're using the safest, highest-quality essential oils available today.
GC/MS Test: Click Here
For batch-specific GC/MS tests, click here.
Neroli Essential Oil FAQ
What does Neroli essential oil smell like?

Neroli oil has a fresh, sweet, citrusy aroma that's also floral and slightly herbal. Its scent is delicate and fragrant, with a bright quality that feels gently energizing. Both men and women love this scent, which blends well with a wide variety of other essential oils and compliments different aromas.

Is Neroli good for anti-aging?

Yes! Neroli is high in antioxidants like Vitamin C and limonene, which tone and bright skin while providing natural anti-aging properties. One of the most popular Neroli essential oil benefits is its ability to reduce the appearance of fine lines and wrinkles when used consistently over time. This oil helps hydrate, restore the skin's natural protective barrier, improves elasticity and collagen production, and helps generate new skin cells that are more youthful and glowing.

Why is Neroli called Bitter Orange?

Neroli is made by steam distilling the flowers of a variety of orange tree called Citrus x aurantium, which is also known as the Bitter Orange tree due to its distinctly tangy fruit that's less sweet than other types of oranges.

What are some Neroli essential oil spiritual benefits?

Neroli essential oil benefits for spiritual practice include strengthening your aura, cleansing negative energy, and cultivating a sense of inner purpose. Neroli can also enhance your focus and concentration, allowing you to attain deeper levels of stillness in meditation. Try diffusing Neroli while doing yoga, tai chi, or qi gong to feel calm, centered, and uplifted.