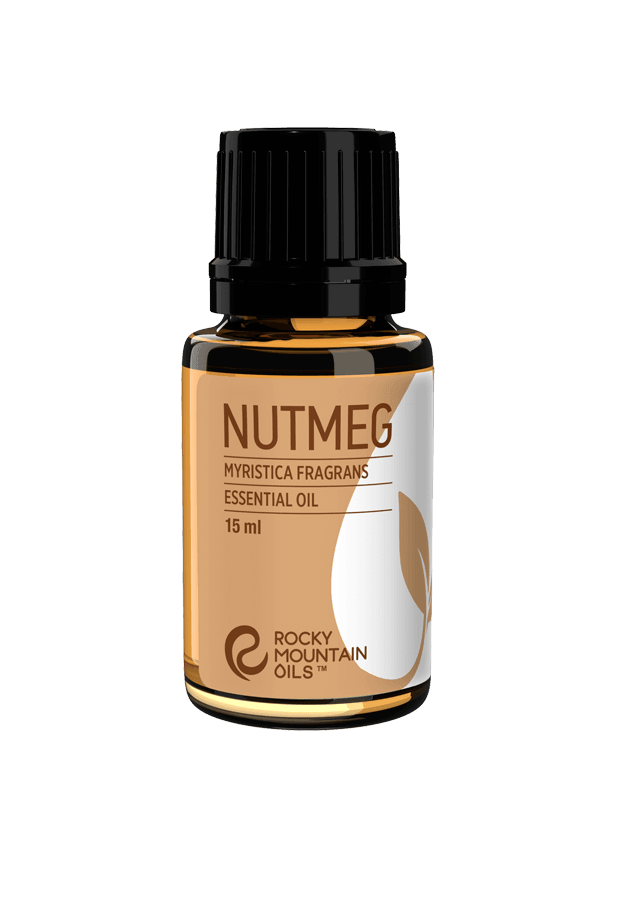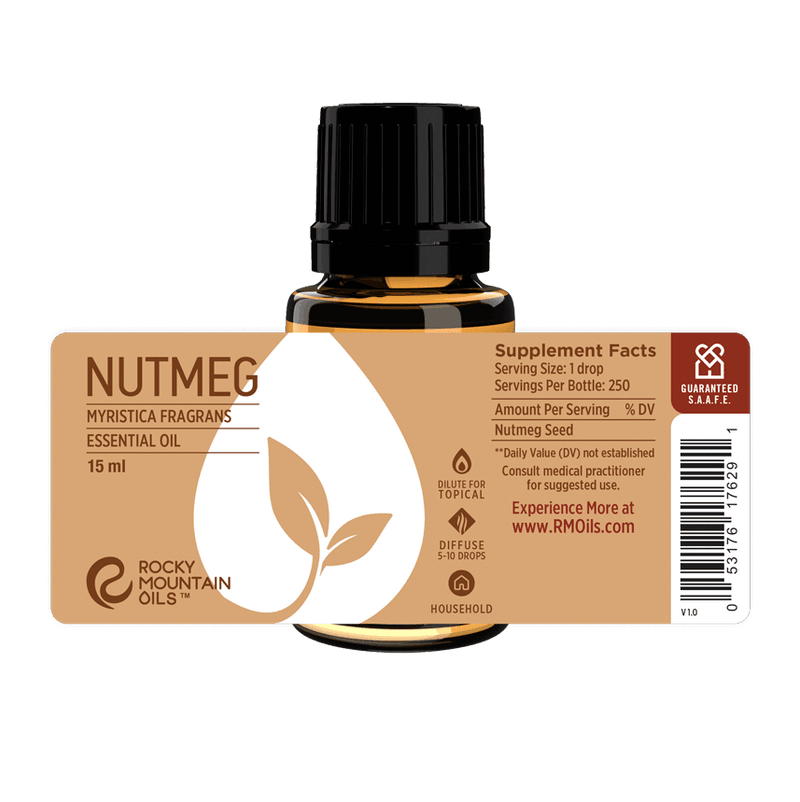 Nutmeg Essential Oil
GC/MS
TESTING
90 DAY
RETURNS
100% RECYCLED
PACKAGING
S.A.A.F.E
PROMISE
Inspire good cheer and cozy comfort with Nutmeg Essential Oil. With its rich, spicy, herbal, and slightly nutty aroma, Nutmeg inspires a happy mood and evokes feelings of autumn holiday memories. Its sweet, warming scent calls to mind pumpkin lattes, chai tea, and homemade baked goods.
Diffusing Nutmeg or Nutmeg essential oil blends helps uplift and dispel feelings of sadness, stress, anger, and insecurity. It helps you and your family feel optimistic, while creating a tranquil environment that supports better focus and concentration. Nutmeg oil can also be used to create a sensual atmosphere and spark romance with your partner.
When used topically with a carrier oil, Nutmeg offer medicinal properties and helps with pain management and inflammation. It's also a natural antibiotic that sanitizes surfaces and kills harmful germs and bacteria. Additionally, studies have found that Nutmeg is a rich source of natural healing compounds called monoterpenes, which offer numerous benefits for the cardiovascular system, respiratory system, and digestive system.
Try Nutmeg oil for hair, skincare, homemade cleaning products, and more. This oil is also a key fragrance for many holiday-themed DIY candles, soaps, bath bombs, and diffuser blends. Add it to your home products to freshen and deodordize while relaxing and uplifting.
Nutmeg Essential Oil is part of Rocky Mountain Oils Energy and Relief collection.
---
The statements contained herein have not been evaluated by the Food and Drug Administration. Neither Rocky Mountain Oils nor its products are intended for the purpose of diagnosing, treating, curing or preventing any disease. If you are pregnant, nursing, taking medication, or have a medical condition, consult your physician before using these products.
Diffuse or use in a room spray to fill your home with cozy vibes while purifying the air from germs, allergens, pollutants, and more.
Dilute with a carrier oil and apply to the upper chest for relief from respiratory issues like coughing and congestion.
Massage into the soles of the feet to absorb immune-boosting benefits, relieve inflammation, and promote better circulation.
Dilute with a carrier oil or add to haircare and skincare products to apply topically for a healthier scalp and better skin.
Add a few drops to a warm bath to soothe sore muscles, reduce swelling, and release tension held in the body caused by stress or anxiety.
Add to DIY candles, soaps, hand sanitizers, room sprays, and more for a delightful natural fragrance that uplifts and comforts.
Nutmeg Tummy Rub
Experience the soothing benefit of Nutmeg essential oil to relieve upset stomach, gas, bloating, or other digestive problems with this natural tummy rub.
5 drops Nutmeg
5 drops Ginger Root
5 drops Peppermint
1 cup Fractionated Coconut Oil
Instructions: Blend all oils together, warm between your hands, then gently massage into the lower abdomen for relief. Use as often as needed. Store leftover oil in a clean, airtight container in a cool dark place.
Botanical Name: Myristica fragrans
Country of Origin: Indonesia
Extraction Method: Steam Distilled
Plant Part: Seed
Aroma: Spicy, Woody, Herbal
Consistency: Thin
Blends Well With: Basil, Bergamot, Cinnamon Bark, Clove Bud, Lemon, Lime, Orange, Oregano, Peppermint
Popular Nutmeg Blends: Immune Strength, Orange Cream, Lymph Support, Sacred Immune Strength, Sports Pro, Fortify, Skin Tone
Always dilute prior to topical application. Avoid contact with mucous membranes, eyes, and the inside of the mouth, nose, and ears. Do not ingest. Do not use while pregnant or breastfeeding.
Kids Safety: Safe to use topically with children ages 6 years old and up. Dilute to a 1-2% dilution rate for topical application.
Tips for Safer Diffusing:
Diffuse in an open, well-ventilated area.
Keep children and pets out of the direct line of mist.
Diffuse in 30-60 minute intervals, with ample break periods for safe and effective use.
At Rocky Mountain Oils, your trust and confidence matter to us. As part of our S.A.A.F.E. Promise™, we offer third-party verified GC/MS (Gas Chromatography/Mass Spectrometry) test results from an independent lab for every essential oil and blend in our line.
GC/MS tests verify the purity and quality of our essential oils, so you can be sure you're using the safest, highest-quality essential oils available today.
GC/MS Test: Click Here
For batch-specific GC/MS tests, click here.
Nutmeg Essential Oil FAQ
Can you bake with Nutmeg oil?

No. Although Nutmeg is a common spice used for recipes in baking and cooking, Nutmeg essential oil is for external use only and should never be ingested. Nutmeg oil is highly concentrated and may cause medical issues if consumed orally. To avoid possible confusion, we recommend storing your essential oils separately from any cooking oils and spices.

Is Nutmeg essential oil good for the libido?

Nutmeg oil and Nutmeg essential oil blends can help enhance libido and strengthen your romantic connection with your partner. Its warm, spicy aroma promotes sensuality and passion while helping release tension and stress, which can help put you in the mood for intimacy.

Additionally, when used as a topical massage oil, Nutmeg oil can reduce inflammation, increase blood flow, and improve circulation to different areas of the body to help you feel more relaxed and spark desire. (Note: Always patch test prior to topical use to ensure you are not allergic. Do not use near mucus membranes or on the genitals.)

Is Nutmeg essential oil good for hair?

Yes! Using Nutmeg oil for hair can promote a healthier scalp, balance oil (sebum) production, reduce excess shedding, and treat and prevent dandruff. Nutmeg also helps repair damage caused by over-washing or harsh chemical products and restores hair's natural moisture and shine. Over time, using Nutmeg essential oil for hair can also stimulate new hair growth and strengthen follicles to prevent breakage.

Is Nutmeg essential oil good for skin?

A popular benefit of Nutmeg essential oil is its ability to enhance the appearance of skin. When diluted with a carrier oil or added to cleansers and moisturizers, Nutmeg functions as a natural emollient and boosts your skin's ability to retain hydration. It also reduces inflammation, heals acne and dry skin, reduces the appearance of fine lines and wrinkles, and boosts elasticity for a more youthful appearance.