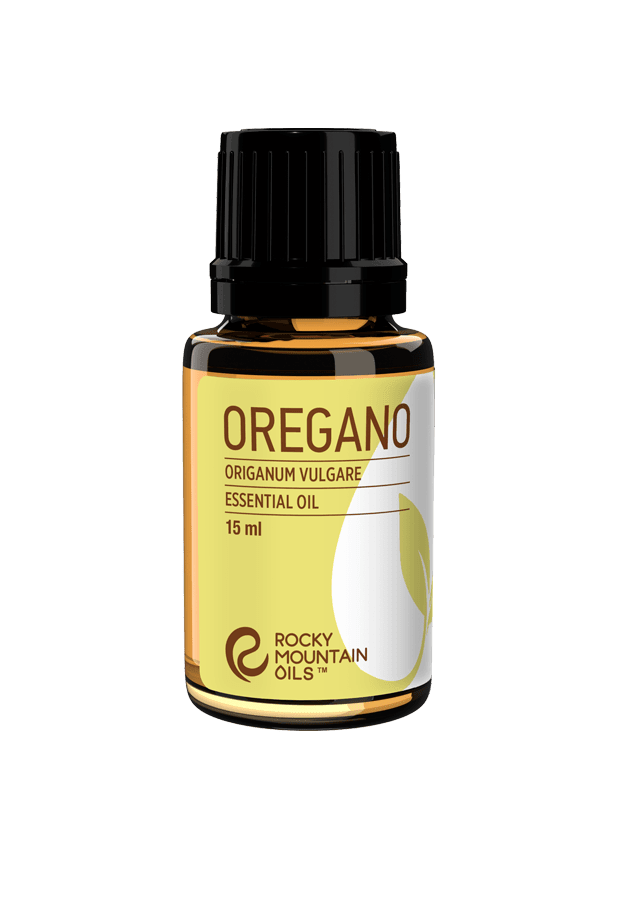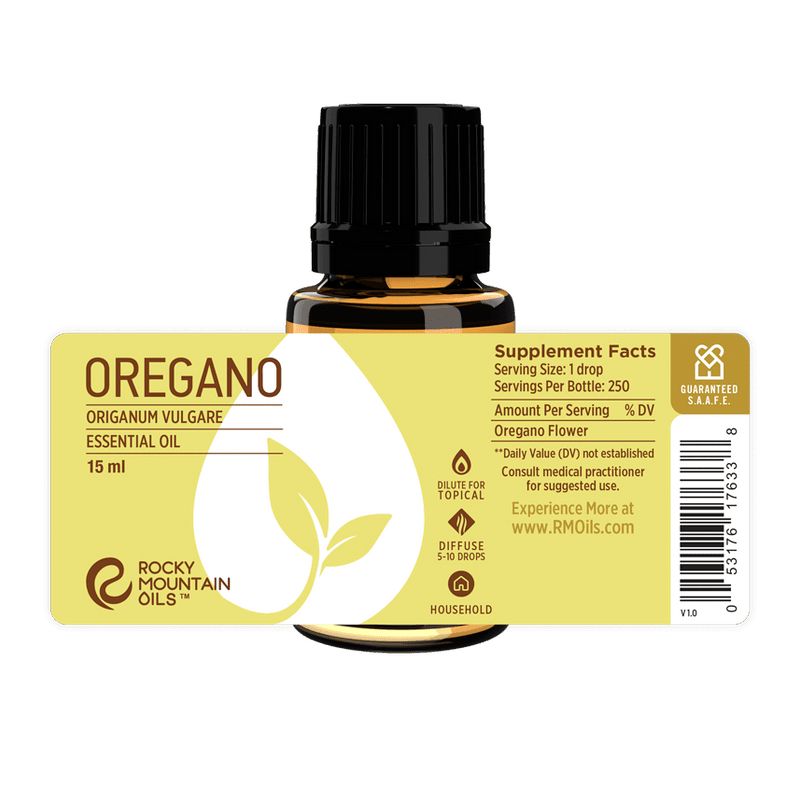 Oregano Essential Oil - 15ml - Organic Oregano Oil
GC/MS
TESTING
90 DAY
RETURNS
100% RECYCLED
PACKAGING
S.A.A.F.E
PROMISE
Promote health, clarity, and relaxation with Oregano Essential Oil. Steam distilled from the leaves and flowers of the Origanum vulgare plant, the essential oil of oregano has an invigorating, sharp aroma that's herbaceous and slightly spicy. It's perfect for immunity boosting, aromatherapy, and more.
Oregano is a common herb that you may already have on your spice rack. However, this powerful plant offers many potential health benefits beyond flavoring your favorite foods. Oregano contains antimicrobial compounds like carvacrol and thymol, which help heal and protect the body against germs and infections. Oregano Essential Oil is also anti-inflammatory and may help relieve common aches and pain.
When using organic oregano oil at the appropriate dilution, it can serve as a natural astringent and toner when applied to the skin. Additionally, organic oregano oil offers support for healthy hair, aids in digestion, and promotes respiratory well-being. Consider diffusing organic oregano oil to alleviate stress and anxiety while fostering a heightened sense of clarity and focus.

Thanks to its ability to neutralize germs and bacteria, Oregano Essential Oil is perfect for household cleaning products like kitchen cleansers, bathroom tile spray, and more. Try adding 2-3 drops of essential Oregano Oil to your favorite natural cleaner to help sanitize and deodorize. May also act as an antifungal and chemical-free insect repellent.
---
The statements contained herein have not been evaluated by the Food and Drug Administration. Neither Rocky Mountain Oils nor its products are intended for the purpose of diagnosing, treating, curing or preventing any disease. If you are pregnant, nursing, taking medication, or have a medical condition, consult your physician before using these products.
Dilute a few drops of Oregano Essential Oil with a carrier oil base, such as Jojoba Oil, then apply to clean skin to help control excess oil, heal acne, or alleviate other skin conditions. Also helps brighten and tone skin while acting as an exfoliant.
Use in natural haircare products like scalp serums and hair masks to reduce dandruff and promote new growth of shinier, thicker hair.
For digestive issues, apply diluted Oregano Oil to the abdomen and gently massage to help provide relief from menstrual cramps, stomachaches, gas, bloating, constipation, and more.
To promote respiratory health, diffuse Oregano Essential Oil or apply a few drops of diluted Oregano Essential Oil to the upper chest. Oregano Oil may help clear congested airways, reduce inflammation, and promote better breathing.
Diffuse or apply topically to help promote a stronger immune system and prevent infections.
Use in aromatherapy to relief stress, improve mood, and enhance concentration. Can also be used in massage oils to soothe tense muscles and stiff joints.
Oregano Oil Shoe Deodorizer
Use the antimicrobial properties of Oregano Oil and other essential oils to neutralize odor-causing bacteria in your shoes or slippers, without harsh chemicals.
Instructions: Add all ingredients to a Ziploc or silicone bag, then close and massage the bag for 1-2 minutes or until the oils and cornstarch are mixed together. Transfer to a glass jar, seal, and let sit for 24 hours. Then, sprinkle the powder into your shoes and leave it overnight. Vacuum the powder out of the shoes. Repeat as needed to keep odors at bay.
Botanical Name: Origanum vulgare
Country of Origin: Turkey/Hungary/Balkans*
Extraction Method: Steam Distilled
Plant Part: Leaves and Flowers
Aroma: Herbal, Spicy, Sharp
Consistency: Thin
*Note: Some of our essential oils have multiple countries of origin. To confirm which country your specific bottle of oil originates from, please consult its GC/MS test by clicking here.
Blends Well With: Lemon, Lavender, Rosemary, Peppermint, Tea Tree
Popular Oregano Essential Oil Blends: Immune Strength, Sports Pro, Fortify
Caution: Oregano is a "hot" essential oil, which means it can cause irritation when used topically. Always dilute properly and patch test prior to use on the skin. Click here for dilution rates.
Avoid contact with mucous membranes, eyes, and the inside of the mouth, nose, and ears. Do not ingest. Do not use essential oregano oil while pregnant or breastfeeding.
Kids Safety: Safe to use topically with children 10 years of age and older. Dilute to a .5% dilution rate for topical application.
Practice safe diffusing:
Diffuse in an open, well-ventilated area.
Keep children and pets out of the direct line of mist.
Diffuse in 30-60 minute intervals, with ample break periods for safe and effective use.
At Rocky Mountain Oils, your trust and confidence matter to us. As part of our S.A.A.F.E. Promise™, we offer third-party verified GC/MS (Gas Chromatography/Mass Spectrometry) test results from an independent lab for every essential oil and blend in our line.
GC/MS tests verify the purity and quality of our essential oils, so you can be sure you're using the safest, highest-quality essential oils available today.
GC/MS Test: Click Here
For batch-specific GC/MS tests, click here.
Oregano Essential Oil - 15ml - Organic Oregano Oil FAQ
Can I use Oregano oil for colds?

If you or someone in your family is suffering with a cold, try Oregano for relief. Diffuse, inhale, or dilute with a carrier oil and apply to the upper chest or neck to soothe congestion, sore throats, sinus pressure, and more. You can also apply this essential oil to the soles of the feet to absorb healing benefits.

How do I use Oregano oil for ear infection?

Oregano oil is a powerful healing compound. However, never use Oregano oil internally. If you or your child is experiencing an ear infection, dilute Oregano with a carrier oil and apply a small drop behind the ears, directly in front of the ears, or below the jaw. Slowly massage into the skin with gentle yet firm pressure to relieve ear aches and help reduce inflammation. Note: If symptoms worsen or persist, consult your doctor immediately.

Is Oil of Oregano the same thing as Oregano essential oil?

No. Despite their names, Oil of Oregano and Oregano essential oil are not the same. Both are extracted from the leaves of the Oregano plant, however, Oil of Oregano is significantly less concentrated. Oil of Oregano is used for cooking, flavoring, and oral supplements. Oregano essential oil is much more concentrated and is for internal use only. Never ingest Oregano essential oil.

Does Oregano essential oil help with meditation?

Yes! Oregano helps clarify your thoughts, relax your nervous system, and enhance concentration. Diffusing this essential oil while meditating can help you attain deeper levels of presence and strengthen the mind-body connection. Historically, this oil has also been used to guard against negative energies and clear bad influences.